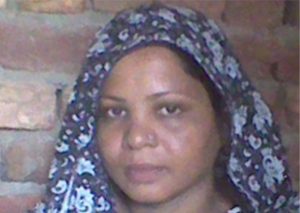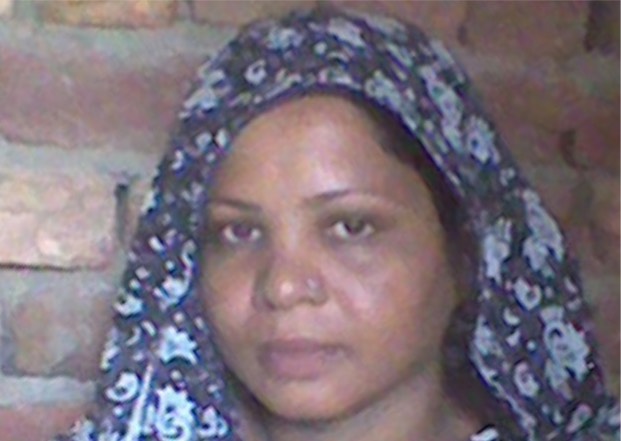 More than a month after her acquittal was announced on 31 October, Asia Bibi is still in protective custody and has not yet been reunited with her daughters. They are living with friends of the family and keep having to move to stay ahead of the Islamists hunting them down. It is believed that Asia's husband Ashiq Masih is with her under government protection in a secret location.
Contrary to an earlier report, Asia's daughters Esha and Eisham have not been able to meet their mother since her release, although they are able to spend a few minutes every day talking on the phone. Family friend Joseph Nadeem said, "I will never forget their first telephone call. Esha and Eisham wept for hours for sheer joy and relief."
Joseph is executive director of the Renaissance Education Foundation, which aims to uplift the Christian community through education and is based in Lahore. Since Asia's conviction in 2010, he has been helping to care for and protect her family. As Asia and her husband Ashiq Masih are practically illiterate, he has helped them with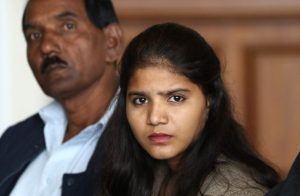 lawyers and has accompanied Ashiq and their younger daughter Eisham (pictured) on their travels abroad to raise support.
Joseph and his family are living in hiding with Esha and Eisham, and their lives are in danger. He told the charity Aid to the Church in Need, "Just as soon as Asia was acquitted, we were forced to flee. Asia and her husband are currently in a place of safety, protected by the government, but we could not remain with them." He added, "We are afraid. In the last few days they have shot at the gate outside the house where we were living. We face constant threats, and more than once I have been followed."
Since Asia's acquittal, Joseph, his family and Asia's daughters have had to move house four times. "The Islamists keep hunting us down, and every time we find we are in danger, we have to move on immediately," he told Aid to the Church in Need. "We cannot go out openly to buy food. I only ever go out by night and with my face covered."
Speaking about Asia's state of mind, Joseph Nadeem said, "She is a remarkable woman! She has retained an unshakeable faith and infinite trust in the Lord."
Esha and Eisham are well aware of the worldwide interest in their mother's case, and they have spoken about it with Asia. "The international attention and solidarity are a source of comfort for us," Joseph said. "Eisham was profoundly moved when she saw her video message projected on the buildings of Venice, illuminated in red light. All of us, Asia included, are grateful to all those who have raised their voices in protest about our situation."
Extremist cleric who led protests charged with terrorism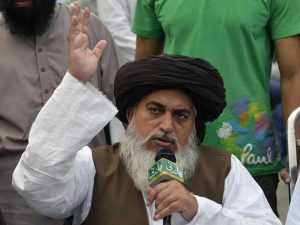 Pakistani cleric Khadim Hussain Rizvi (pictured), head of the Tehreek-e-Labaik Pakistan (TLP), was detained on 24 November and charged with terrorism and sedition. He had led violent protests against Asia Bibi's acquittal during which demonstrators calling for her execution blocked major roads, burned cars and buses and left much of the country paralysed. He was detained after police launched a crackdown on hundreds of his supporters in Punjab province and the port city of Karachi.
Fawad Chaudhry, Federal Minister for Information and Broadcasting, told reporters in Islamabad that sedition and terrorism charges had been filed against Rizvi and other TLP leaders, one of whom had called for mutiny against the military chief, the murder of the judges who acquitted Asia Bibi, and branded Prime Minister Imran Khan as a "son of Jews". Minister Chaudhry said these charges can carry a life sentence in prison.
"Other people who were directly involved in destruction of properties, insulting women and snatching their purses, burning buses, have been charged in terrorism cases," he said, adding that more than 3,000 people had been arrested in connection with the TLP protests.
The government signed an agreement during the protests to bring about a quick end to the violence, but launched a crackdown a few weeks later when the TLP threatened to launch another protest.
Irish government continues to monitor situation
The Irish government continues to monitor Asia Bibi's case. On 27 November, two TDs raised the issue in the Dail, asking questions which were answered by Tánaiste and Minister for Foreign Affairs and Trade Simon Coveney.
In Simon Coveney's reply to Wexford Fianna Fail TD James Browne and Dublin West Solidarity TD Ruth Coppinger, he stated, "My Department has raised the case of Asia Bibi on a number of occasions both in Dublin with the Embassy of Pakistan and in Islamabad through our Ambassador in Ankara (who is also accredited to Pakistan). The European Union has also raised the case with the Pakistani authorities… Ms Bibi has not indicated a wish to come to Ireland. Should such a wish be expressed, Minister Flanagan has indicated that he will look favourably on her case."
Charles Flanagan TD, Mr Coveney's predecessor as Minister for Foreign Affairs and Trade, is now Minister for Justice and Equality and has responsibility for asylum issues.
(Aid to the Church in Need/Gulf News/International Christian Concern/KildareStreet.com)
Share this