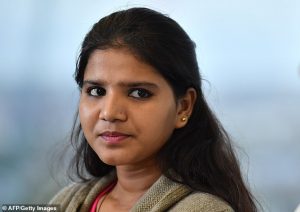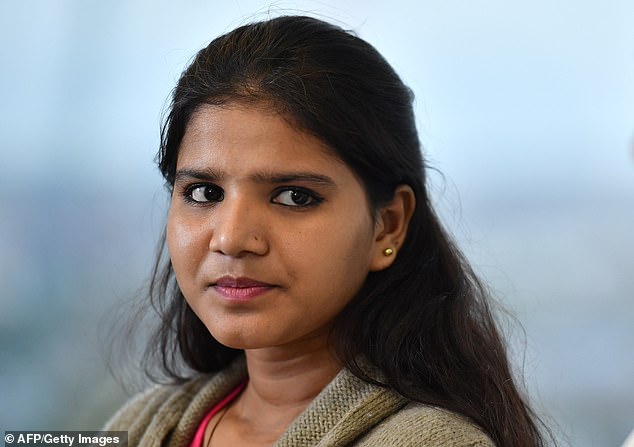 Asia Bibi's younger daughter Eisham (18) has pleaded for her mother to be allowed to leave Pakistan. Speaking from a secret location in Canada, Eisham told The Mail on Sunday, "I am missing her so much, I think about her all the time, and I speak to her on the phone all the time. I say to her, 'Have faith in God, because if God can release you from jail, God can release you from where you are now. He will bring you out.'"
Appealing to Prime Minister Imran Khan, Eisham said: "I would like to tell him to think about us, and release my mother. We love Pakistan very much, and my mummy will never speak against Pakistan as she loves it too."
Eisham has been living with her sister Esha (20) in Canada since December 2018. She last hugged her mother nine years ago, although she did see her through prison bars in October: "I could touch her hands and kiss and shake her hands," she told The Mail on Sunday, "but could not hug her. When she comes, I will hug her and kiss her, and that day will be a very special day when my mummy arrives, and I know I will be very happy, and will thank God before anything else."
Pakistan's Supreme Court acquitted Asia Bibi (53) of blasphemy in October 2018 after she had spent over nine years in prison, including almost five years on death row. Riots broke out following the verdict and Asia was taken into protective custody with her husband Ashiq (59). Islamists appealed Asia's acquittal, but the Supreme Court upheld its verdict on 29 January 2019.
While the authorities insist that Asia is a free woman, she and her husband have not been allowed to leave the country. They were flown to Islamabad in November 2018 and transferred to a safe house near the capital, but on 9 February 2019 the Associated Press reported that the authorities had moved them to a house in the southern port city of Karachi.
AP reported that Asia's friend Aman Ullah, a rights campaigner, said they are locked in a single room where "the door opens at food time only". AP quoted him as saying that she is allowed to make phone calls in the morning and at night, and usually calls her daughters. "She has no indication of when she will leave," he said."They are not telling her why she cannot leave." He added that Asia is frightened and frustrated.
AP reported that the rights campaigner has been liaising with diplomats over the case and that he says they were told Asia's departure would come not in the short term, but "in the medium term".
Mr Ullah spoke to Asia by telephone on 8 February, the day he fled Pakistan after threats from extremists angered by his assisting her.
Asia's family fears that the risk of extremists attacking her will grow the longer she stays in Pakistan. Islamist extremists have threatened to track her down and kill her, and some have suggested that they will pursue her abroad if she leaves. "At the moment, she has security, but she could face problems any moment, any time, and it could happen very quickly," said Eisham.
Pakistan's Information Minister Fawad Chaudhry told AP in an email that Asia is being protected, but also that she is free. "She is living with her family and given requisite security for safety," he wrote, adding that the government was responsible for taking "all possible measures" to protect her and her family. He stated that "she is a free citizen after her release from jail and can move anywhere in Pakistan or abroad".
Why can't Asia leave Pakistan?
Various reasons have been advanced in the media as to why Asia has not been allowed to leave Pakistan, including ill health and the army preventing her leaving for fear of what she might say about how she has been treated.
On 18 February, The Times said Asia had been barred from completing her asylum paperwork while the authorities put pressure on her to promise not to speak ill of Pakistan.
In early March, the Daily Mail reported that a source had said Asia was very unwell. "Asia has extremely low blood pressure and she is not getting the medical treatment she needs," the source said. "Everyone is very worried. She won her appeal and was supposed to be out of Pakistan by now. Even though the government says she can leave, the army has all the power in this case. They are in control of her. They are fearful about getting a negative press if she speaks out about her experiences – but they will get an even worse press if she dies in protective custody."
The Daily Mail said that Asia and Ashiq do not even know their own whereabouts, that the army is blocking her freedom and that Canadian envoys have struggled to contact her. Prime Minister Justin Trudeau offered the family refuge, but only Eisham and Esha have been able to leave Pakistan and travel to Canada.
(Associated Press/Daily Mail/The Times)
Church in Chains has written to Pakistan's ambassador in Ireland asking that the Pakistani government act immediately to ensure that Asia Bibi's rights as an innocent person are fully upheld and that she and her husband are allowed to leave the country immediately.
Share this