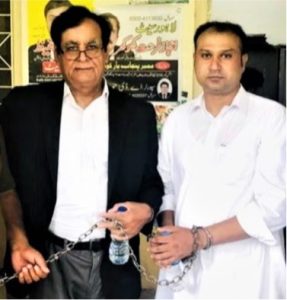 Christian father-of-four Asif Pervaiz (37), from Lahore in northeast Pakistan, was sentenced to death for blasphemy on 8 September 2020. He has been in prison since October 2013, when he was accused of sending blasphemous text messages. His lawyer Saiful Malook (pictured with Asif) has filed an appeal at the Lahore High Court.
On 16 October, Rev Waseem Khokhar of Lahore Evangelical Ministries went to visit Asif at Lahore District Jail, accompanied by Asif's wife Marilyn. Waseem got to know Marilyn two years ago when he was invited to preach at the church she attends. After the service, she asked him to meet her and a meeting was arranged in the home of the pastor who had invited him to preach. The pastor told him the story of Asif's case, and since then Waseem has kept in close contact with Marilyn.
Prison visit
Waseem and Marilyn arrived at the jail at 11.00 am and spent two hours going through very strict security checks followed by one hour queueing for a twenty-minute meeting with Asif. Waseem explained, "In his death cell we could see him but we couldn't hear him because the jail management has put a heavy glass between the prisoners and the visitors because of the coronavirus but the good thing was that we were able to speak with him over the phone. We have had a good time with him."
Waseem began by asking Asif how he has been coping since the death sentence was handed down in September. Asif replied that he is really concerned for his wife and children, so Waseem prayed and assured him that his organisation would look after them. He asked about the legal situation and Asif told him that he trusts his lawyer Saiful Malook (who acted for Asia Bibi) but that no judge is willing to hear his appeal.
Asif shares a small cell with two Muslims who, he said, "create a big harm and they don't allow me to sleep". He told Waseem that about sixty people in the prison are accused under the blasphemy laws, thirty of whom have learning difficulties. "Five of them are Christians," he said, "and one of them among the Christians is blind. So he and I read the Bible together whenever we get a chance." The blind Christian, Inderyas (Andrew), has been described as Asif's "student".
Asked how he is coping in terms of his faith, Asif said that during his seven years in jail he has read the whole Bible nine times. He reportedly believes in prayer and is waiting for a miracle release like Asia Bibi. While the visit was very short, Asif said he could phone his wife regularly.
Struggling family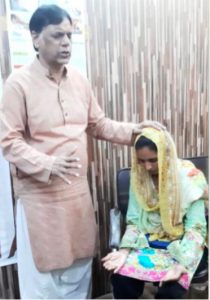 Since the death sentence was handed down, Marilyn and the children can no longer have contact with her church or in-laws because of the great risk to church and family members if they associate with her. Her in-laws have left their house and fled in fear of extremists, who often attack those accused under the blasphemy laws and their families. Waseem describes Marilyn and the children as "suffering a lot" in hiding and says her great concern is that the children are not going to school.
Marilyn visited Waseem at his office recently (pictured) to ask him to arrange a secure home for them because she wants the children's education to continue. Waseem's team is working hard to resolve this issue. He has suggested five prayer points for the family:
For a secure home for Marilyn and the children and for their education to continue.
For some judge to accept Asif's appeal soon.
For security for Marilyn and the children.
For financial support to pay the rent, school fees and living expenses.
For good and Godly people to support Marilyn.
Read Asif's Prisoner Profile.
(Lahore Evangelical Ministries, Release International)
Share this