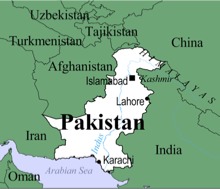 Maulana Abdul Rauf Farooqi, one of the leaders of the Jamiat Ulema-e-Islam (Assembly of Islamic Clergy) political party, has demanded that the Supreme Court of Pakistan ban the Bible, claiming that blasphemous portions have been added.
Party leaders allege that portions have been inserted to charge some prophets with "a variety of moral crimes, which undermine the sanctity of the holy figures." While Muslims believe in the Torah, the Psalms and the Gospels, they claim that the Christian Bible is a corruption of the original text.
Maulana Abdul Rauf Farooqi made the appeal at a press conference at a mosque in Lahore. He said that if the court did not ban the Bible, Islamic clerics would formally petition the court. A panel of lawyers is working on the case.
Party leaders have expressed a desire to avenge the desecration of the Quran by Florida pastor Terry Jones. They have said that they will not burn the Bible, but that some punishment is needed to prevent any future act of desecration.
Christians in Pakistan believe that Islamists have become even more extremist since the killing of Osama bin Laden by American troops on 2 May 2011. They fear that religious persecution will increase, including the banning of the Bible. (The Christian Post)
Share this