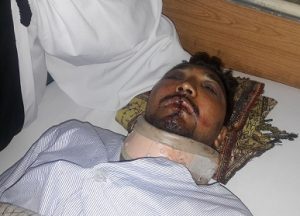 Sajid Masih suffered multiple injuries on Friday 23 February after he jumped from the fourth floor of a police station in Lahore. Sajid said he took the drastic action after interrogators tortured him.
Sajid was summoned by Federal Investigation Agency (FIA) officers who were investigating the case of his cousin, Patras Masih, who was arrested four days earlier accused of posting a blasphemous image on Facebook. The accusation of blasphemy against Patras led to 800 families fleeing a Christian neighbourhood in Lahore after a mob of over 3,000 Muslims threatened to burn down their homes.
FIA investigators phoned Sajid and ordered him to attend the investigation office. He was questioned about being a member of a Facebook group in which the alleged blasphemous image had been shared, and a forensic expert took his phone. In an interview with World Watch Monitor in hospital, Sajid recounted what happened:
"I went myself to the office where Patras was also present. They beat me with fists and kicks and then with a computer electrical cable. I asked them why they were beating me. They said my fault was that I was Patras' cousin. Then they told me to call myself and Patras 'accursed', which I did."
Sajid said the police tried to force him to perform a sex act on his cousin. He explained,  "I refused, saying that he was my cousin and I couldn't. Then they started yelling at him, at which I ran to the window. Finding no other way, I jumped from the window – and then did not know anything."
Sajid landed on a rooftop two floors down and was placed on a stretcher and taken to hospital. The FIA Inspector investigating the case, Khalid Saeed, lodged a criminal case against Sajid the following day for attempting to commit suicide, a crime punishable with one year's imprisonment and a fine.
Sajid's father Abid Masih Ghouri, a sanitary worker, was called by a government hospital official shortly after Sajid was admitted. "My senses faded after seeing his bloody body on a hospital trolley. I have never cried so much in my life," he said. "He can barely sit with support. His left eye is still filled with blood due to his broken jaw, but at least he is with us. He is not a criminal."
Sajid suffered multiple fractures on his left leg and neck, and serious injuries on other parts of his body, including his head. Thorough scans revealed that he had not suffered major brain injury. He had surgery on 27 February and is in police custody at Mayo Hospital, where he has been visited by church leaders, politicians, lawyers and activists of all faiths. The family is now in hiding.
The situation in the Christian neighbourhood of Lahore remains tense, although most of the 800 families who fled last week for fear of violence have returned. Safaniya Masih, who runs the nearby Brethren Church, said that their two congregations were able to meet last Sunday.
Reaction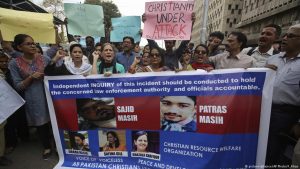 Church and human rights groups took to the streets of Lahore and Karachi  to demand a judicial inquiry into the mistreatment of Sajid and Patras Masih. Rawadari Tehreek (movement for tolerance), an interfaith organisation, held a protest at Lahore Press Club, where about thirty activists demanded justice for the cousins. A small protest was organised in Karachi, where activists called for Chief Justice Saqib Nisar to take control of the situation. "The Christian community is in a state of shock and fear. We appeal to the chief justice of Pakistan to take notice of torture and sexual abuse with Sajid Masih and his cousin Patras Masih," said human rights lawyer Saleem Michael.
In Britain, the British Pakistani Christian Association (BPCA) has organised a march to Downing Street on Saturday 3 March to protest at the treatment of the two Christians and to call for a full investigation.  Wilson Chowdhry (BPCA Chairman) said: "This news has shattered what little confidence I had in Pakistan's security forces. The sadistic actions of the FIA officers are in breach of the UN Convention against Torture and Other Cruel, Inhuman or Degrading Treatment or Punishment,
which Pakistan has ratified as a nation.
"The audacity of the FIA to place suicide charges on a man simply trying to escape torture and praying for his life to be saved from the debauchery of his assailants, is a risible act. We must completely condemn the actions of the FIA in their entirety as a global collective."
(British Pakistani Christian Association/Deutsche Welle/Morning Star News/UCAN News/World Watch Monitor)
Share this