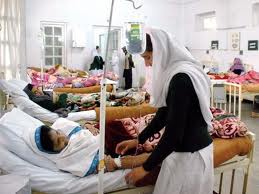 Christian leaders in Pakistan have called for an investigation into the suspected poisoning of eleven Christian student nurses, allegedly poisoned with mercury in their tea.
Some of the trainee nurses suspect that they may have been targeted as a punishment for drinking tea while their Muslim colleagues were fasting during the Islamic holy month of Ramadan, although this incident took place after nightfall, at about 10pm. Ramadan fasting rules forbid eating and drinking during daylight hours, and during that month religious minorities generally refrain from eating and drinking in front of Muslims.
The trainee nurses fell ill within seconds of drinking tea during a group study session at the hostel of the Karachi Civil Hospital on 29 July 2012. It is suspected that poison was added to the tea while it was left unattended on the stove; according to one of the affected nurses, a colleague had made the tea for them. Rita James, who spent two days on a ventilator following the incident, said: "After the first two sips, it was very tough for me to breathe and my throat started getting dry."
Three of the women required intensive care treatment, while the other eight were taken to the emergency department. They were quickly discharged, giving rise to concerns that the hospital was trying to cover up what had happened. They had to be readmitted the next day when they developed complications.
The hospital has reported the incident to the police, and tea samples have been sent for toxicology tests. Chief Nursing Superintendent Nasreen Gill said that a First Information Report has been filed (against an "unknown person") and added that they are investigating how this incident took place. She stated that they will do "a crystal clean investigation".
Parliamentarian Saleem Khokhar led the calls from Christian leaders for an investigation into the matter, while the All Pakistan Christian League held a demonstration outside the hospital. Abdul Hai of the Human Rights Commission of Pakistan said, "A large number of nurses are Christians and are [already] subjected to ill-treatment and prejudice." There have been previous incidents of Christian nurses being victimised in Pakistan. (Assist News Service, Barnabas)
Share this