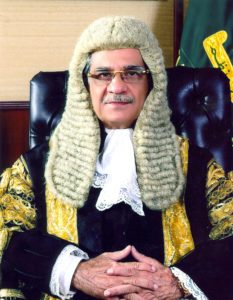 Pakistan's Chief Justice Mian Saqib Nisar has said that the Supreme Court will hear Asia Bibi's appeal against her blasphemy conviction "soon", and that he will preside over the bench.
On 21 April, Justice Nisar (pictured) told Asia's lawyer Saif-ul-Malook, "Be ready, Saif-ul-Malook. I am going to fix your case soon and I myself will preside over the bench." He also told the lawyer that all criminal appeals before the Supreme Court will be decided by July. This would include Asia's case, which is a criminal appeal.
Saif-ul-Malook told UCA News, "Bibi's family and everyone else who understands her ordeal are ecstatic at the news that her appeal will be heard soon."
Asia Bibi (52), a Christian farm labourer from Punjab province in northeast Pakistan, has been in prison since 2009. In 2010, she was convicted of blasphemy and sentenced to death. She lost her High Court appeal in October 2014, and her Supreme Court appeal was due to be heard in October 2016 but was was adjourned when one of the three judges recused himself. If the Supreme Court hearing fails, Asia's only remaining hope will be a presidential pardon.
Comment
Responding to the news, Wilson Chowdhry, Chairman of the British Pakistani Christian Association, said:
"This news is heartening but we are still a long way off from justice for Asia Bibi who has suffered great brutality, enforced isolation and daily threats to her life, simply for drinking water from a well designated for Muslims. 
"There is no guarantee that Asia Bibi will be set free, and appeal hearing is what it is, it is an opportunity to set down a case for the acquittal for her, but Asia has already failed an appeal in the Lahore High Court.
"The fact that the Chief Justice Saqib Nisar is responsible for the case is encouraging as he recently set up a complaints office for minorities in Lahore Supreme Court and for all intents and purposes seems genuinely committed to helping minority plaintiffs."
Lawyer's police protection removed, reinstated
On 20 April, the Supreme Court directed federal and provincial governments to withdraw police protocol provided to unentitled individuals, and that night the Punjab police told Asia's lawyer Saif-ul-Malook that they were withdrawing his three police guards.
The lawyer immediately made an application in the Supreme Court's Lahore Registry to have his security restored, since his cases are sensitive – he is also representing four others accused of blasphemy, and was the prosecutor in the assassination case of Salman Taseer, one of two prominent politicians assassinated in 2011 after they spoke publicly in Asia Bibi's defence and criticised the blasphemy laws.
On 21 April, the lawyer appeared before the Supreme Court to seek reinstatement of his police protection. During the hearing, Justice Nisar said he personally knows the lawyer and that his need for police security is genuine. He ordered the Punjab Inspector General of Police, Captain Arif Nawaz Khan, to restore police security for Mr Malook.
It was during this hearing that Justice Nisar made his comments about Asia Bibi's appeal.
(British Pakistani Christian Association/Express tribune/UCA News/World Watch Monitor)
Share this