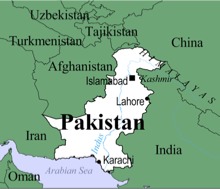 A Christian couple was arrested and jailed on 20 July for allegedly sending blasphemous text messages to a Muslim cleric in Gojra, a religiously volatile Punjab city where a week previously a Christian man was sentenced to life in prison on the same charge.
Shafqat Masih (43) and Shagufta Masih (40) were taken into custody after a complaint from Muslim cleric Rana Muhammad Ejaz. He alleged that he was offering Ramadan prayers on 18 July in Talabwali mosque at about 10pm when he received blasphemous texts insulting Muhammad and the Quran. Gojra City Police Chief Inspector Muhammad Nisar said that the SIM card used to send the blasphemous texts was registered in Shagufta's name. She said that the phone had been lost for a month, and that she did not know who might have sent the alleged messages. Nevertheless, the Gojra City Police detained the couple, along with their four children, and pressurised them to name someone who could have sent the messages.
A large number of Islamic clerics, enraged when they heard about the text messages, remained in the police station until a First Investigative Report was lodged. The police formally arrested the couple on 20 July and sent them to Toba Tek Singh District Jail the next day. Riaz Anjum, who is representing them, said the police lodged the case under Sections 295-B and 295-C of the Pakistan Penal Code, which recommend life imprisonment and the death penalty, respectively, for blasphemy. In Pakistan, life imprisonment is 25 years. Islamists staged a sit-in on Mankanwala Crossing in Gojra on 23 July demanding death for the couple.
The police said that Shafqat admitted to using the SIM card in his phone to send the messages. "We took the couple into custody on Saturday after checking the call data records and the SIM's ownership," said Chief Inspector Nisar. "Shafqat admitted in the police station that he had sent the blasphemous text messages. But he did not say why." He added that Shafqat Masih's statement remained unchanged when he appeared before a local magistrate for judicial remand.
Shafqat Masih says he and his wife have been framed and that the police forced him to record a false admission of guilt before a magistrate. Riaz Anjum said, "Investigation should have been done by the senior superintendent before lodging the case, but here the police have extracted a confession from Shafqat which is illegal."
The Masihs, who are Roman Catholics, work at St John's School in Gojra – Shagufta as a maid and Shafqat as a night watchman. He has been in a wheelchair since his backbone was fractured in an accident in 2004. Their relatives are reported to have fled the area in fear of violence, and it is not known who is caring for their children, Ambrose (13), Danish (10), Sarah (7), and Amir (5).
Fear of violence
The incident has caused great fear among local Christians. In 2009 in Gojra, eight Christians were burned alive and at least 40 houses and a church building torched by Muslim mobs following rumours that local Christians had desecrated the Quran. There are concerns that Shafqat Masih's confession was made under duress in order to prevent a similar outbreak of violence.
Nasir Saeed, UK coordinator of the Centre for Legal Aid, Assistance and Settlement said the accusations against Shafqat and Shagufta must be thoroughly investigated: "Blasphemy accusations are no joke in Pakistan. They can mean years languishing in prison without trial and death sentences that cause huge distress to the accused and their families, who often have to go into hiding just to avoid extremists taking the law into their own hands. A thorough and unbiased investigation is necessary to ascertain the facts and whether blasphemy has indeed been committed or whether, as is often the case, this is simply another false accusation of blasphemy being used to persecute two Christians because of their religious beliefs. Accusations against Christians of blasphemy by text message reflect an alarming trend in Pakistan. The accusations are often made on the basis of little or no evidence, and the punishment far outweighs the crime."
Christian man sentenced to life in prison
Only a week previously in Gojra, on 13 July Sajjad Masih (29) was sentenced to life imprisonment and fined 200,000 rupees (€1,480) for supposedly sending blasphemous text messages, in a case first registered in December 2011.
The alleged text messages were sent from a SIM card registered in the name of Sajjad's former fiancáe, Roma. Neither the phone nor the SIM was recovered from Sajjad during the police investigation, nor was there any eyewitness or forensic evidence available.
The day after the verdict, Islamists staged a sit-in on Mankanwala Crossing condemning the court's decision. They demanded that Sajjad's life imprisonment sentence be changed to the death penalty, chanting that nothing less than the death of a "blasphemer" was acceptable. Banners were hung across the city reading: "Only one punishment for the blasphemer; sever his head from the body… Life imprisonment not acceptable, not acceptable and not acceptable."
Note: The surname Masih, deriving from "Messiah", is a common name among Christians in Pakistan.
(Christian Today, Morning Star News, Pakistan Today, World Watch Monitor)
Share this