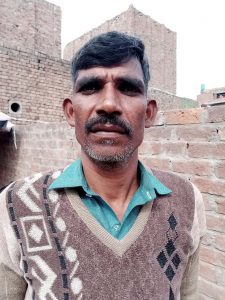 A Christian father from Faisalabad in Punjab province who fought for the release of his kidnapped 12-year-old daughter has been murdered.
Basharat Masih was killed on 24 April, a month after a court allowed his daughter Hoorab to return to her family. She had been kidnapped three months previously by a local Muslim who forced her to convert to Islam and marry him. Hoorab's father received death threats throughout the court case.
Basharat's sister Maryam Bibi filed a First Information Report at Nishatabad police station to report the deadly attack on her brother on 24 April. She said he was taking part in a pigeon-flying competition when she heard screaming and rushed into the street, where she saw a group of attackers kill him.
Basharat was widowed in September 2022 and worked as a day labourer, while Hoorab helped to support the family by working at a grocery shop owned by a Muslim named Muhammad Mustafa. On 22 December 2022 Mustafa and his co-worker Muhammad Usman abducted Hoorab and drove her to the city of Chiniot, around 40 km north of Faisalabad, where she was forcibly converted to Islam and forced to marry Usman.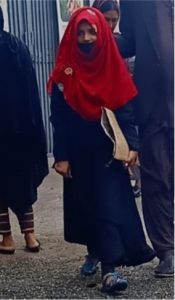 A few days later Hoorab (pictured) was traced to a women's refuge and Mustafa and Usman were arrested, but when they were released on bail they disappeared with Hoorab.
The authorities eventually found Hoorab and her abductors and Usman confessed that the marriage was not legally valid. On 17 February 2023 the Chiniot Municipal Commission declared the union false and illegal but Hoorab made a statement that she had converted to Islam of her own free will and no longer wanted to live with her family, so the court sent her to live at the women's refuge.
Such statements are common in cases of abduction, forced conversion and marriage, when the young victim is coerced into siding with her abductor, often through threats to kill her and her family if she does not testify that she converted and married of her own free will. Her abductor may be in court when she delivers her testimony and Islamist mobs often turn up to intimidate judges, lawyers and families.
Hoorab, now aged 13, spent five weeks at the refuge. On 24 March a Magistrate's Court accepted her request to return to her family and she was reunited with her father and three brothers. Basharat's sister Maryam said that threats against the father and daughter never ceased during and after the court case.
Reaction
Human Rights Focus Pakistan chairman Naveed Walter said the murder looks like revenge for bringing those responsible for Hoorab's kidnapping to justice. "Hoorab's case has shown once again that even after a trial, threats against Christians do not end," he said. "Being easy targets, religious minorities suffer kidnapping, conversion and forced marriage. Those guilty of the murder of Basharat Masih should be brought to justice."
Activist Aneel Edger commented that the lack of institutional response allows perpetrators to escape justice, noting that in Hoorab's trail was lost due to inadequate police searches.
Human rights activist Robin Daniel, who helped the family to bring Hoorab home, called for legislation banning forced conversions: "The bill against forced conversions, which was rejected by the previous government as anti-Islamic, should be reintroduced, and the law limiting child marriage implemented. Considering forced conversions a service to Islam has also made the processes biased and challenging. Basharat Masih was killed because he was Hoorab's father. We live in a society where a father who demands justice for his daughter is killed."
Under the Child Marriage Restraint Act of 1929 the minimum marriage age is 16 for women and 18 for men (except in Sindh province, which prohibits marriage under 18 for females and males). Activists calling for the marriage age for women to be raised to 18 nationally have been opposed by Islamist political parties, which say a proposed amendment to the Act is anti-Islamic.
Every year hundreds of Christian girls and young women are abducted in Pakistan and forced to convert to Islam and marry their abductors. This has increased in frequency in recent years and is also an issue for Hindus. Perpetrators are much older Muslim men, often already married with children. Learn more in the Church in Chains Topic on Abduction, forced conversion and marriage in Pakistan.
(Asia News, Voice of the Martyrs Canada)
Photos: Asia News
Share this