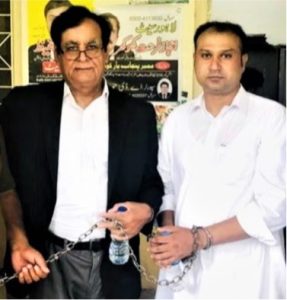 On 8 September Asif Pervaiz (37), a Christian father of four, was sentenced to death under Pakistan's notorious blasphemy laws. He had been accused of sending blasphemous text messages in October 2013 and has been in prison ever since, awaiting trial. Asif is pictured with his lawyer Saiful Malook, who also represented Asia Bibi.
Judge Mansoor Ahmed Qureshi of the Additional Sessions Court in Lahore ruled that Asif would first serve a three-year prison term for phone misuse, be fined 50,000 rupees (approximately €250) and be "hanged by his neck till his death". Saiful Malook said he would appeal the conviction in the Lahore High Court this week.
On 9 September, the lawyer tweeted, "Asif Pervaiz sentenced to death by trial court at Lahore for committing blasphemy although there was no such evidence."
Accused of blasphemy
The complainant in the case, a Muslim named Saeed Ahmed Khokhar, who was Asif's former supervisor in a garment factory named Shami Textile in Lahore's Youhanabad neighbourhood, accused him of sending several blasphemous text messages to his phone.
Asif claimed he had been falsely accused after refusing Khokhar's constant pressure to convert to Islam. In his statement to the court, Asif said that the complainant used to pressurise him to renounce his Christian faith and convert to Islam and that due to this constant harassment he was forced to leave his job at the factory, but that the complainant continued to hound him at his new work place. Asif said he had lost his SIM card some days before the incident of alleged blasphemy and did not request the company to deactivate it. He said Khokhar used the lost SIM card to send blasphemous text messages to his own number and then made the false accusation.
Saiful Malook told Morning Star News, "It's tragic that Pervaiz has already spent seven years in prison during the trial, and God knows how many more years he will have to remain incarcerated till the high court takes up his appeal. The worst thing in blasphemy cases is that the accused are left to rot in jail for years till their innocence is finally proved."
He also stated, "Although I'm greatly disappointed by the ruling in this case, one cannot ignore the fact that it has become a norm of trial court judges hearing blasphemy cases to convict the accused no matter how weak the prosecution's case is."
Mr Malook told Christian Solidarity Worldwide, "The evidence on record was clearly not enough to sentence Asif Pervaiz to death. As usual, trial judges have so far never acquitted anyone accused of blasphemy. I hope he will be freed by the High Court where we have filed an appeal. Sadly, Asif will continue to be incarcerated until his appeal is heard. From my experience in the Asia Bibi case, judges in appeal courts hesitate to hear and decide blasphemy cases. Cases involving murder are usually decided within three years, but blasphemy charges can take up to over seven years, just like the couple, Shagufta and Shafqat, who have been charged with blasphemy and whose case file has been roaming from one bench to another for hearing."
Arrest
On 2 October 2013, Saeed Ahmed Khokar accused Asif of sending him blasphemous text messages, and Asif went into hiding. Police spent a week searching for him and on 9 October they arrested several of his relatives, including two brothers-in-law and his mother, Naseem Akhtar. His mother said police told her they would kill Asif when they found him unless she helped them find him, so she led them to the home of his brother Waseem Anwar and they beat him until he confessed to knowing where Asif was hiding.
On 10 October, police arrested Asif and registered blasphemy charges against him under sections 295-A, 295-B and 295-C of the Pakistan Penal code at Green Town Police Station in Lahore. Section 295-C deals with defamation of the prophet Mohammed and carries a mandatory death sentence. Asif has remained in prison ever since , waiting for his case to come to trial.
International Christian Concern reports that 25 Christians are currently imprisoned on blasphemy charges in Pakistan, including Asif Pervaiz. These 25 Christians are defendants in 22 blasphemy cases represented at various levels of the judicial process in Pakistan.
(Christian Solidarity Worldwide, International Christian Concern, Morning Star News)
Share this