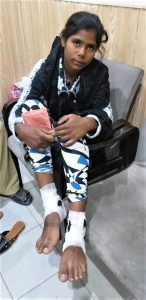 On Saturday 5 December, Faisalabad police found twelve-year-old Farah Shaheen chained in 45-year-old Khizar Hayat's home, five months after he had kidnapped her, taken her to a local mosque to be converted and forced her to marry him. A police source told Morning Star News, "The dark marks on her ankles show that she was fettered for most of her time in captivity." Hayat and his suspected accomplices escaped arrest.
"Her ankles and feet were wounded," activist Lala Robin Daniel told UCA News. "They were bandaged at the police station. She was in trauma and couldn't tell about the torture."
On 25 June 2020, Farah's father Asif Masih reported that his daughter had been kidnapped, forcibly converted to Islam and married against her will. He said he went to the local police station several times but police refused to register a case against the suspect and told him to forget about his daughter and be happy because she had converted to Islam.
Asif said a police officer threatened him that if he ever came back to the police station they would register a blasphemy case against him and he would have to spend the rest of his life in prison.
"When I visited the police station to meet the investigation officer, Mussadiq Hussain, he got angry at me for sitting on a chair, calling me 'chuhra', a derogatory term used for Christians in Punjab," Asif said. "He used to use abusive language and used to say that Christians are meant to clean gutters not to sit in offices."
Asif continued striving to have his daughter rescued. "I also wrote an application to the Central Police Officer of Faisalabad," he said, "but that too was not enough to get the attention of the law enforcement agencies. Finally, I decided to file a writ in the court following which the police registered a First Incident Report."
Police eventually registered a case on 19 September, but were reportedly reluctant to arrest the suspect and recover Farah, even alleging that Asif himself had hidden his daughter.
After protests by Faisalabad's Christian community and pressure from the Punjab government, police rescued Farah on 5 December and produced her in a magistrate's court, which passed Farah to police custody. She was placed in a shelter because, like other kidnapped girls and young women under pressure from their abductors, Farah said in her statement that she had married of her own free will.
The court ordered an ossification test to determine her age and ordered registration of a case against six suspects, including Hayat. A police source said the court "severely reprimanded the investigation officer of the case, Sub-Inspector Mehtab, for intentionally misreporting Farah's age to be 17 in the inquiry report".  In Pakistan, sex with a girl below the age of 16 is statutory rape, but police are often influenced by falsified conversion certificates and Islamic marriage certificates.
Asif Masih, a widower who works as a daily wage labourer, pleaded for custody. "I'm grateful to the government and the court for ensuring my daughter's recovery, and I hope they will also punish the men who did this cruelty," he told Morning Star News, but added that the court should have given custody to her family. Farah is the second of six siblings and has helped to raise her younger brothers and sisters since her mother's death five years ago.
CLAAS Press Release
Nasir Saeed, Director of CLAAS-UK (Centre for Legal Aid, Assistance and Settlement), said in a press release on 7 December that a record number of forced marriage and conversion cases has been recorded in Pakistan this year. He stated, "There are dozens of examples of such brutal acts of violence against Christians girls. Normally they are asked to convert and marry them [Muslim men] and when the Christian girls refuse they are kidnapped, forcefully converted to Islam, and married to the men. It is sad as the government of Pakistan is aware of this problem but is not taking any action to stop this ongoing persecution of Christians and Hindu girls.
"What worries most is the attitude of the police and the courts' decisions in such cases. The police side with the kidnappers and courts, and instead of following the law decide cases in favour of Muslim perpetrators. They give the custody of underage Christian and Hindu girls to their kidnapper as we have seen with Farah and well-known case of Maira Shahbaz, who escaped her abductor and is now in hiding."
Nasir Saeed referred to several cases from previous years, like that of Asma Yaqoob (24) from Sialkot who died in April 2018 after suffering 80% burns in attack by a Muslim man, Rizwan Gujar, who tried to force her to marry him. Asma told him she was a Christian and her faith didn't allow her to marry somebody outside of her religion so Rizwan bought petrol and poured it on the ground around her. In his statement to police he said he only lit the match to threaten her but the match fell, she caught fire and he fled. He was later arrested and imprisoned.
Mr Saeed also mentioned the case of a Christian named Binish Paul (18) from Karachi, who was thrown from the second floor of a building by a Muslim man, Taheer Abbas, for refusing to convert to Islam and marry him. Binish sustained severe fractures to her legs and spine.
Pakistani government orders investigation
Prime Minister Imran Khan has ordered an investigation into the forced conversion of women and girls from Pakistan's religious minority communities.
On 30 November Tahir Mehmood Ashrafi, the Prime Minister's Special Representative on Religious Harmony, stated at a press conference, "The PM has ordered an investigation on a case-by-case basis of incidents of forced conversions of minor girls belonging to minority communities, particularly Christian and Hindu, to find reasons for this issue. Law and rights are equal for all. Christians, Hindus, Sikhs and daughters of minorities are our daughters as well… Forced marriages, forced conversion of religion and abduction of underage girls of other religions in the name of marriages will not be tolerated. The human rights ministry, in consultation with other stakeholders, is working out a mechanism to eliminate the fear of forced marriage among non-Muslims."
(CLAAS, Morning Star News, Pakistani Christian Post, UCA News)
Share this