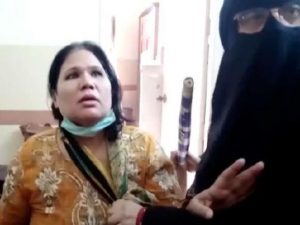 Tabeeta Nazir Gill (46), a Christian nurse and gospel singer, has gone into hiding in Pakistan after false allegations of blasphemy were made against her. She went into hiding after being attacked and beaten by fellow staff members at the hospital in Karachi where she has worked for the past nine years.
The trouble began on Thursday 28 January when Tabeeta reminded a Muslim colleague of orders issued by the head nurse at Sobhraj Maternity Hospital that medical staff may not receive tips or deal with money from patients. Tabeeta spoke to her colleague when she saw her collect money from a patient. The angry colleague responded by falsely accusing Tabeeta of committing blasphemy and incited violence against her. Videos of hospital staff beating Tabeeta surfaced on social media and Tabeeta was reportedly tied up with ropes, tortured and locked in a room before being taken into police custody. Local pastor Eric Sahotra, who was one of the first on the scene, believes that the arrival of police saved Tabeeta's life. He said  her two young children "are in a state of shock since the time they saw the graphic video of their mother's beating".

The video also shows Tabeeta's attackers putting a notebook and pen into her hands to try to force her to sign a confession. They call for her to "confess your crime in writing" amid a din of accusations and curses, and a staff member strikes her with a broom. "I swear to God I haven't said anything against the prophet [Mohammed]," Tabeeta says in the video clip. "They are trying to trap me in a false charge."
Police questioned Tabeeta at a local police station before releasing her after concluding that the blasphemy accusations were false and based on a personal vendetta by her colleague.
Charges issued after mob besieges police station
On the following day, however,  a Muslim mob besieged the police station after complainant Saba Wasi called on Muslim leaders to mobilise the mob. Police responded by filing a blasphemy charge against Tabeeta based on the complainant's statement that Tabeeta had said that only Jesus is the true Saviour and that Mohammed has no relevance.
Following these developments, a Muslim cleric and a Muslim nurse (a colleague of Tabeeta) spoke out publicly in her support. The cleric, Maulana Tahir, stated in a video posted on Facebook, "It is with great grief I request Prime Minister Imran Khan and state leaders to take notice. The police investigation proved that she didn't commit blasphemy… nowadays incidents are happening with girls of minority communities facing mountains of tyranny. Try to amend this law. Nobody should suffer."
Staff nurse Kosar released her own video supporting Tabitha, in which she said, "What happened with Tabeeta has created unrest. This is unacceptable. I know her personally. She is a good girl and has a kind attitude with everyone. A woman was degraded."
(Barnabas Fund, CLAAS-UK, International Christian Concern, Morning Star News)
Share this