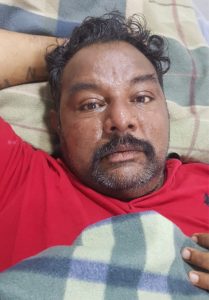 On 29 June, Christian lab technician Nadeem Joseph from Peshawar, capital of Khyber Pakhtunkhawa province, died as a result of gunshot wounds received on 4 June. Father-of-two Nadeem (48) and his family had been attacked by Muslim neighbours because they bought a home in what the neighbours defined as a "Muslim neighbourhood".
On 4 June Nadeem, his mother-in-law Elizabeth Masih and his brother-in-law Babar Masih were attacked in front of their home in Swati Phatak, in an area known as TV Colony, by neighbours Salman Khan and his sons, who were armed with guns. Salman Khan shot Nadeem twice in the stomach with an AK-47 automatic rifle; Elizabeth and Babar were shot once each, in the shoulder and leg. All three were admitted to a local hospital, where Nadeem died of his wounds on 29 June, during his fifth surgery.
Nadeem's nephew Suleman Javed told UCA News, "He had undergone five surgeries. The staff at the government hospital didn't care to change his bandages daily. We had recently shifted him to a private health facility."
In a video message recorded from Nadeem's hospital bed in early June, he explained, "A month ago, I purchased a house in TV Colony. I still have to make the final payments to the seller, but Salman Khan, a Muslim in the neighbourhood, started harassing my family."
Nadeem said Khan repeatedly called him and his family members "chooras" (a derogatory term for Christians) and told them to leave the neighbourhood, claiming that it was for Muslims only and that a Christian family did not belong there. Nadeem said the Khans badly damaged the doors of their house and constantly rode loud motorbikes past the house.
When Khan threatened that the family must vacate the house within 24 hours, Nadeem called the police. He was making a video of his attacker moments before the shooting started.
Nadeem's family members are now living with relatives. His nephew Suleman Javed said, "Joseph had started dealing in medical equipment and was the only breadwinner in his family. This is an open-and-shut case. We demand urgent police action."
Nasir Saeed, Director of CLAAS-UK (Centre for Legal Aid, Assistance and Settlement), commented: "Atrocities against Christians continue to rise in Pakistan, and law enforcement authorities hardly take any action while the government turns a blind eye to all these atrocities. It is unbelievable that in the 21st century, a Pakistani Christian family were shot for buying a house in a Muslim area. It is true that there are several areas in the country where non-Muslims are not allowed to buy a house and in some areas non-Muslims are not even allowed to rent a house. Such hateful treatment towards non-Muslims in Pakistan is now an everyday matter."
In 2013, Nadeem's father and niece died in a bomb attack at All Saints Church in Peshawar when two Islamists suicide bombers blew themselves up after a Sunday service, killing at least 126 people and injuring over 160 others.
Murder case registered
A murder case has been registered against Salman Khan, who obtained bail before his arrest. Police have reportedly arrested several members of his family in connection with the attack.
Jamshed Thomas, a Christian member of the National Assembly, said Khan was high on drugs before the incident and added, "Police have arrested a person but the murderer is still on the loose and is trying to negotiate with the family of the victim."
In a video message released on social media, Khan confessed to shooting Nadeem and said, "For the past twenty years, we had been living in our personal house. The son of Joseph used to ride his motorcycle very fast in our street. We stopped him from doing it and fought his family."
"George Floyd of Pakistan"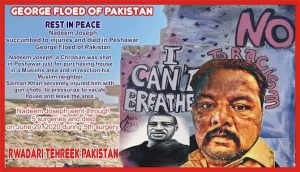 Many rights activists in Pakistan are comparing Nadeem Joseph to George Floyd, the African-American who died in Minneapolis in May when a white police officer knelt on his neck for nearly eight minutes.
UCA News reported that "George Floyd of Pakistan" was trending on social media; the banner pictured was posted on Facebook by Rawadari Tehreek (Movement for Tolerance).
(CLAAS-UK/International Christian Concern/UCA News)
Share this