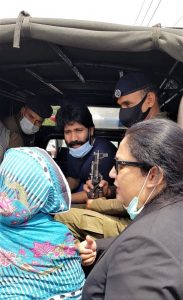 Police in Pakistan have tortured a Christian man into a false confession of blasphemy, his lawyer said. Salamat Mansha Masih and his friend Haroon Ayub Masih (both aged 26) were accused of blasphemy after a group of Muslims heard them reading the Bible in Lahore's Model Town Park on 13 February 2021. Salamat is pictured in the centre of the photo, with his mother and lawyer.
Haroon fled the park, but Salamat was arrested and spent two months and three days in custody before being presented before a judge on 16 April. His lawyer, Aneeqa Maria, said his detention was illegal as he should have been presented before a judge within 24 hours.
She told Morning Star News, "During this period, he was kept in at least three different police stations and illegal torture cells, where he was mentally and physically tortured to confess to the baseless accusation."
The lawyer said that police repeatedly threatened to kill him and that his mother and siblings were not allowed to see him until police brought him to jail after his appearance before a judge (Salamat's father died twenty years ago). Police did not permit the family to talk to him until a week later.
"When we were finally able to talk to Salamat in private at the District Camp Jail in Lahore on Friday [23 April], he told us that he had suffered immense torture and verbal abuse during his illegal confinement," Aneeqa Maria told Morning Star News. "The police investigators forced him to admit to blasphemy. They also tortured him into naming other members of the Bible study circle."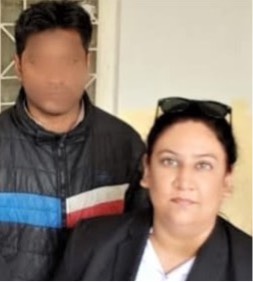 Salamat was also questioned about the whereabouts of his friend Haroon Ayub Masih, was also charged but fled the city after gaining pre-arrest bail – Aneeqa Maria said he decided to flee when police started conducting raids on Bible circle members, taking them into illegal custody and torturing them. She and Haroon are pictured, left, with his face obscured for security reasons.
The lawyer said that she was preparing to seek bail for Salamat, but added, "Obtaining bails in blasphemy cases has become virtually impossible now."
False accusations
Salamat and Haroon were studying the Bible in the park when a group of Muslims approached and told them they should not read the Bible in public. Haroon went home after the Muslims left, but they returned to find Salamat still at the park and summoned park security, falsely accusing the two Christians of blasphemy.
One of the Muslims called the Tehreek-e-Labbaik Pakistan (TLP), a far-right Islamist political party, and its leaders arrived and put pressure on police to register a case against the Christians.
Police registered a case for derogatory remarks against the Prophet Muhammad (Section 295-C of the Pakistan Penal Code, punishable by death); defiling the Quran (Section 295-B, punishable by life imprisonment and a fine); and deliberate and malicious acts intended to outrage religious feelings (Section 295-A, punishable by up to ten years in prison and a fine).
Read more about Pakistan's blasphemy laws.
(Morning Star News)
Share this