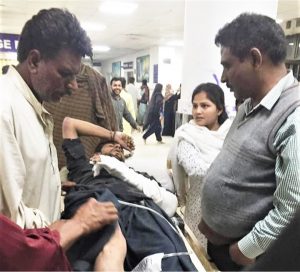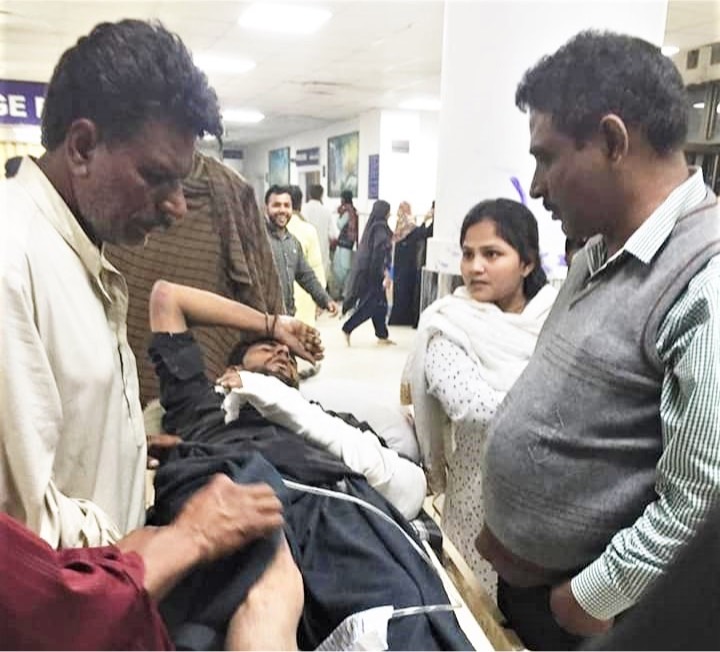 On 28 February, Christian farm labourer Saleem Masih (22), from the Punjab city of Kasur, died of severe injuries to his internal organs sustained three days earlier when a Muslim landowner and six other men tortured him for "polluting" a tube-well by rinsing in it.
On 25 February, Saleem bathed in the tube-well after a day's work unloading husk from the fields. A tube-well uses a long pipe to bore into an underground aquifer to provide water for irrigating crops and watering livestock. People often use tube-wells for bathing or cooling off, but some Muslims consider that Christians pollute the water.
Muslim landowner Sher Dogar, on whose land the well was situated, incited six other men to chain and savagely beat Saleem, who lost consciousness and spent the last three days of his life in a coma.
His father Ghafoor Masih – a father of eight and a member of the Associate Reformed Presbyterian Church – described the attack to Morning Star News: "On February 25, Saleem had finished unloading chaff in fields in Baguyana village and was rinsing himself off in the tube-well when a group of men, including Sher Dogar, Iqbal, Altaf, Jabbar and Haji Muhammad rushed over, yanked him out of the water and began beating him. They cursed and abused Saleem for 'polluting' the water, calling him a 'filthy Christian.' They then dragged him to their cattle farm, where they chained his hands and feet and continued to torture him with sticks and rods. They also rolled a thick iron rod over his entire body, causing multiple fractures in his left arm and ribs. Saleem couldn't bear the pain and fell unconscious."
Saleem's uncle Waris Masih told International Christian Concern, "They abused and tortured him for 'polluting' the Muslims' water… They got aggressive because a 'Choora' [a derogatory term for Pakistani Christians] dared to make their water unclean. They claimed this would make their entire crop filthy."
Family pleads for Saleem
Ghafoor Masih said police officials informed the family about the incident four hours after his son had been taken away and tortured.
"When we reached there, we found Saleem lying unconscious on the ground, his face and body bloodied due to the torture", he said. "Dogar had apparently summoned the cops himself, and it was evident that he had also bribed them, because they tried to coerce us into 'settling the matter' amicably."
The family pleaded with Sher Dogar to free Saleem so they could take him to hospital. "After much pleading, they allowed us to take Saleem while the police acted like spectators," Ghafoor said.
Saleem's family took him to a district hospital where he received initial treatment, but doctors told them to take him to Lahore's General Hospital, 50 km north of Kasur, due to the severity of his internal injuries.
Police "indifference"
"After seeing the police's indifference to our ordeal, I do not have much hope that my son's attackers will be brought to justice," Ghafoor said.
Before Saleem died, members of the Pakistan Centre for Law and Justice (PCLJ) helped Ghafoor to register a First Information Report against Sher Dogar and the other men responsible. After briefly holding the men in custody, however, police granted them bail.
PCLJ Executive Director Napoleon Qayyum commented, "The police's attitude is often biased when they deal with matters relating to blasphemy, forced conversions and marriages of girls belonging to minority faiths, and even in minor disputes. In this instance, for example, the police favoured the accused and helped them in getting bail even though a young man's life is at serious risk."
Kasur District Police Chief Zahid Nawaz Marwat denied police discrimination in cases involving non-Muslims. "There may be some black sheep in the police department, but that doesn't mean that the entire force is composed of such people," he told Morning Star News. "We believe that all Pakistanis are equal in the eyes of the law irrespective of their faith or caste."
He said he would look into the accusation that police officials acted improperly in the case, promising, "The police officials concerned will face departmental inquiry and be punished if it is found that they are protecting the accused."
Muslim community leader Mian Muhammad Abbas told International Christian Concern, "Christians and Muslims have been living in this village together for over four decades. We still want to live in peace. This village and country belong to every citizen and we are sad for Saleem Masih."
(International Christian Concern/Morning Star News/Pakistan Today/Religious Liberty Prayer Bulletin)
Church in Chains has written to the Pakistani Ambassador to Ireland, Mr Sardar Shuja Alam, to express deep shock at this murder and to appeal for urgent action by the government of Pakistan to bring the perpetrators to justice.
Share this