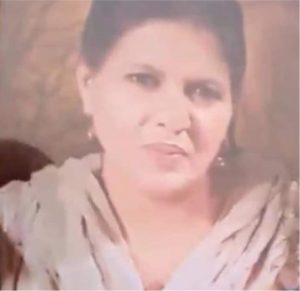 Christian widow Shazia Imran Masih (40) was raped and murdered by four men for refusing to convert to Islam and marry a Muslim. The attackers slashed her neck and also doused her with acid.
The incident occurred in Lahore on 6 June but was only reported on social media on 1 July after police arrested the prime suspect, who has confessed to the killing.
On 1 July Bishop Azad Marshall, Moderator Bishop of the Church of Pakistan (the church to which Shazia belonged, part of the Anglican communion), tweeted: "Our hearts go out to the children and family members of Shazia Bibi, who was abducted, gangraped, murdered and her body doused in acid by four Muslim men on June 6 after she repeatedly turned down attempts to forcibly convert and marry the main accused. Shazia was the sole breadwinner for her children after her husband's alleged murder in 2021. While the main accused has been arrested and also admitted to the gory crime, attempts are being made to pressurise the family to reconcile with the murderers. We demand justice for the victim's family and urge the govt to ensure their security in face of serious threats."
Following her husband's death Shazia worked as a nanny at a day care centre at Lahore University of Management Sciences, where she reportedly met the man accused of her murder. She lived in Lahore's Mehar Town with her two sons, Salman (16) and Abrar (6), and daughter Aliza (7).
On 6 June Shazia went to work as usual, but did not return home later. Family members searched for her without success and next day they went to the police to report her disappearance.
"Later in the day we received a call from the Hyer police station that they had found a body from a plot that matched Shazia's description," Shazia's brother Zafar Masih told Morning Star News. "We immediately went to the police station, but when we saw the body, we could not believe our eyes. Shazia's jugular vein had been slit with a sharp object, and her body had been badly burnt by acid."
Zafar said a forensic examination revealed that Shazia had been gang-raped before being killed and said the primary suspect was a notorious local criminal who had been pressurising Shazia to convert to Islam, along with her children, and marry him.
"Shazia did not share this with us due to fears for our security," he told Morning Star News, "but three days before her abduction, she told [another relative] that [the accused] had threatened to kill her if she did not surrender to his demand."
Police arrested the prime suspect, who confessed to the murder, but Zafar said officers seemed uninterested in arresting the three suspected accomplices (the prime suspect's brother and two cousins).
"The accused are very influential, and they have been persistently threatening us to reconcile and withdraw the case," he said. "Due to these threats, we have been forced to go into hiding and are not even free to pursue the case. [The prime suspect] is still in police custody, but we doubt that we'll get justice for our sister, as the police's bias is evident by its inaction against the remaining accused."
As news of the murder began to circulate, Punjab police tweeted: "The main accused in his confessional statement has said that the woman had developed relations with him after her husband's death and had now started blackmailing him, prompting him to murder her. Giving a religious colour to the motives behind the killing is inappropriate and completely contrary to the facts. Further investigation is going on, the case will be brought together according to the requirements of justice and law, and the guilty will be punished." Police did not mention any evidence of or explanation for the alleged blackmail.
Samson Salamat, chair of socio-political movement Rawadari Tehreek told Morning Star News: "Shazia's case is crystal clear, but the circumstances show that the police are siding with the influential perpetrators instead of administering justice to the victim's family. The situation is critical, as the family is fearful of even pursuing the case due to constant threat to their lives."
Shazia's three children have been traumatised by the incident, according to her brother Zafar, and they are now being cared for by their grandmother.
Abduction, forced conversion and marriage
Abduction, forced conversion and marriage is a serious issue for Christian families in Pakistan. Every year many Christian girls and women are kidnapped and forced to convert to Islam and marry their abductors, generally much older Muslims who are often already married with children. This has increased in frequency in recent years and is also an issue for Hindus. Perpetrators know that the likelihood of conviction is low, as police often help the suspects rather than investigating the abductions.
Following Shazia's murder Bishop Azad Marshall told Morning Star News, "We are now hearing such cases of aggression and brutality against Christian women almost on a daily basis, and we demand the government to take cognizance of such crimes and make examples of the perpetrators. We are already fighting to save our young girls from the scourge of forced faith conversions, but our married women are also increasingly being targeted to convert and marry Muslims. This is unacceptable."
The Bishop vowed to stand with Shazia's family in its pursuit of justice.
(Asia News, Bitter Winter, Morning Star News)
Share this