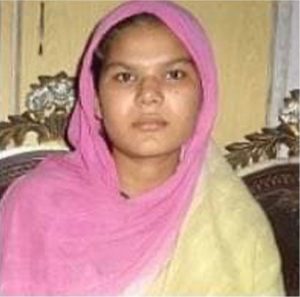 On 30 November Christian woman Sonia Bibi (24) was murdered by a Muslim man for refusing to convert to Islam and marry him.
Sonia was on her way to work in Rawalpindi when her stalker, Muhammad Shahzad, shot her in the head. Police found her at the side of the road, discovered her employee card on her person and called her employer, who then informed the family.
Sonia's family members took her to hospital, but she died on the way. Her mother Teresa Bibi Teresa told Morning Star News that her daughter, the eldest of six, was murdered by two Muslims after she refused to renounce her Christian faith and marry one of them. She said the main suspect, Muhammad Shahzad, had been terrorising Sonia for five months. "He also sent his mother to our house for the marriage proposal," she said. "We refused because we belong to different faiths." Shahzad continued to stalk Sonia with his accomplice (identified only as Faizan), often threatening to kill her if she did not convert and marry him.
Sonia's father Allah Rakha Masih said Shahzad runs a photography studio and that for the past few months he had been following and harassing her and insisting that she marry him. Sonia kept telling Shahzad it was not possible as she was a Christian and he was a Muslim, but he persisted in threatening her.
Sonia began working as a housemaid to help support the family two years ago when her mother was electrocuted and suffered an arm injury. Her sister Nazish (18) also works as a housemaid and their father is a sanitary worker. He commented, "We are Christians from generations, and Sonia was a true Christian and strong in her faith and she has been killed for following her Christian faith."
Police have arrested Faizan and have registered a case against Shahzad, who is on the run.
Pakistani government orders investigation
Prime Minister Imran Khan has ordered an investigation into the forced conversion of women and girls from Pakistan's religious minority communities.
On 30 November Tahir Mehmood Ashrafi, the Prime Minister's Special Representative on Religious Harmony, stated at a press conference, "The PM has ordered an investigation on a case-by-case basis of incidents of forced conversions of minor girls belonging to minority communities, particularly Christian and Hindu, to find reasons for this issue. Law and rights are equal for all. Christians, Hindus, Sikhs and daughters of minorities are our daughters as well… Forced marriages, forced conversion of religion and abduction of underage girls of other religions in the name of marriages will not be tolerated. The human rights ministry, in consultation with other stakeholders, is working out a mechanism to eliminate the fear of forced marriage among non-Muslims."
(CLAAS, Morning Star News, Pakistani Christian Post, UCA News)
Share this