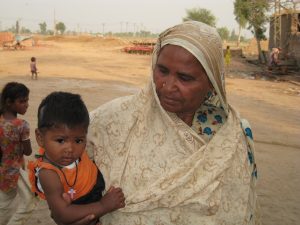 Christian leaders in Pakistan have reported several incidents in which Christians have been denied food aid amid the Covid-19 crisis. There are 4,072 confirmed cases of Covid-19 in Pakistan to date and 58 deaths.
Since the authorities put most of Pakistan in lockdown on 21 March, poor communities have been left desperate to find food as work for daily wage labourers has been shut down. Approximately 45% of Pakistan's total population live below the poverty line. The national lockdown has cut off many day labourers from earning their wages and reports of starvation are already circulating.
On 29 March, reports began to emerge from Karachi, the largest city in Pakistan, of Christian and Hindu families being refused food aid by NGOs distributing aid in response to the Covid-19 crisis.
Refused aid in Lahore
On 3 April, it was reported that a few days earlier, those in charge of distributing government food aid refused to supply Christians in the Sher-Shah neighbourhood of Pakistan's second largest city, Lahore. Church in Chains received further reports from local pastors about the same discrimination in other neighbourhoods of Lahore such as Garden Town and Youhanabad.
According to a local pastor who wishes to remain anonymous, an announcement was made through a mosque's loudspeaker in the neighbourhood of Sher-Shah inviting citizens to collect the government's announced food aid. The pastor stated: "When Christians reached the distribution point and presented their national identity cards, they were asked by staffers to get out of the line, claiming the foodstuff was only for Muslim citizens."
The pastor added that he received multiple phone calls over several days from members of his congregation reporting similar denials of aid. He asked the international community to step in and provide aid to the minority communities of Pakistan.
Rachel Bibi (50), who was among the Christians denied aid in Sher-Shar, told International Christian Concern: "Christians often face religious hatred and discrimination. However, we never thought of this biased behaviour by the majority people at this critical time of COVID-19. The authorities must take action against those involved."
Christians excluded elsewhere in Punjab
On 5 April, more than one hundred Christian families from Sandha Kalan village in the Kasur district of Punjab province were excluded from a distribution of food aid. The aid, collected by a village management committee, was reportedly designated to be distributed among all the deserving families of the village. However, when the aid was distributed, Sheikh Abdul Haleem Hamid, a cleric at the local mosque, decided that the food aid would be distributed only to Muslim families and did not allow a single Christian family to receive aid.
Shahakeel Ahmed, a local Muslim and human rights defender, protested against this discrimination and raised his voice against the decision made by the cleric. However, his protest went unheard.
"I condemn this inhumane and discriminatory act by my Muslim village fellows and stand in solidarity with the poor Christian population of the village," Ahmed said. "Therefore a group of like-minded individuals are collecting donations from liberal Muslims to extend foodstuff to this vulnerable segment; the Christians of this country."
On 8 April, Prime Minister Imran Khan said that the government would begin to distribute relief funds from 9 April to twelve million lower-income families. Under the plan, he said that each family will receive the sum of 12,000 Pakistani Rupees (€66 approx.) and that the money will be distributed from 17,000 different locations across the country. He insisted that the programme is free of any political influence.
Multiple requests for aid
Multiple other requests have reached Church in Chains in the past weeks for assistance to fill the gap left by the lack of government aid in Christian communities.
In response, on 26 March Church in Chains sent a grant of €2,500 to one of its partner organisations in Pakistan, CLAAS, for use in providing basic foodstuffs (flour, rice, lentils etc) and hygiene supplies (soap and face masks) to needy Christians with no other means of support. On 8 April Church in Chains sent an additional €7,500 to provide further emergency aid to the many Christians discriminated against in the provision of state aid.
A special Covid-19 appeal is being launched by Church in Chains to support disadvantaged Christians in Pakistan and other countries as the pandemic spreads and reaches already vulnerable regions such as Sub-Saharan Africa.
(Aid to the Church in Need/CLAAS/Dawn/International Christian Concern)
Share this