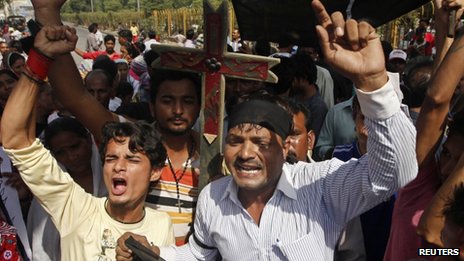 Peshawar came to a standstill on Monday 23 September as protests were held in condemnation of the previous day's suicide bombs at All Saints Church, which left at least 85 people dead.
Protests were held across the city in the wake of Sunday's bombing. The official death toll from Pakistan's worst attack on Christians has now reached 85, with more than 140 people injured. The actual death toll is probably much higher, as some relatives recovered the bodies of their loved ones before they were accounted for. During the protests roads were blocked, stopping traffic for many hours, and tyres were burned. The major protest routes were heavily policed. Protests were not confined to Peshawar, but took place across Pakistan. Demonstrators chanted slogans against the government and law enforcement agencies for their failure to protect places of worship and to provide timely medical facilities to those who were rushed to hospitals.
Addressing the demonstrators, protest leader Riyasat Masih said, "No one is safe here. Now they have targeted a church, later they can attack mosques and imambargahs [Shia congregation halls]. We need protection. Our state and law enforcement agencies are too weak to prevent the unabated killing sprees in the city."
"We are considered second class citizens in our native country," said protester Anwar Chand. "This is as much our country as it is for the Muslims. We should be provided protection."
Arshad Mehmood, a retired government officer, also addressed the demonstrators and criticised the government for a "pitiful compensation package" for the victims.
Health Minister Shaukat Yousafzai spoke to demonstrators near the provincial assembly building and asked them to stop the protests, saying that the government is making all efforts to provide medical facilities, compensation and justice to the victims. Instead, demonstrators chanted slogans against the government. They also pelted stones at police officials but the Bishop of Peshawar, Humphrey Peters, intervened and dispersed them peacefully. In a statement, the Bishop said that the recently elected provincial government bore some responsibility. "They have failed to provide security to minorities in the province," he said.
A separate protest led by Sikh elder Sardar Charanjit Singh comprised Hindus and Sikhs chanted slogans against the provincial government and the police for their failure to provide security to non-Muslims. Addressing the demonstrators, Sardar Charanjit Singh said: "On August 14, Prime Minister Nawaz Sharif declared religious minorities were safe in Pakistan but the ground reality is far from such declarations. We are not satisfied with the security arrangements at churches, temples and gurdwaras [Sikh places of worship] in the city. The provincial government should install closed circuit cameras in these places."
"People are so angry. They are asking for protection from the government," said Sohail Johnson of Sharing Life Ministry in Lahore, who travelled to Peshawar after the attack. "We all feel insecure in Pakistan. The law enforcement agencies and the government have failed us. We are not even able to celebrate our Sunday service for two or three hours."
"It's not safe for Christians in this country," said Mano Rumalshah, the bishop emeritus of Peshawar, as he comforted sobbing parishioners. "Everyone is ignoring the growing danger to Christians in Muslim-majority countries." Echoing the bishop's warning, some said that Christians would only be safe if they left Pakistan, although others vowed to remain and show they were not afraid.
Pakistan's interior minister, Chaudhry Nisar Ali Khan, told parliament that he would be meeting with senior members of the country's Christian community in the coming days. He said he would discuss a new plan to protect places of worship.
After the attack, Christian leaders announced that all missionary schools would remain closed until Wednesday, but missionary hospitals would remain open.
Negotiations with Taliban
Responsibility for the Peshawar bombing was claimed by the Jundullah branch of the Tehreek-e-Taliban Pakistan, a group that has orchestrated similar attacks against Shias. It said the attack had been carried out in revenge for US drone strikes in Pakistan's tribal areas. "Until and unless drone strikes are stopped, we will continue to strike wherever we will find an opportunity against non-Muslims," Jundullah spokesman Ahmed Marwat told reporters.
At a meeting of all the leading parties earlier this month, a policy was agreed by the government to negotiate with the Tehreek-e-Taliban Pakistan and other militant groups. This policy now looks to be in tatters. On Sunday, Prime Minister Nawaz Sharif said, during a visit to London, that the government would be "unable to proceed further" with talks following the Peshawar attack.
In the aftermath of the attack, many have questioned the wisdom of Mr Sharif's defunct policy to promote peace talks with the Taliban. "What dialogue are we talking about? Peace with those who are killing innocent people," said Paul Bhatti, head of the All Pakistan Minorities Alliance (whose brother Shabaz, a government minister who spoke out against the blasphemy laws, was assassinated in 2011). "They don't want dialogue. They don't want peace."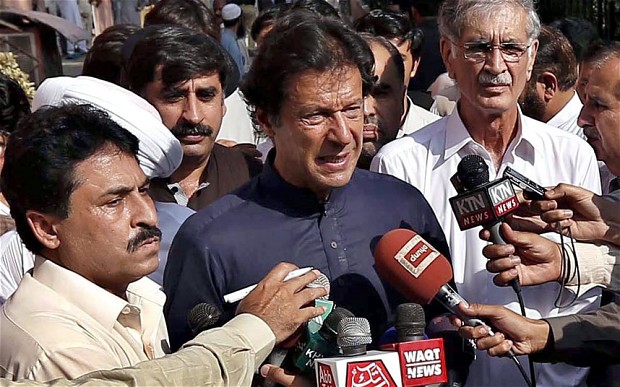 "How can you talk to people who are killing civilians?" said Tahir Naveed Chaudhary, chairman of the All Pakistan Minorities Alliance. "We are just wasting time and we will lose more people. This is a message that the government must take concrete steps against terrorists." He also criticised Imran Khan (pictured), the opposition leader whose party, Pakistan Tehreek-e-Insaf, controls the provincial government of Khyber Pakhtunkhwa, the northwestern province of which Peshawar is the capital. Mr Khan has promoted a solution to militancy that involves ending Pakistan's support for the NATO mission in Afghanistan, withdrawing troops from the autonomous tribal areas and striking a deal with the Pakistani Taliban. On Sunday he suggested that the Peshawar attack was a deliberate effort by unnamed forces to scupper talks. He also linked militant violence to US drone strikes, prompting his many critics to accuse him of making excuses for terrorism.
Some victims of Sunday's bombing said that they agreed with Imran Khan. "It's because of the drones and the US war on terror," said Amir Masih (25), in a ward in Peshawar's Lady Reading hospital packed with survivors. His two sons and daughter were killed; in the adjacent bed lay his badly injured wife. "We have no choice," he said. "We have to negotiate with them."
(Express Tribune, Guardian, Independent, Irish Times)
Share this