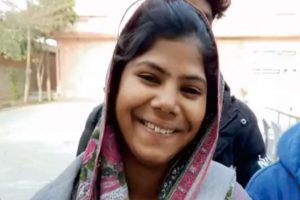 On 16 February, Faisalabad Session Court ordered that 13-year-old Christian Farah Shaheen be allowed to leave a government-run women's refuge and rejoin her family, eight months after 45-year-old Muslim Khizar Hayat took her to a local mosque to be converted and forced her to marry him. Farah, pictured on the day of her release, is the second of six siblings whose mother died five years ago.
Farah was rescued in December but was moved to a refuge in Faisalabad while the court heard a petition from her father Asif Masih, a daily wage labourer, for her to be allowed to return home. She was placed in the refuge rather than being returned to her family immediately because, like other kidnapped girls and young women under pressure from their abductors, she had said in her statement that she married of her own free will.
Session Court Judge Rana Masood Akhtar stated, "She wants to live with her father. Since the marriage between Farah Shaheen and Khizar Hayat has not been registered and Nikah [marriage contract] has not been verified by the Union Council concerned, she cannot be kept in Dar ul Aman [the refuge] for an indefinite period. The petitioner, father of Mst. Farah Shaheen, also has given an undertaking that he and his family members shall properly take care of Mst. Farah Shaheen and that they will not allow anybody else to cause any harm to her life and liberty."
The judge declared that medical tests ordered by the court giving her age as 16 or 17 were inconclusive. The tests had been ordered despite Farah's official birth certificate showing her to be aged 12 at the time of the marriage, and thus too young to marry.
Speaking to Morning Star News, Farah's father commented, "She's deeply traumatised and fearful, but my child is very happy to be back in her family. Just when we thought that we had lost her, this miracle happened. May God keep all daughters in His protection."
Chained in captivity
Police found Farah chained in Khizar Hayat's house in December, with marks on her ankles that showed she had been fettered during much of her captivity. She reported that she had been attached to a chain, shackled hand and foot and forced to work from dawn to dusk cleaning dung in a cattle pen in the yard of the house. Local activist Lala Robin Daniel told UCA News, "Her ankles and feet were wounded. They were bandaged at the police station. She was in trauma and couldn't talk about the torture."
Hayat was taken into custody but was released on bail and in January the authorities dropped charges of abduction and rape after Farah testified that she had married him willingly and wanted to live with him. Her family said she was traumatised and feared retribution if she testified against him, while her lawyer said that her statement was made under threats and pressure at the refuge.
Lala Robin Daniel told Morning Star News that until Hayat and his alleged accomplices are taken into custody they will remain a threat to Farah and her father, and added: "All those who were involved in this case should be given exemplary punishments so that people have a fear of the law. Unless stern legislation is brought against forced conversions of minor girls and the accused are punished, there is little hope for safety of our children."
Young minority women at risk
Bishop Iftikhar Indrias of the Apostles of Gospel Ministries International, who provided legal aid to Farah's family and led a campaign for her to be reunited with her father, told UCA News, "We thank all Christians for raising their voice against the insult and injustice. We shall make this success a reference to stop forced conversions of our daughters. It is our responsibility as their parents and protectors to ensure their security and support such victims of violence upon their return back home."
The Movement for Solidarity and Peace in Pakistan states that every year Muslim men abduct up to one thousand female Christians and Hindus aged between 12 and 25, with forced marriage and conversion being common as well as gang rape, trafficking and forced labour.
A parliamentary panel on minorities has forwarded legislation to the Pakistani government on curbing forced conversions of minority girls, recommending that only adults should be allowed to change religion and only after appearing before a senior district judge who should ensure that the conversion is not under duress.
(Aid to the Church in Need, Morning Star News, UCA News)
Share this