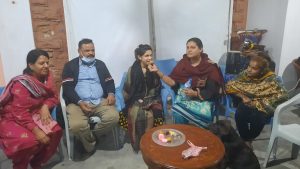 On 22 December, the Sindh High Court handed custody of 14-year-old Arzoo Raja, now known as Arzoo Fatima, back to her Christian parents in Karachi after she testified that she wished to return to them from the refuge where she had spent a year.
Arzoo had been abducted, forcibly converted and married to a Muslim, Ali Azhar, in 2020. After police rescued her, a court ordered that she be placed in the refuge until the age of 18 (see Background, below).
After a year in the refuge, Arzoo filed an application requesting to move back to her parents. Counsel for Ali Azhar argued that since Arzoo had converted to Islam she could not be returned to her parents because they are Christians, but the court decided in Arzoo's favour. It ordered her not to meet with Ali Azhar, who was released on bail earlier this year.
Photos posted on social media showed Arzoo celebrating with her family after they were reunited. "Celebrating reunion of the family. Arzoo is happily received by the family," wrote pastor and rights activist Ghazala Shafique in a Facebook post – she is pictured to the left of the family photo, above.
Lawyer Jabran Nasir, a well-known human rights activist who is representing Arzoo's parents, told Morning Star News that the latest legal case focused only on custody. "Our case was for the girl's recovery, which has been granted," he said. "Her conversion was not the subject." He added that he is working to prosecute Ali Azhar under the Sindh Child Marriage Restraint Act and rape laws.
Asked whether Arzoo can return to her Christian faith, the lawyer said there was no religious or legal bar to a minor reconsidering a decision to convert. He told Morning Star News, "If she was indeed intimidated into converting to Islam, and some days later she finds the courage to give a statement in court, the judge won't object to it."
At the hearing, the Sindh High Court division bench of Justice Mohammad Karim Khan Agha and Justice Arshad Hussain Khan asked Arzoo if she had converted to Islam of her own free will and she replied that she had, while also saying that she wanted to go with her parents.
Arzoo's parents assured the court that they would allow her to practice her religion freely and would not pressurise her into changing her religion or cause any physical or mental harm to her for converting to Islam or for initially deciding to stay at the refuge.
The court then ordered that Arzoo be returned to her parents' home and that until she reaches age 18 they must bring her before a police officer every three months to certify that she is being treated well – if not, the matter would be put before the court.
Pakistan's leading human rights lawyer Saiful Malook criticised the verdict, telling Morning Star News, "I fail to understand why the judges had to bring up the conversion issue when the matter was related only to the girl's application for relocating to her parents' home. They have signed her death warrant, if you ask me."
He said the verdict should be challenged in the Supreme Court because the judges had transgressed their jurisdiction. "There's no legal provision that empowers an SHO [Station House Officer] to summon the girl every three months to check her wellbeing and whether she's sticking to her Muslim faith or not," the lawyer said. "This is an absurd judgment."
He added that Arzoo's parents are unlikely to win a rape conviction against Azhar. "In this situation the only offence the accused has prima facie committed is the violation of the Child Marriage Restraint Act, which bars marriage under the age of 18," he told Morning Star News. "His release on bail is a sign that he'll escape punishment."
Background
In October 2020, Arzoo was kidnapped, forcibly converted to Islam and married to her 44-year-old Muslim neighbour Ali Azhar, who was already married with children. Her parents challenged the validity of the marriage in court on the grounds that it violated the Sindh Child Marriage Restraint Act, which forbids marriage of under-18s, and produced a copy of Arzoo's birth certificate, which showed her to be aged 13. However, the Sindh High Court gave custody to Ali Azhar, who produced a marriage certificate stating that Arzoo was 18.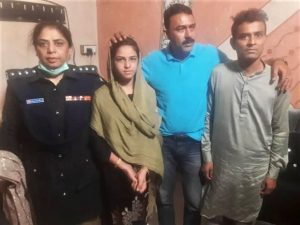 Following international outcry, in November 2020 the Sindh High Court issued an order that police recover Arzoo and that the case be investigated. The court also ordered that police arrest Ali Azhar on charges of kidnap, perjury and marriage with a minor. (The photo shows Arzoo with a police officer after she was rescued on 2 November 2020, with Ali Azhar on the far right.)
The High Court ordered a medical board to determine Arzoo's age and four days later she was declared to be underage.
Later in November 2020, the court ordered that Arzoo remain in a state-run women's refuge after she refused to go home with her parents, insisting that she had married of her own free will. (Arzoo has repeatedly stated that she converted and married of her own free will, but these statements are believed to have been made under duress.) The court also ordered that Ali Azhar be charged with statutory rape.
 (Morning Star News, UCA News)
Share this