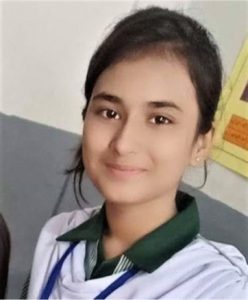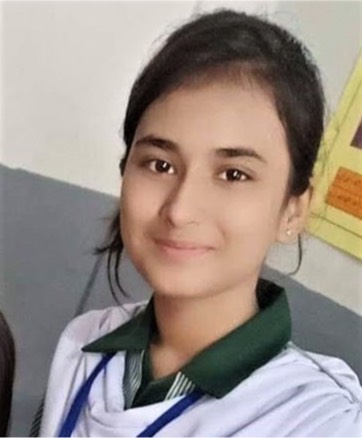 On 4 March, an appeal against Sindh High Court's validation of the forced conversion and marriage of 14-year-old Huma Younas was adjourned and rescheduled for 29 March. The Christian girl comes from Zia Colony in Karachi, capital of Sindh province.
On 10 October 2019, three Muslim men went to Huma's family home, waited for her parents to go out and then abducted her and took her 600 km away to the Punjab city of Dera Gazi Khan. A few days later, Huma's family received official conversion papers and a certificate of marriage to one of the kidnappers, Abdul Jabbar of Dera Ghazi Khan.
Huma's parents took a court case on the grounds that the forced marriage contravened the Sindh Child Marriage Restraint Law, which forbids marriage to a child under the age of 18 without permission from their guardian.
Huma did not appear at court hearings on 11 November and 16 January. The court requested that she appear at the next one on 3 February, but again she did not appear, with police claiming her life could be at risk if she was forced to attend court. Huma's mother Nagina Younas told the court that police investigation officer Akhtar Hussain knows where her daughter is but is fully supporting the abductors.
At the 3 February hearing, Sindh High Court judges Muhammad Iqbal Kalhoro and Irshad Ali Shah took only five minutes to dismiss the petition to have the forced conversion and marriage overturned, ruling that under Sharia law men are permitted to marry under-18s who have commenced menstruation.
The family's lawyer Tabassum Yousaf told Morning Star News, "The hearing on February 3 lasted only five minutes. The court, in just a few words citing the sharia, has justified the violation of the girl's body since she has already had her first period."
Nagina Younas told Aid to the Church in Need, "Once again, justice has been defeated and, once again, our state has shown itself unable to treat Christians as Pakistani citizens. On February 3rd we went to the Sindh High Court but our little girl was not in the courtroom. If we do not get justice, we will address the case to the Supreme Court of Pakistan. We believe that the government and the judges are delaying the decision because our girl is 14 years old. They want to wait for her to turn 18 and then close the case."
Family appeals verdict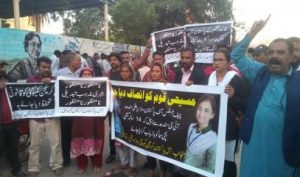 Huma's family filed an appeal to the Court of Justice in Sindh Province and a hearing was scheduled for 4 March, but the judges adjourned the hearing and ordered Akhtar Hussain to present Huma to the court at its next hearing on 29 March so that a medical examination could be carried out to verify her age. This is despite lawyer Tabassum Yousaf submitting baptismal and school documents in court that prove her age. He said he believes the results of the examination are likely to be falsified, and warned, "As time goes by, the less we will know about her fate. Statistics tell us that if pressure is not put on the kidnapper, the minor's fate is always the same: she is forced into prostitution or ends up in the hands of human traffickers."
Commenting on the Sindh Child Marriage Restraint Law, which was passed in 2014 but has not yet been applied, the lawyer said, "We hoped that the law could have been applied for the first time in this case. But evidently in Pakistan, these laws are formulated and approved only to improve the image of the country in front of the international community, [and to] ask for funds for development and trade Pakistani products on the European market for free." 
Saiful Malook comments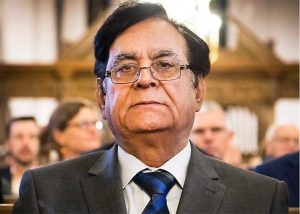 Prominent lawyer Saiful Malook (pictured), who represented Asia Bibi, told Morning Star News that even though Sharia law allows marriage of a minor girl if she has had her first period, the marriage has to be validated by the girl's guardian.
"In no way can any court of law endorse an underage marriage unless it is supported by the girl's guardian," he said. "Marriage is governed by the Contract Act, wherein no minor can enter into a contract or agreement without the explicit approval of her guardian. In this particular case, the court must take into account whether the girl's legal guardian has consented to her marriage even if it's judging the act under the sharia."
He added, "If the police are not producing the girl before the court on various pretences, the court should be wise enough to see through the police's mala fide and hand the custody of the minor back to her parents."
Christian girl rescued after gang-rape
Forced conversion and marriage of Christian and Hindu girls is an ongoing problem in Pakistan. In one recent case, police rescued a 14-year-old Christian from her abductors and returned her to her family, but only after she had endured a terrifying attack.
On 16 January, Muslim youths abducted and gang-raped Sneha Masih near her home in Lahore's Bihar Colony. Police rescued her on 19 January, but the rapists had tortured her into signing documents that they turned into marriage and religion conversion certificates, which it is feared they will use to avoid abduction and rape charges. They told Sneha that if she gave their names she would face severe consequences and they would do the same to her sisters.
In most cases like this, rapists force girls to give false statements in court that they have converted and married of free will and threaten to harm their families if they reveal the truth. Sneha's kidnappers are threatening her parents to try to force them to withdraw the case against them, and the family has had to move into hiding.
(Asia News/Centre for Legal Aid Assistance and Settlement/Christian Post/CNN/Morning Star News/Voice of the Martyrs Canada/UCA News)
Share this