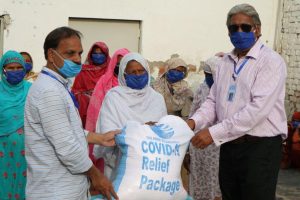 The Edge Foundation, a sister organisation of Church in Chains partner CLAAS, has begun distributing aid to needy Christians in Pakistan.
Volunteers with the group distributed packs containing basic foodstuffs (flour, rice, lentils etc) and hygiene supplies (soap and face masks) in areas of Lahore, capital of Punjab province, where most of Pakistan's Christians live. Among the areas where distribution took place were Lilyani, Easa (Christ) Nagar, Garden Town, Junana and two churches in Youhanabad. Youhanabad is the largest Christian colony in Lahore where the majority of Christians are poor and work for daily wages.
The foundation has also received several requests from other churches and an orphanage in Youhanabad, and is planning for a second round of aid distribution to other churches in Youhanabad and Lilyani.
The Edge Foundation also plans to distribute packs in Bahar Colony, a very big Christian colony, which has dozens of churches, some of which have requested aid. It also hopes to distribute food packs in other Christian colonies like Mariam colony, Nishat Colony, Asif Town and also in  Kasur and Raiwind, two towns adjacent to Lahore, and several other slum areas dependent on the availability of funds.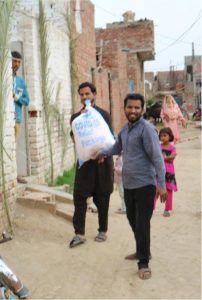 Christians receiving aid were left destitute following the lockdown of society in the country on 21 March, when their jobs as daily wage labourers suddenly ended and they were left with no other means of support. Several reports soon emerged of Christians being discriminated against in general aid distributions and denied aid. A Pakistani Christian leader explained that often such discrimination arises because of a mindset amongst many Pakistani Muslims that leaves Christians out of consideration. He stated that private NGOs always leave Christians out of any distribution whereas government agencies would not practise explicit discrimination but share the mindset that means that Christians are just not considered.
Nasir Saeed, director of CLAAS, said, "The current situation is continuing to worsen, the lockdown period has been extended but since the government was not ready for it and was already facing economic problems, it is going to be tough for the poor, but toughest for the Christians. 
"Several pastors have contacted me who are running independent churches or come from small denominations and are self-supported. They were relying on the Sunday offering and donation from home visits.  Since churches are closed and home visits are not permitted, they have no means of income.
"I am worried because I know the worst time is yet to come for Pakistan and for the Christians, but how bad it will be we can guess from these stories and Prime Minister Imran Khan's continuous appeal to the overseas Pakistanis and the international community to support his fund set up for the poor and needy people affected by COVID -19." 
Church in Chains has sent a total of €15,000 (designated gifts from supporters together with grants from its General Fund) to CLAAS in recent weeks to support the aid programme. It is also distributing funds to partners working to meet urgent needs in India, Eritrea and Nigeria that have arisen as a result of the Covid-19 Pandemic.
Details of how to support the relief appeal are here.
Share this