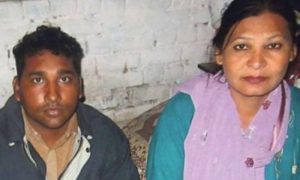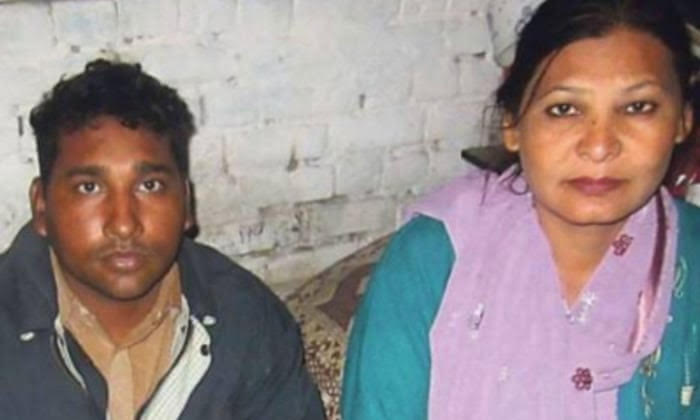 Islamist extremists in Pakistan are calling for the murder of Christian couple Shagufta Kausar and Shafqat Emmanuel, who were acquitted of blasphemy charges on 3 June after eight years in prison but have not yet been released. Lawyer Saiful Malook said extremists have publicly called for him to be beheaded as well as the couple. He said he stood accused of collaborating with blasphemers and that since their acquittal Shagufta and Shafqat's joy has turned to fear.
"The social media are being flooded with hate posts against us and the two judges who ordered the couple's release," he said. "The lives of all of us involved in the case are at great peril. These messages from influential clerics belonging to various religious parties are prompting millions of Pakistani Muslims to kill us so that 'they may go to paradise'. For poor people, who are uneducated, this is a very big incentive."
Shagufta and Shafqat were arrested and charged under Pakistan's blasphemy laws in July 2013 after Shagufta was falsely accused of sending blasphemous text messages to a local cleric and a lawyer. In April 2014 they were sentenced to death for blasphemy. Prison has been especially difficult for Shafqat, who is paralysed from the waist down and is suffering from severe bedsores.
Shagufta and Shafqat's appeal hearing was repeatedly postponed over the years but was suddenly taken up days after the European Union Parliament passed a resolution in April 2021 calling for a review of Pakistan's GSP+ status in view of an "alarming increase in the use of blasphemy accusations in the country". The EU resolution expressed particular concern for Shagufta and Shafqat, stating: "The evidence on which the couple were convicted can be considered deeply flawed." It passed overwhelmingly, 662 to 3, with 26 abstaining.
Shagufta's brother Joseph Janssen told Morning Star News that the government must increase security for the couple and the lawyer, saying: "Islamist forces have suffered a major setback due to the couple's acquittal, and it's unlikely that they will sit behind and watch them leave prison safe and sound." He told Aid to the Church in Need, "All the family and I are very worried for Shagufta, Shafqat, her husband, and Saiful Malook. The threats against them have to be taken seriously. Even in the prison there is a risk of them being shot or poisoned."
High-profile lawyer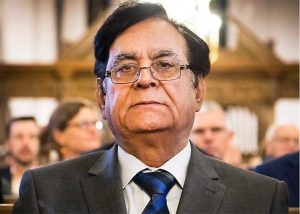 High-profile human rights lawyer Saiful Malook (pictured) became well known when he successfully prosecuted Mumtaz Qadri, the police bodyguard who assassinated Punjab Governor Salmaan Taseer in 2011 and was executed in 2016. Governor Taseer had spoken out against the misuse of the blasphemy laws and had supported Asia Bibi, for whom Mr Malook obtained acquittal in 2018.
"I'm a devout Muslim, and I love the Prophet Muhammad in the same way the other Muslims do," the lawyer explained. "Defending Christians who are accused of blasphemy is my legal, constitutional and Islamic duty. I'm not doing anything un-Islamic. Islam teaches us that if we kill one innocent person, we have killed the whole of humanity, but sadly a large number of my Muslims brothers are bent upon maligning our peaceful and just religion."
He said he feared that violent demonstrations will be held across the country when Shagufta and Shafqat are released, and warned, "The situation will probably be worse than in October 2018, when Islamist zealots brought the country to a standstill after the Supreme Court acquitted Asia Bibi."
The lawyer described the response of the government and security agencies towards their protection as "extremely disappointing," adding: "Prime Minister Imran Khan's government does not want to lose its support from religious hardliners. It's unlikely that our security will be improved by the government, so yes, I am very concerned about all three of us as well as my family."
Pakistan Bar Council condemns threat
A press release dated 12 June from Pakistan's highest elected body of lawyers, the Pakistan Bar Council, stated: "Mr Khush Dil Khan, Vice-Chairman of the Pakistan Bar Council, has strongly condemned the life threats viral on social media against Hon'ble Judges of Superior Courts and Lawyers who conduct sensitive cases in Courts and especially Mr Saif-ul-Malook, Advocate, Supreme Court, he is being targeted by some people, which is contrary to the fundamental rights of citizens.
"He urged upon the government to provide fool proof security to Mr Saif-ul-Malook, Advocate and arrest the culprits, who uploaded hatred and threatening contents on social media against the Judges, Lawyers and Mr Saif-ul-Malook, Advocate, Supreme Court."
Read Shagufta and Shafqat's Prisoner Profile.
(Aid to the Church in Need, Morning Star News, Pakistan Bar Council)
Share this