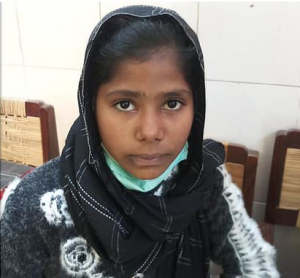 The family of 12-year-old Farah Shaheen (who was found shackled in the home of a 45-year-old Muslim man on 5 December 2020), is increasingly concerned that she will be returned to her abductor. This follows a court hearing on 23 January when Farah testified that she willingly converted and married Khizar Hayat six months ago. Lawyer Atif Jamil Paggan, who is representing the Punjab Ministry for Human Rights and Minorities Affairs, said that charges of abduction and rape against her abductor and two accomplices in Faisalabad likely will be dropped after her testimony.
Since police rescued her, Farah was sent to a government-run shelter for the duration of the court case. Church leaders and rights activists expressed fears that such shelters, police and courts were colluding in the forced conversions of Christian girls. Mr Paggan stated that Farah's testimony did not surprise him, as he found that shelter personnel seemed to be pressurising her. During one of his visits to the shelter, he found the girl holding Islamic prayer beads – he said, "I asked her if she had asked them to [teach her Islamic prayers], to which she said she hadn't and that they were forcing her to do so."
Farah's family believes she was pressurised into giving false evidence. Asif Masih said his daughter had told him that Hayat had treated her like a slave. He denied that Farah had converted to Islam by choice, saying: "I am still in shock as to why Farah has testified in her abductor's favour. How could a 12-year-old child change her religion when she could barely read or write anything?"
Another setback in the case is that the medical report states that Farah is between 16 and 17 years old, even though her official birth record says she is 12 years old. Mr Paggan repeatedly urged the Muslim lawyer representing Farah's family to challenge the medical report, to no avail.
Mr Paggan also stated: "The prejudiced attitude of the judge is also quite evident, because he conveniently overlooked the fact that the police itself had recovered the girl tortured and chained up in her abductor's house. Should the judge not have asked Farah why she was chained and tortured by her alleged husband?"
Mr Paggan thinks it is quite possible that the court will hand Farah's custody to her alleged Muslim husband on the basis of the medical report. "We are exploring our options," he said, "and will try our best to save the Christian child, but a lot of damage has been done due to improper handling of the case by the family's defence team."
Supreme Court petition
According to Azad Marshall, president of the National Council of Churches in Pakistan and Bishop of Raiwind Diocese of the Church of Pakistan, Farah's case is yet another example of how government-run shelters are used to intimidate underage victims of forced conversions and marriages.
Muslim lawyer Saiful Malook, who represented Asia Bibi, has filed a constitutional petition in Pakistan's Supreme Court on Marshall's behalf seeking its intervention. Marshall said "I have now filed a petition in the Supreme Court asking the court to take notice of the increasing cases of forced conversion and marriages of underage Christian girls and how religion is being injected into cases of abduction and sexual assault to cover up and justify these crimes." 
Nasir Saeed, Director of Church in Chains partner CLAAS-UK stated: "Sadly the police doesn't take these cases seriously and instead of doing their duty and keeping themselves impartial, they side with the kidnappers and don't take any action until they are pressured. Christians feel unsafe and worried about their future in Pakistan because of inaction from the government to stop this ongoing treatment against Christian underage girls, which in fact encourages the culprits and therefore such cases continue to rise and there is no hope for the religious minorities."
(CLAAS-UK, Morning Star News)
Share this