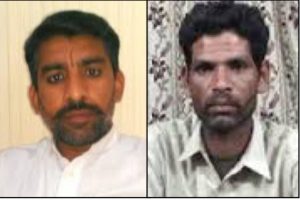 Pakistani Christians Zafar Bhatti (left) and Sawan Masih have had their appeal hearings adjourned again. Zafar's appeal against his life sentence for blasphemy was due to be heard on 16 December but the judge refused to hear his case because of a lawyers' strike in Punjab province, even though Zafar's lawyer was present. A new date of 21 January 2020 was set.
Zafar's doctor has said that he is in danger of suffering a heart attack – he had two minor attacks recently and the doctor says a third could kill him. Also, Zafar's eyesight is reported to be deteriorating due to the dim light in his cell.
Zafar (56) and his wife Nawab (70) are very disappointed that his appeal hearing has been postponed yet again. Since December 2019, it has been adjourned ten times, despite a judge stating at a hearing in April 2019 that there is no evidence against him and that he should be released.
Before his arrest, Zafar worked as a medicine salesman and pastor. In July 2012 he was arrested and charged with sending blasphemous text messages to a local Islamic leader, though the mobile phone from which the texts were sent was not registered to Zafar and he denies the charge. He was imprisoned in Rawalpindi's Adiala Central Jail, where he has remained ever since. In May 2017, Zafar was convicted and sentenced to life imprisonment for blasphemy.
Pakistan's notorious blasphemy laws are a source of great fear as they often result in innocent people spending years in prison awaiting trial and appeal, their families forced into hiding for fear of attack by extremists. Several Christians have spent years on death row for alleged blasphemy.
Read Zafar Bhatti's Prisoner Profile.
Sawan Masih
Sawan Masih's appeal against the death sentence for blasphemy was due to be heard on 12 December but the hearing was adjourned because the Chief Justice of Lahore High Court was away in another town. It was the eleventh adjournment this year, and no new date has been set.
Sawan (31) is a street sweeper and father of three from the Punjab capital, Lahore. He has been in prison since March 2013, when a Muslim friend claimed that he had blasphemed against the Prophet Mohammed. A mob of more than 3,000 Muslims attacked Sawan's home in the predominantly-Christian Joseph Colony and looted and torched 180 Christian homes, 75 shops and at least two churches. The mob threatened to burn Christians in their homes, and hundreds of families fled. In March 2014, Sawan was sentenced to death for blasphemy.
Read Sawan Masih's Prisoner Profile.
(British Pakistani Christian Association/CLAAS-UK)
Share this