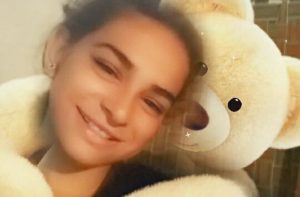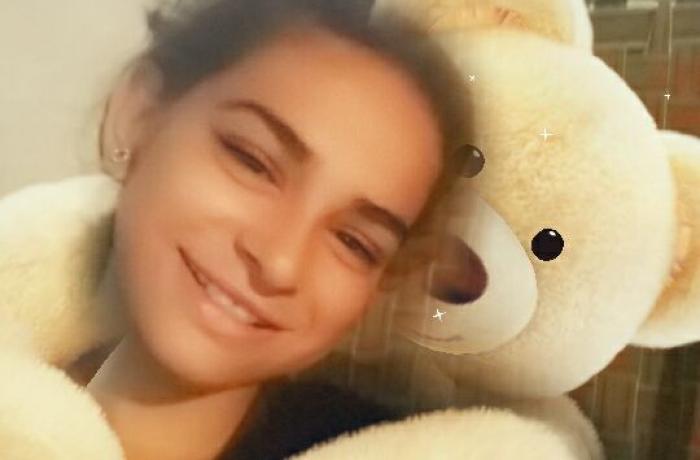 On 27 October, Sindh High Court gave custody of 13-year-old Arzoo Raja to her Muslim abductor Azhar Ali (44), already married with children, who claims that Arzoo converted to Islam and married him of her own free will. He kidnapped her from her home in Karachi on 13 October.
Arzoo arrived at the court surrounded by dozens of Muslims who prevented anyone from reaching her. She tried to run to her distraught mother Rita Masih, but was unable to as her abductor held tightly to her arm.
Sindh High Court Justice K.K. Agha ruled that the marriage was valid and instructed police not to "harass the newlywed couple," rights advocate Ghazala Shafique told Morning Star News. The judge rejected pleas that Arzoo had been forcibly converted and refused to acknowledge documentation of her age (her family provided a copy of a birth certificate from the National Database and Registration Authority showing she was born on 31 July 2007).
Arzoo's family challenged the validity of the marriage on the grounds that it violates the Sindh Child Marriage Restraint Act, which forbids marriage of under-18s. In Pakistan, sexual intercourse with a girl below the age of 16 is statutory rape and carries a death sentence or minimum ten-year prison sentence.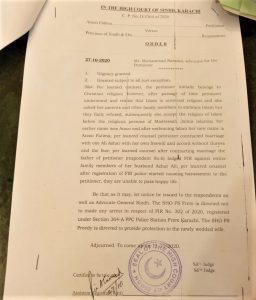 The judge said in his order (pictured) that Arzoo was initially a Christian but that she came to realise Islam was the universal religion and asked her parents to embrace it, which they refused to do, and that subsequently she accepted Islam and married Azhar Ali of her own free will. He asked for a notice to be issued to the Advocate General Sindh that no arrest be made in respect of a First Information Report registered against Azhar Ali and his family.
In trial court earlier in the day, Azhar Ali's defence team argued for dismissal of the kidnapping charges, while the legal team for the Arzoo's family argued that she was the victim of forcible conversion and marriage. The family and legal team were waiting for the court to rule when they heard that Azhar's team had filed a petition in the high court.
"We rushed to the high court where Arzoo and the accused Azhar were present along with his family members and several lawyers," Ghazala Shafique told Morning Star News. "As soon as Arzoo saw her mother, she leapt towards her, but the police and Azhar's family members dragged her away and forced her into the courtroom."
When Arzoo's family and their legal team tried to enter the courtroom, they were manhandled by police and Azhar's family. "We begged them to let us in, but they refused to budge from the door," Ghazala Shafique said. "They did not even allow Arzoo's parents to enter the courtroom."
Kidnapped 
Arzoo was kidnapped from the family home in Karachi's Railway Colony shortly after her parents Rita and Raja went to work on 13 October. Their relative Jameel, a neighbour, called them to say that Arzoo had disappeared and that her two sisters and brother (all older than Arzoo) were searching the area. Rita and Raja joined the search and then went to the police station to report the incident, lodging a First Information Report against unknown people for kidnapping Arzoo.
Two days later, police summoned the family to the police station and showed them documents produced by Azhar Ali including a certificate of marriage to Arzoo that said she was 18 and had converted to Islam. Arzoo's father Raja has pointed out that two of the abductor's brothers are police officers. The family filed a petition in a local court to seek Arzoo's safe return.
Aid to the Church in Need (ACN), which supports persecuted Christians, reports that Arzoo's parents lost their jobs following her disappearance and say they are being threatened by her kidnappers. ACN is helping to cover their legal costs and living expenses.
In an appeal for the return of their daughter that was sent to ACN, Rita pleaded: "In the name of God, please rescue our daughter. We are deeply worried. Please help us. [The abductor] and his supporters are terrifying us and we are in danger from these people. Please listen to our appeal."
Court order
The court order confirming the marriage read as follows.
"The petitioner [Arzoo] initially belonged to the Christian religion. However, after the passage of time, the petitioner understood and realised that Islam is a universal religion and she asked her parents and other family members to embrace Islam, but they flatly refused.  
"Subsequently, she accepted the religion of Islam before the religious person of Madressah Jamia Islamia. After embracing Islam, her new name is Arzoo Fatima; per learned counsel petitioner contracted her marriage to Azhar of her own free will and accord without duress and fear. 
"After registration of FIR police started harassing the petitioner. They are unable to pass a happy life. The SHO is directed to provide protection to the newly wedded wife."
Reaction
Nasir Saeed, Director of CLAAS-UK, commented: "It is a very sensitive matter for Pakistani Christians but sadly it is all falling on the deaf ears of the politicians and the authorities…. It is sad as the Pakistani police and courts have failed to respect their own laws, as well international standards, which are continuing to be ignored especially in forced conversion and forced marriage cases even in the higher courts. Very often young girls are threatened into giving statements to the court saying they have married and converted to Islam of their own free will."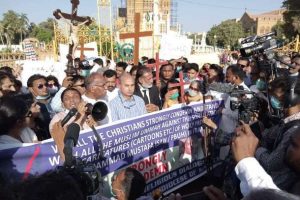 On 24 October, activists, parliamentarians and many Christians protested outside Karachi Press Club to demand the enforcement of the Child Marriage Restraint Act, and since then protests against Arzoo's abduction and forced conversion have continued to mount, with many taking to the streets in Karachi, Quetta, Lahore, Hyderabad, Faisalabad and other cities.
On 28 October, more than five hundred protestors (pictured) gathered at St Patrick's Church in Karachi to demand a fair trial and justice from the Sindh authorities, police and judiciary.
The Movement for Solidarity and Peace states that every year in Pakistan up to 1,000 Christian and Hindu girls and women aged between 12 and 25 are abducted by Muslim men, forcibly married and converted.
(Aid to the Church in Need, Asia News, Centre for Legal Aid, Assistance and Settlement, Morning Star News, UCA News)
Share this