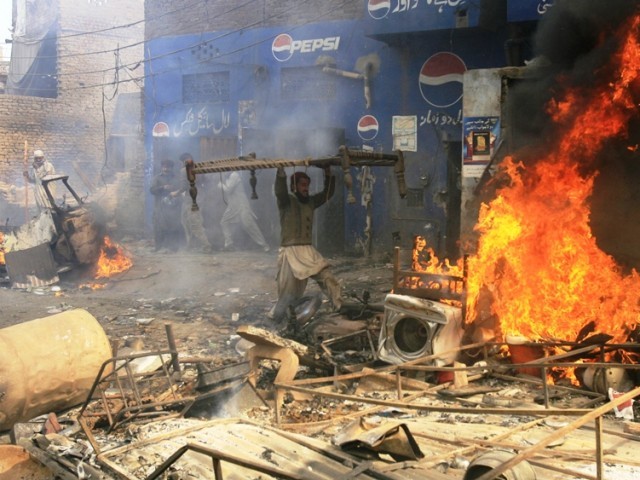 A 3000-strong mob torched scores of houses in a Christian neighbourhood of Lahore on Saturday 9 March 2013, following allegations of blasphemy against a local Christian man.
On Friday 8 March, Savan Masih, of Joseph Colony in Badami Bagh police precinct, was arrested after his Muslim friend Shahid Imran accused him of committing blasphemy. Savan Masih was at work when he heard that a First Incident Report had been registered against him, and he ran away in fear. A large crowd from a nearby mosque went to his home that night, armed with guns and explosives, and police took his father Chaman Masih into custody to try to pacify the mob. Local Muslim clerics had accused Savan and his father of committing blasphemy and incited Muslim residents of Joseph Colony and the surrounding area to attack local Christians to avenge the alleged blasphemy. It has been reported that they also broadcast calls from mosques inciting them to "kill the blasphemers".
Many local people say that the accusation against Savan Masih was false, but a local police official said that the police were forced to register a case against him to placate the mob. He was charged under Section 295-C of the Pakistan Penal Code, which calls for death or life imprisonment for those accused of blaspheming the Prophet Muhammad.
Hundreds of Christian families fled the area that night, fearing for their safety.
A team from the Centre for Legal Aid, Assistance and Settlement (CLAAS), headed by National Director Joseph Francis, came to the colony to help local Christians and to protect Savan Masih's family. He was found during the night and brought to the CLAAS office, where a police officer came to record Savan's statement and take him into custody, promising to keep him safe at a police station.
Members of a political Muslim group presented two witnesses at the local police station, identified as Shafiq and Iftikhar. "They claimed that Masih had blasphemed in their presence," said an official. "By then we had begun to doubt the veracity of the charge as the witnesses were revealed after several hours of the alleged incident, but the situation was such that we had to register a case against Masih to prevent further violence and religious strife."
On the morning of Saturday 9 March, a 3000-strong mob attacked the colony. They looted Christians' homes and set them on fire, using such a highly flammable chemical that the targeted houses were utterly destroyed, leaving the families with nothing. More Christian families fled in terror, but the rioters beat those who were unable to flee, including children and the elderly.
There were many police officers at the scene, but a senior officer told Morning Star News that the provincial government ordered the police not to hinder the protestors and to "let them vent their grief and anger". Local Christian Raja Asif said that a large police contingent only looked on, fingering their weapons but not taking a step forward to stop the mob.
Muhammad Mustafa, a Muslim who owns a tea stall, said he and others tried to stop the mobs from burning the houses: "We tried to stop them, but they wouldn't listen. We have been living with these Christians for the last several years, and there has been no religious animosity between us."
Police said that 25 houses were burnt but the Human Rights Commission of Pakistan put the number at more than 100, and Dr Ahmad Raza, in charge of local rescue operations, said, "At least 160 houses, 18 shops and two small churches were burnt by protesters." Some sources claim that 180 houses and shops were destroyed. A large number of motorcycles and rickshaws were also burned.
About 20 policemen were injured during clashes as they baton-charged the protesters to disperse them. Some of the protesters pelted the police with stones, and two police officials who tried to negotiate with the assailants were badly beaten. About 160 suspects have been arrested.
Over the weekend, large groups of Christians across Pakistan held protests, during which the police were ordered to use tear gas and batons. Some Christians were involved in street fighting with the police. About 300 protesters were arrested, and 60 were injured. Angry crowds in Lahore stoned a bus station and damaged some shops belonging to Muslims.
Background
Savan Masih is married with a son and two daughters, and lives with his parents. For about four years he has been friendly with Shahid Imran, a barber, and they have been in the habit of sitting together in the evening drinking liqueurs and talking. On 7 March they were drinking in the barber's shop when their banter turned abusive, and by the evening of 8 March, Shahid Imran had started a rumour that Savan Masih had passed derogatory remarks against the Prophet Mohammad, reportedly alleging that Savan had "ridiculed" the Prophet by saying that Jesus was the greatest prophet ever.
Savan told CLAAS that he was confused as to how he had got involved in such a dreadful case, and that Shahid Imran was his good friend. He requested CLAAS to handle his legal case, and he asked for shelter for his wife, children and parents.
Official Reaction
Punjab Chief Minister Shahbaz Sharif held a press conference on the night of Saturday 9 March, announcing that each Christian family affected would be compensated, that their homes would be rebuilt quickly, that four senior police officers were to be suspended for inaction and that the government would order a judicial enquiry by the Lahore High Court. On 11 March the Supreme Court issued an order demanding a report on the riots – the order said Lahore police had failed to protect residents. Compensation cheques for at least 500,000 rupees (about €7,000) have been offered to the victims.
The government also stated that cases have been registered against those responsible for burning the houses, and that they will be prosecuted. "These people committed a serious crime," said Punjab Minister Rana Sanaullah. "There was no moral, legal or religious ground to indulge in such an act."
In contrast, Punjab government spokesman Senator Pervez Rasheed, in a television interview, defended the government's complicity in the violence. "The police acted wisely," he said. "The mobs were emotionally charged and needed to vent their grief at the alleged sacrilege. We couldn't just open fire on them or unleash riot policemen, as it would have caused much more damage."
On Monday 11 March, Pakistan's National Assembly interrupted its agenda to condemn the rioting. President Asif Ali Zardari called for a report on the incident and Prime Minister Raja Pervez Ashraf ordered an "expeditious inquiry and measures to stop recurrence of such incidents in future," according to a statement from his office.
The All Pakistan Minorities Alliance condemned the incident and demanded that the government provide security to Christians.
An editorial in Pakistan's Express Tribune newspaper stated: "It is clear we are fast approaching the point where none of us is safe in a land where extremists rule and hatred has overtaken reason."
Chief Justice Iftikhar Muhammad Chaudhry said on 11 March that he holds the Punjab Province inspector general of police, the Lahore police chief and the civil administration responsible for the violence. He also rebuked the Punjab government for its inaction on the similar Gojra attack in 2009, saying that such indifference encouraged violence against minorities. In Gojra, eight Christians were burned alive, 100 houses looted and 50 homes set ablaze after a blasphemy accusation.
(AP, AFP, CLAAS, Dawn, Express Tribune, Morning Star News, World Watch Monitor)
Share this