2020 Online Conference focuses on Pakistan
On Saturday 12 September, Church in Chains supporters from across Ireland and some from overseas logged in to our annual conference (held online for the first time because of Covid-19 restrictions). Broadcasting from an empty Crinken Church in south Dublin, the event featured a mix of pre-recorded items with live speaking.
The keynote speaker (who cannot be named or pictured for security reasons) was a Pakistani Christian now living outside the country but a regular visitor there with a mission that supports persecuted Christians.
He spoke passionately about Christians in Pakistan: "I am originally from Pakistan and I love my people. Whenever I go to Pakistan I feel at home and my heart breaks for the Christian community.  I feel compelled to minster and feel deeply attached to the broken hearted and those who suffer because they follow Jesus and live for Him. 
"There are some very good things about Pakistan; the majority of the people want to live in peace and are very hospitable and warm. However at the same time it is a country where many people despise the Christian community.
"Over the years I have been brought to tears by what I have seen and heard from those have suffered from beatings and bomb blasts and the abuse of our Christian girls who are kidnapped, forced to convert to Islam, and forced into Islamic marriage. 
"Some of the girls I have met have shared their stories with tears in their eyes. When I have prayed for them my own heart has been broken and sometimes I have been lost for words. What is amazing for me is, even though they have experienced a terrible ordeal they love God.
"In Pakistan it is very dangerous to convert to Christianity from a Muslim background. After conversion these believers are usually rejected by their families and communities, isolation and loneliness are daily realities for these brothers and sisters. When I have visited and spent time with them, I have noticed that although their faith is strong, you can see some sadness in their eyes, separated from their families.
"Although churches are free to worship in Pakistan, there has been a number of attacks on churches, which has led many churches to have security guards guarding church services. I have visited villages that have been attacked and met people whose houses have been burned down.
"It's not easy to see brothers and sisters just about lose everything they have worked for. Although Muslims and Christians live together there is always a potential of violence, false allegations of blasphemy and persecution. 
"This blasphemy law carries a death penalty and imprisonment for anyone defaming Islam or Muhammad. This law is a major problem, especially for Christians. And they have been used to make false allegations against Christians which has led to mob violence against them."
Following the keynote speech and the viewing of a short video (produced by Release International) about the case of Zafar Bhatti, Pamela Coulter (Church in Chains trustee) prayed for Pakistan and especially for the persecuted Christians there.
Questions and Answers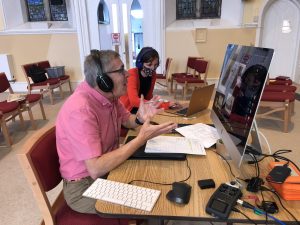 Many delegates took the opportunity to ask questions about Christians in Pakistan, leading to a lively Q & A session in which David Turner posed questions to the speaker. including: Is the law a no-win situation for Christians? Does emphasising the false nature of allegations somehow legitimise the blasphemy law? Is there any sign of the government changing the blasphemy law? Why are mainstream media so unwilling to report persecution of Christians? What is being done to help Christians trapped in slavery working in brick kilns?
The conference also included a report about the distribution of Covid-19 aid (supplied by Church in Chains supporters) to Christians in Pakistan who had been denied government aid.
Global Updates
Virginia Chipperfield brought updates on the situation of Christians in the Middle Belt of Nigeria where there has been a relentless campaign of violence and murder by Muslim Fulani militants. She also updated supporters about Christians facing persecution in Iran and the recent decision of Victor Bet-Tamraz and his wife Shamiram Issavi to leave their country after losing their appeals against prison sentences of ten and five years respectively. Virginia also explained the further tightening of religious regulations in China and asked delegates to continue to remember the suffering of churches such as Early Rain Covenant Church and its imprisoned pastor, Wang Yi.
In an advocacy update, David Turner spoke about Church in Chains' recent meeting at the Indian Embassy, thanked supporters for sending hundreds of postcards to the Nigerian Ambassador about the murder of Christians in the Middle Belt region, informed delegates that Church in Chains would be following up with Ireland's Department of Foreign Affairs on a report sent earlier in the year pointing out that Ireland has not been paying the same level of attention to the persecution of Christians as many other governments and encouraged supporters to send off the "Justice for Huma and Maria" letter (Pakistan) from the latest Church in Chains magazine.
A worthwhile and valuable conference was closed in prayer by Davood (another Church in Chains trustee). Following the event, many delegates contacted Church in Chains to express their appreciation for the online conference.
Share this