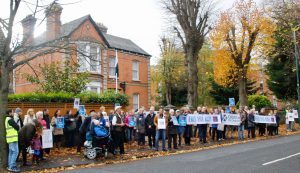 About eighty people gathered outside the Embassy of Pakistan in Dublin yesterday (14 November) to protest and pray for Asia Bibi. Brendan Howlin TD (Labour Party leader) attended the vigil and jointly presented a letter to the Chargé d'Affaires calling for Asia to be allowed leave Pakistan.
The event was held to highlight the continuing injustice being suffered by Asia Bibi, who was acquitted of blasphemy by Pakistan's Supreme Court two weeks ago, but is not being allowed to leave the country.
Protesters held banners and placards, chanted, listened to the latest information about Asia's situation and prayed for Asia and family, the government of Pakistan and for world leaders.
View gallery of photos from the vigil
View video of the event (on The Irish Catholic Facebook page)
The vigil began with chants of "FREE ASIA BIBI… NOW", "LET ASIA BIBI GO" and "JUSTICE DELAYED IS JUSTICE DENIED". David Turner (Director, Church in Chains) briefly outlined the history of Asia's case since her arrest in June 2009. He told the crowd that there had been much confusion at various stages in recent weeks about what exactly has been going on but then confirmed that Asia had been released from prison on 7 November and flown to Islamabad where she had a joyful reunion with her family and is currently being guarded in a secure location by the Pakistani authorities. The danger that she and her family are in has been underlined by the fact that her lawyer, Saiful Malook, who fled to the Netherlands after the Supreme Court's verdict was announced, has appealed to the United Nations to intervene to protect his family in Pakistan.
Brendan Howlin TD addressed crowd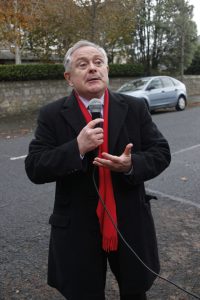 Brendan Howlin TD, who raised Asia's case in the Dáil in late October, spoke to the protesters: "I'm proud and honoured to stand in solidarity with all of you and thank you for being here. What is at stake is somebody who has been persecuted for the right of freedom of expression, freedom of thought, freedom of religion. This is a fundamental core of our being as a republic. It is what we stand for. And if we don't reach and stand for it elsewhere, we can't defend it here in our own communities. What has happened to Asia is completely unacceptable. What continues to happen to Asia is completely unacceptable. And… words are not enough. I have asked the Taoiseach directly in the Dáil to offer to Asia and to her extended family asylum in Ireland. To reach out the hand to her, because she can't in her current situation reach out. Send Irish diplomats to her and ask that if she wants it, that she would be given sanctuary, security and the freedom she has sought to express in her homeland in Ireland."
David Turner updated supporters about the various twists and turns in the Pakistani government's position – from Prime Minister Imran Khan initially standing by the Supreme Court judgment to the Government then agreeing to the demands of extremist protesters by allowing a review petition of the Supreme Court judgment and by permitting Asia's name to be placed on the country's Exit Control List. He said that Prime Minister Imran Khan had since reaffirmed the government's commitment to the Supreme Court judgment.
The Role of World Leaders
The role to be played by world leaders in resolving the situation was also highlighted. France, Spain, Italy and the Netherlands have offered asylum to Asia Bibi but the UK has not – sources stated that the decision was influenced by concerns about the potential for attacks by Muslim extremists on Asia in the UK and on UK embassies in Pakistan and other countries if the UK offered asylum.
David Turner told protesters that he had spoken to officials in the Department of Foreign Affairs this week and was informed that Ireland has been following the case closely (with other EU countries) and will continue to do so and is very well aware of the concerns of supporters of Asia Bibi. He updated the vigil with the news that the President of the European Parliament, Antonio Tajani, phoned Imran Khan on 13 November and that earlier in the week Canadian Prime Minister Justin Trudeau said that Canada is a welcoming country and was in talks with the Pakistani government about Asia Bibi.
The various information updates were interspersed with prayer from Pamela Coulter (for Asia and her family), Davood H.M. (for the government of Pakistan) and Virginia Chipperfield (for world leaders).
The vigil concluded with the presentation of a letter from Church in Chains to the Chargé d'Affaires. Brendan Howlin TD accompanied David Turner into the embassy and afterwards said: "We met with the Chargé d'Affaires. He was very welcoming and he was understanding of our position. I think he was familiar with the fact that I have raised it in the Dáil, what the Taoiseach said in response to me raising it. He gave us assurances, number one about the security of Asia herself, that it was a fundamental requirement of the Pakistan government to protect her and her family and her wellbeing, and secondly to give us an assurance that there wouldn't be a protracted process into the future. That the matter would be dealt with expeditiously. Please God that will actually come to pass.
"I've tabled another parliamentary question for next week to the Minister of Foreign Affairs, the Tánaiste. I have asked that our diplomats will keep it on the agenda of Europe as well as in direct bilateral discussions with Pakistan officials, ambassadors here and of course in any international fora where human rights and the values that are expressed are discussed."
Share this