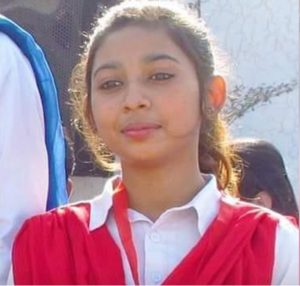 On 22 August, 14-year-old Christian girl Maira Shahbaz managed to escape from the home of Mohamad Nakash, the man who had kidnapped her in April 2020.
Maira has now gone into hiding with her mother Nighat and three siblings. A family friend has said that they are moving from place to place every few days, adding: "Maira is traumatised… we want to take her to the doctor but we are afraid we might be spotted."
Horrific ordeal
Maira has spoken of the horrific ordeal that she has been through. "Nakash and two other men took me to an unknown place at gunpoint," she said. "He forced me to have a glass of juice that contained some intoxicant. I was semi-conscious at that moment and Nakash raped me forcefully and also filmed me naked. When I came to my senses, I started shouting and requesting them to release me… They threatened to murder my whole family. They have also shown me my naked video and pictures which they have taken on their mobile while raping me and he threatened to upload the video to social media if I told anyone what he had done to me."
Maira said she had been forced to sign blank papers and denied that she had converted to Islam. "I was coerced into making those statements in the courtrooms," she said. "They threatened to kill us all."
Application for police protection
Maira's lawyer Sumera Shafique said she has applied for police protection for the girl at the Lahore High Court's Rawalpindi Bench because Nakash posed a serious threat to her life.
"The judge has ordered the regional police officer to ensure Maira's security and also probe the video used to blackmail her," she said. "I have also filed a suit for cancellation of her marriage and forced conversion in the family court."
Meanwhile, it is reported that  Nakash is calling for the arrest of Maira's mother Nighat, her uncles and a family friend, alleging that they had forcibly taken away his "lawfully wedded wife" from his home.
"The family is in hiding due to the case registered by Nakash," Maira's lawyer said. "I was told that the accused is searching for the girl to stop her from revealing the truth, which is why we decided to appear before the Rawalpindi bench as a security precaution."
Timeline
28 April 2020 Maira was abducted by Mohamad Nakash and two accomplices, who forced her into a car while she was walking home in Madina Town near Faisalabad in Punjab province.
After the abduction, Nakash claimed that Maira had converted to Islam and produced a marriage certificate stating that she is 19 years old. The Muslim cleric whose name is listed on the marriage certificate has denied any involvement in the marriage.
30 July 2020 Judge Rana Masood of the Faisalabad court ordered that Maira be allowed to leave her abductor's custody and be placed in a women's shelter until the Lahore High Court could hear her case. Following this ruling, the police registered a complaint against Nakash and his two accomplices for the abduction.
4 August 2020 Judge Raja Muhammad Shahid Abbasi of the Lahore High Court ruled in favour of Nakash because the court found that Maira had converted to Islam. It ordered that she be returned to her abductor. Witnesses in the court said that when the ruling was announced Maira was in tears and her mother Nighat (pictured with Maira's siblings) was also visibly distressed.
22 August 2020 Maira escaped from her abductor and went into hiding with her mother Nighat and siblings.
Hundreds of Christian and Hindu teenage girls are abducted every year in Pakistan. Police are often slow to respond to reports of such kidnappings and courts frequently side with the abductor.
(Aid to the Church in Need, Morning Star News)
Share this