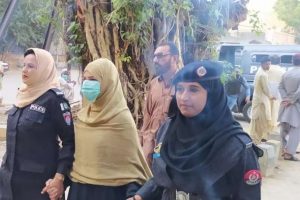 A medical board set up by the Sindh High Court to establish the age of abducted Christian Arzoo Raja (pictured being escorted to court) has said that she is around 14 or 15 and not 18 as her abductor Ali Azhar had insisted.
The 44-year-old Muslim took 13-year-old Arzoo from her family home in Karachi on 13 October, converted her to Islam and married her. Arzoo's parents reported her disappearance to local police but were informed two days later that she had converted and married Azhar, a neighbour. They challenged the validity of the marriage on the grounds that it violates the Sindh Child Marriages Restraint Act 2013 (which prohibits marriage of under 18s), but on 27 October the Sindh High Court ruled that the marriage was valid and granted custody of Arzoo to Azhar.
Following national and international outcry, on 2 November the High Court reversed its decision and ordered the authorities to rescue Arzoo and place her in a women's shelter pending investigation of her case, and ordered police to arrest Ali Azhar on charges of kidnap, perjury and marriage with a minor.
On 5 November, the High Court ordered a medical board to determine Arzoo's age, despite official government and school documents showing her to be 13. At this hearing, Arzoo said she was 18 and had converted by choice and married Azhar of her own free will – statements believed to have been made under pressure from her abductor.
Medical board reports to court
On Monday 9 November, the medical board presented its report, which estimates Arzoo to be between 14 and 15 years of age. A division bench of the Sindh High Court headed by Justice K. K. Agha heard the results of the medical test and declared Arzoo to be underage.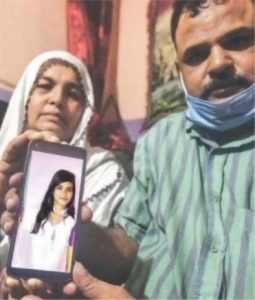 Arzoo again stated that she had not been kidnapped and had willingly married Azhar after converting to Islam, and when the court asked her if she wished to go with her parents (pictured) or back to the refuge, she burst into tears and said she wanted to go with Azhar. Since she is too young to contract a marriage of her own free will, the bench ordered that she be returned to the refuge pending another hearing on 23 November. The court also told police to proceed against Azhar for violating the Sindh Child Marriages Restraint Act 2013 (which provides penalties for a male contracting party and the person who solemnises the marriage).
After the hearing, lawyer Jibran Nasir, who is acting for Arzoo's parents, told journalists: "The medical test proves Arzoo is around 14 years. The court has also recognised NADRA [National Database and Registration Authority] documents stating Arzoo's age to be 13 as true. The court has declared that prima facie she contracted a child marriage and ordered her to remain in a shelter home until the next hearing. The court has not disposed of this petition and the next hearing is after two weeks."
He explained that the court has yet to determine whether Arzoo can convert to Islam of her own free will (given her age) and added, "At this stage only the question of child marriage has been addressed and resolved."
Arzoo's father Raja Masih welcomed the court's decision, saying: "We thank God that the court has given a good decision. All we want is our daughter reunited with us. We need nothing else." Her mother Rita added, "I salute the judges. May God bless them."
(Daily Pakistan, Daily Times, Dawn, UCA News)
Share this