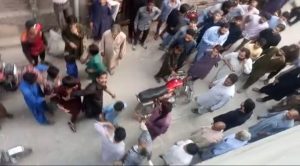 On Sunday 16 April a mob of around forty Muslim men stormed the Voice of Jesus Church in Pakistan's capital, Islamabad during the evening service. The church is located in the Khokhar Town district, where around sixty Christian families live.
The incident began outside the church building half an hour before the service began, when three young Muslim men harassed and beat the children of church pastor Younas Javed Masih (Sharjeel, aged 20, and his 19-year-old sister, whose name had not been released). Sharjeel asked the three men to stop bothering his sister but they began to abuse him before leaving.
Pastor Younas told UCA News, "Two motorcyclists followed them as my son drove her home. A scuffle broke out when my younger brother and son tried to stop them from hooting. They then started calling others and tried to enter the building." He added that groups of men often harass local Christian women on their way to prayers.
As the service got underway, a mob of between forty and 45 people (pictured) stormed the church armed with iron rods, sticks and guns, firing into the air to scare the congregation and pelting the church building with bricks. Three bullet marks were left in the outer wall of the church and the gates and windows were damaged. AsiaNews reported that "amid the general chaos, some were people hit and the church building was desecrated", while UCA News remarked that "fear has gripped the local Christians".
The attack ended only with the arrival of the police. Rev Younas immediately filed a complaint against the three young men who had harassed his children and the forty or more unknown persons who had stormed his church. It was later reported that five people had been arrested and that a case has been registered at Islamabad's Khanna police station under the anti-terrorism law. Following the attack police increased security around the church premises, posting two police officers at the gates.
Reaction
Tariq Ghouri, human rights activist and coordinator of the diocesan office of the National Commission of Justice and Peace in Rawalpindi, was with the pastor when he filed the complaint and said, "I must express my appreciation for the Islamabad police, who registered the complaint against the culprits under bailable sections of the Pakistan Penal Code, including the sections on terrorism. The perpetrators will not be able to obtain bail."
He added, "Incidents of violence against religious minorities are increasing day by day, which is harming Pakistan's image internationally. The state seems to be indifferent and does nothing to deal with these incidents. Thus, incidents will increase in the future. The state should do its best to ensure the safety of religious minorities and should stand with these peaceful communities who are doing their best for the country's progress."
Rev Rameez Munir, spokesman for the Voice of Jesus Church, told AsiaNews, "We call upon the government to provide security to our churches and issue weapons licenses to our guards. We practise our rituals peacefully, but these people who promote violence do not obey the law of the country and harass us because we have a different faith… I am looking into the matter and have been in contact with the local police, who have arrested five people so far. Some of the culprits are still at large, but police have assured us that they will catch them soon. We want justice and we will not stop our prayer meetings just because of these hatemongers."
(Asia News, Barnabas Aid, UCA News)
Photo: AsiaNews
Share this