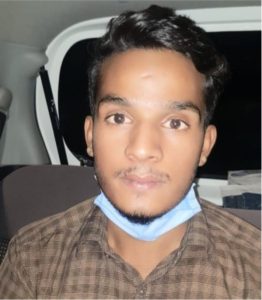 Nabeel Masih (20) was released on bail early on the morning of 18 March and was taken to a place of safety, while his lawyers work to have him acquitted.
Nabeel was an illiterate 16-year-old when he was imprisoned in September 2016 after being accused of liking and sharing a Facebook post that allegedly "defamed and disrespected" the Kaaba in Mecca. Nabeel said Muslim friends had set up the account in his name and posted the image but in May 2018 – despite the weakness of the case against him – he was sentenced to ten years in prison for blasphemy. He was the youngest person convicted of blasphemy in Pakistan's history.
The British Pakistani Christian Association (BPCA), which has been supporting Nabeel's widowed father and siblings, hired Christian lawyer Naseeb Anjum to take his case to Lahore High Court, with the aim of first seeking bail before beginning the longer process of seeking acquittal. BPCA explained, "We reasoned that the quicker process of a bail application would enable Nabeel to be freed from his incarceration sooner, enabling him to tackle his suicidal depression and face the challenge of a long battle for exoneration in a position of strength."
The BPCA reported that Nabeel's time in prison was spent in a "dingy, unclean cell, in complete isolation, with little chance for exercise".
Judge orders release on bail
On 1 March 2021, Lahore High Court Judge Javaid Gaddal ordered that Nabeel be released on bail because there was no evidence that he committed the crime. Nabeel's lawyer Naseeb Anjum, who had submitted strong forensic evidence that proved Nabeel had neither created nor posted the Facebook post in question, commented, "Freedom for Nabeel Masih is only the first battle. Now we must pursue a full acquittal and I am confident we will succeed."
BPCA reported that local police had been building a case for charges under section 295-C of the blasphemy laws (which mandates a death sentence) and had also been establishing a list of cyber crimes against Nabeel as a "safety net prosecution" in case public and international pressure resulted in the dropping of blasphemy charges. The court threw out these additional charges due to a lack of evidence.
Place of safety
Nabeel was released on bail early on the morning of 18 March and was reunited with his family and taken to a place of safety. He hopes eventually to restart his life abroad, free from the death threats he faces in Pakistan.
BPCA trustee Juliet Chowdhry commented, "We have struggled for two years to see this wonderful day and are simply filled with great joy and peace. Our early attempts to free Nabeel were thwarted by Lahore High Court, who continue a court system that allows judges to take unfortunate holidays without need for cover. The court process was also difficult as applying for bail for Nabeel Masih meant we needed a local guarantor and many early representatives lost their nerve while at the court due to the threats they received. Nabeel is now out but the battle has only just begun, we need to win his acquittal and help him escape the manifest danger to his life in Pakistan."
Medical treatment denied
During Nabeel's imprisonment he developed several large lipomas – fatty lumps under the skin – which cause him pain under pressure, especially when lying down. Prison authorities refused to allow him access treatment, but as soon as he was released the BPCA had Nabeel checked at a hospital. He is to have a biopsy on 25 March and will return to hospital at a later date to have the lipomas removed.
Read Nabeel Masih's Prisoner Profile.
(British Pakistani Christian Association)
Share this