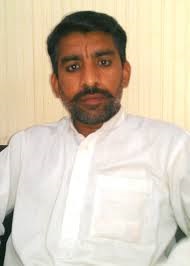 On 3 May 2017, a Pakistani court sentenced Pastor Zafar Bhatti (51) to life imprisonment for sending blasphemous text messages, a charge he denies.
He has been in Rawalpindi's Adiala Central Jail since July 2012, when he was charged with sending blasphemous text messages from a mobile phone that was not registered to his name.
Before his arrest, Bhatti worked selling medicines and often went door-to-door with his presentation, also reading the Bible and praying with families in homes he visited. He founded and led a small NGO called "Jesus World Mission" to assist the poor.
On 11 July 2012, Ahmed Khan, deputy secretary of the local branch of the Islamic organisation Jamat Ahle-Sunnat, filed a complaint at New Town police station, Rawalpindi, saying he had been sent messages from an unregistered number insulting the Prophet Mohammed's mother. He threatened that his organisation would take matters in its own hands if an investigation for blasphemy were not opened under Section 295-C of the Penal Code – even though insulting the Prophet's mother falls under Section 295-A. (Section 295-C carries the death penalty; Section 295-A does not.)
A First Incident Report was lodged against an unknown person, but on 22 July 2012 the police arrested Bhatti, charging him under section 295-C. They tortured him to extract a confession, but he insisted on his innocence. Several reports proved that the SIM was not registered to Bhatti but was registered to a holder of a different Computerised National Identity Card.
Bhatti's trial opened on 24 April 2017 and had to be held in prison because of threats to his life. Judgment was reserved until a later date. On 3 May, Additional District and Session Judge Mohammad Yar Gondal sentenced Bhatti to life in prison. Section 295-C mandates the death sentence, but because there was no evidence against Bhatti he was sentenced to life imprisonment instead.
In prison, Bhatti has experienced pressure from Muslim prisoners to convert to Islam, and he has been beaten several times. On 31 March 2013, someone poisoned his food, which caused bleeding from the nose and mouth and left him in a critical condition for days.
Co-accused
On 11 November 2012, a woman named Ghazala Khan was arrested and charged with blasphemy in connection with the Bhatti case – her Computerised National Identity Card was registered against the phone SIM card in question. At Ghazala's trial on 8 April 2013, Justice Khalid Mehmood of the Lahore High Court refused to pass judgement against her and instead tried to convince the petitioner Ahmed Khan to forgive her. Ghazala said she was innocent and did not want forgiveness but to be freed on merit. The judge showed her leniency as she was a woman, and granted bail. Ghazala died in November 2016 from Hepatitis C, aged 39.
Wife's report
On 6 May 2017, British Pakistani Christian Association (BPCA) reporter Shamim Masih met Bhatti's wife Nawab (65) to discuss the case.
"There have been numerous attempts to kill my husband," she said. "He is bullied everyday and he is not safe from inmates and prison staff alike. Every day I worry that I will receive word that he is dead; this worry is making me very age quickly. I pray for him every day and when we meet we cry together and pray seeking God's intervention. I know God will free him one day but ask for Christians across the world to pray for him and to challenge their governments to help him. My husband was a good man. He was a committed Christian and a Pastor to many. Many Muslim people hated how quickly his church was growing. They have taken this action to undermine his work. Yet despite their actions the church grows."
The BPCA reported that Nawab has struggled to make ends meet since her husband's arrest and has been forced to send her younger children to live with their grandparents as she cannot afford to keep them. Nawab's older daughters were put in arranged marriages at very young ages to save money.
Reaction
Wilson Chowdhry, Chairman of the BPCA, commented on Zafar Bhatti's case, saying: "He is being convicted for a text message on a phone that was not his in a crime that for all intents and purposes was fabricated to remove him from his role as a Pastor."
Nasir Saeed, director of Centre for Legal Aid, Assistance and Settlement-UK (CLAAS-UK), said that although there was not enough evidence to convict Bhatti, the court sentenced him to life imprisonment because of pressure from Islamists. He commented: "The lower court's judges always hesitate to make decisions on the merit, or free people accused of blasphemy, and instead transfer their burden to the higher court without realising how their decision will impact the accused and their families' lives. CLAAS is going to appeal against the lower court's decision and believes Bhatti is innocent and will be freed by the higher court. But it will take several years for his case to be heard by the High Court, and until then he and his family will continue suffering needlessly."
Reported dead in 2014
On 25 September 2014, rumours circulated that Bhatti had been attacked and killed in his prison cell, and Nawab received a phone call announcing the death of her husband. Nawab immediately called her sister-in-law Naureen. "We ran to the prison, but we were not allowed to enter, nor to meet him," she said. "We did not receive any information. Later, the police began to deny that he had been killed."
The rumours were mistaken: it was not Bhatti who been attacked, but the prisoner in the adjacent cell, British Muslim Muhammad Asghar (71), who had been convicted of blasphemy under Section 295-C of the Penal Code and sentenced to death. Ashgar, who was arrested in 2010, had a history of mental illness. The bullet broke two of his ribs and punctured his right lung, but he recovered in hospital.
The police later confirmed that on 25 September 2014 police officer Muhammad Yousaf opened fire on Muhammad Asghar in his prison cell, shooting him in the chest. Prison guards arrested Yousaf, who had planned to kill all prison inmates accused of blasphemy. During interrogation, he claimed a divine presence entered his dreams and told him he must kill all blasphemers.
Yousaf, who had been deployed to protect Muhammad Asghar, was a member of the anti-terrorism squad and former head of surveillance for Mumtaz Qadri, the bodyguard who killed Punjab governor Salman Taseer in January 2011. Qadri spent time in Adiala Central Jail.
On 29 September 2014, Nawab and Naureen were allowed to visit Bhatti in prison, along with representatives of the Church of Rawalpindi, and found him in good health. Naureen said there had been a "strengthening of security measures" by senior prison officers and added, "My brother has spoken several times of threats received in the cell."
(Asia News, Centre for Legal Aid, Assistance and Settlement, British Pakistani Christians, Morning Star News, Voice of the Persecuted, Voice Society)
Share this