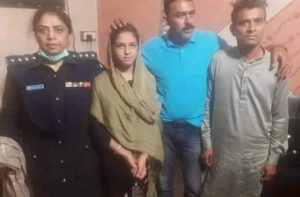 On Thursday 5 November, the Sindh High Court directed the health secretary to constitute a medical board to determine the age of Arzoo Raja, a Christian girl abducted, forcibly converted and married by 44-year-old Muslim Ali Azhar, who was already married with children.
Marriage of under 18s is illegal in Sindh and Arzoo's parents have provided official documents proving she is only 13, but while the judge acknowledged these documents he decided to obtain medical evidence – which, it is feared, opens up the possibility of tampering. A date of 9 November has been set for the next hearing.
On 2 November, the Sindh High Court had ordered that police rescue Arzoo and arrest Azhar, a reversal of its previous ruling of 27 October that gave custody of Arzoo to her kidnapper. The order on 2 November was not that Arzoo be returned to her family, however, but that she be placed in a women's refuge pending investigation of the case.
Court hearing
Dawn newspaper reports that during the hearing on 5 November Arzoo stated that she married Azhar of her own will and was not kidnapped, and pleaded to be allowed leave with him. She had also stated during the hearing on 27 October that she had embraced Islam and married Azhar of her free choice. These statements are widely believed to be the result of pressure from her abductor. Similarly, a video circulating in which Arzoo reads a statement saying that she converted and married of her free will, and did it to escape beatings from her parents, is considered to have been made under duress.
The two-judge bench headed by Justice K.K. Agha observed that according to documents Arzoo is under 18 and that under the Sindh Child Marriages Restraint Act 2013 nobody under 18 can contract marriage. The judge stated that if Arzoo is 18 she has the right to marry whoever she choses, and also noted that she had said she was not kidnapped. He said the court would analyse the case carefully.
(Asia News, Dawn)
Share this