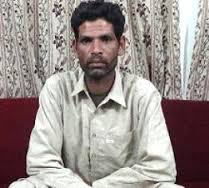 A young street sweeper from Lahore and a married couple from Punjab Province have been sentenced to death for blasphemy.
Sawan Masih (26), a Christian sweeper and father of three from Joseph Colony in Lahore, was sentenced to death on 27 March. He had been accused of insulting the Prophet Mohammed during a conversation with a Muslim friend on 8 March 2013, during which he allegedly told his friend, "My Jesus is genuine. He is Son of Allah (Allah forbid). He will return while your Prophet is false. My Jesus is true and will give salvation." Two days after the conversation, more than 3,000 angry Muslims attacked Sawan's home in the predominantly Christian colony and looted and torched 180 Christian homes, 75 shops and at least two churches, displacing hundreds of families.
Separately, on 4 April 2014, a Christian husband and wife from Punjab Province were sentenced to death for allegedly sending blasphemous text messages, despite the fact that neither is able to write proper Urdu. They had been arrested with their four young children.
Sawan Masih
Sawan Masih's trial was held in his Lahore prison due to security concerns. Judge Chaudhry Ghulam Murtaza sentenced him to death and fined him 200,000 Pakistani Rupees (approximately €1,500). In his court statement, Sawan said he had not committed blasphemy and accused Shahid Imran, the complainant, of involving him in a fake case as part of a plot by local businessmen to use blasphemy allegations to drive Christians from Joseph Colony so they could seize it for industrial use. "They hatched a conspiracy to push out the residents of the colony," he told the court. "They contrived a case and got it filed by a person who was close to me. I am innocent."
Sawan's chief lawyer, Naeem Shakir, said that an appeal is being filed to the Lahore High Court, which must sign off on death penalty cases. "I'm very hopeful that the High Court will annul the trial court's verdict," he said. "Masih has a very good case for acquittal." He said the conviction was not based on justice, especially since the state has failed to prosecute those accused of destroying Joseph Colony. Rights groups and other lawyers also criticised the death sentence, saying the case for the blasphemy conviction was weak while Muslims who destroyed houses and shops in Joseph Colony have been freed on bail.
Tahir Bashir, another lawyer on Sawan Masih's defence panel, said he believed that the judge had convicted his client under pressure from local Muslim political and religious groups.
The ruling was issued on the same day that a report was released in the US naming Pakistan as the leading country for imprisoning people for blasphemy. The report by the US Commission on International Religious Freedom, an advisory body to Congress, said, "There are no procedural safeguards, making the law ripe for abuse," and noted that Pakistan's Federal Sharia Court recently ruled that the death penalty should be the sole penalty for blasphemy.
Pakistan has never carried out an execution for blasphemy, but accusations often lead to mob attacks and vigilantes have murdered 52 people accused of blasphemy as well as some who have spoken out against the blasphemy laws. The laws are often misused to persecute minorities and to settle personal scores. In a recent report, Amnesty International said the vague formulation of the blasphemy laws, along with inadequate investigation by authorities and intimidation by mobs and some religious groups, has promoted vigilantism across Pakistan, especially in Punjab Province.
Thousands of Pakistani prison inmates remain on death row since a government moratorium on executions began in 2008. This may change as last year Nawaz Sharif, who has publicly supported capital punishment, was elected Prime Minister.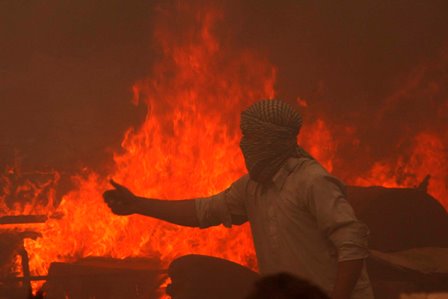 Attack on Joseph Colony
Most of the Christians of Joseph Colony are poor, menial labourers. In March 2013 local Muslim factory workers went on strike for Sawan Masih's arrest, and the police told the Christians that an attack would be averted if Sawan were turned in to the police station. He was handed over, but a mob attacked the colony anyway.
A case against 133 Muslim suspects is still pending in an anti-terrorism court, but none has been prosecuted and most have been released on bail, in spite of strong video evidence against them. Witnesses said the mob was led by leaders of the Pakistan Muslim League-Nawaz (PML-N), which is Pakistan's largest political force after winning national elections in May 2013. None of them was arrested. Joseph Colony residents and Christian rights activists claim that a local PML-N politician, allegedly acting on the orders of the Punjab chief minister's son, played a central role in the attack to facilitate land-grabbing by local factory owners who supported him.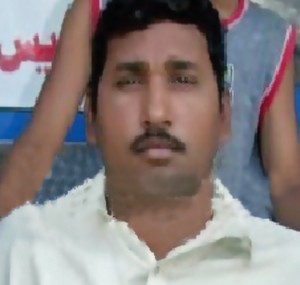 Punjab couple sentenced to death
On 4 April a court in Toba Tek Singh sentenced Shafqat Emmanuel (43, pictured) and Shugufta Emmanuel to death. They were accused of sending blasphemous text messages on 18 June 2013 to complainants Muhammad Hussain and Anwar Mansoor Goraya (Gojra Tehsil Bar Association President) from a number allegedly registered in Shagufta's name.
The Gojra City Police charged them with blasphemy under Sections 295-B (insulting the Koran, punishable by life imprisonment) and 295-C (insulting Mohammad, punishable by death).
The couple's lawyer, Nadeem Hassan, said the judge had succumbed to Islamist pressure and handed down the death sentence even though there was no concrete evidence. He said, "Judge Mian Amir Habib was clearly intimidated by advocate Touqir Ashraf and some other Islamist lawyers from Lahore who were representing the complainants. These men kept pressuring the judge during the entire trial, which was conducted in prison due to fears for the couple's security… the complainants' lawyers kept proclaiming Koranic references calling for death to blasphemers."
Police claimed that the messages had been sent from Shagufta's mobile phone number, but the prosecution failed to present the call data record in court. Nadeem Hassan said, "The police failed to recover the SIM allegedly registered in Shagufta's name from the couple's possession. The police just produced a receipt of a cellular company on which Shagufta's national identity card number was written against the number… During preliminary investigations, Shagufta had told the police that her mobile phone had been lost for a month, and that she did not know who might have sent the alleged messages. Nevertheless, the Gojra City Police detained the couple, along with their four minor children, and pressured them to name someone who could have sent the messages."
Nadeem Hassan said that in order to appease mobs led by Islamist clerics, police forced Shafqat Emmanuel to confess that he had sent the blasphemous messages: "The police tortured Shafqat to confess before a judicial magistrate, but [he] retracted his statement when we requested the session judge to record his statement again." The lawyer said he would challenge the verdict in the High Court once he receives a copy of the detailed verdict.
Shafqat has been confined to a wheelchair since his spine was fractured in an accident in 2004. Shagufta is the only breadwinner for the family's four children, Ambrose (13), Danish (10), Sarah (7), and Amir (5). She works as a cleaner at a local missionary school.
There are now four Pakistani Christians on death row on blasphemy charges, including Asia Bibi, who was sentenced to death in November 2010. She has been in prison since June 2009; several appeal hearings have been cancelled or adjourned.
(Barnabas, Morning Star News, World Watch Monitor)
Share this