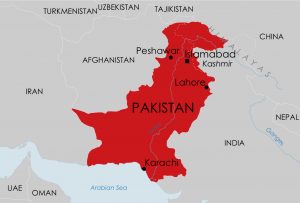 On 13 December a Pakistani court sentenced Christian brothers Qaisar and Amoon Ayub to death for blasphemy after they were convicted of insulting the Prophet Mohammed in articles and portraits posted on their website. Qaisar (44) and Amoon (38) have been held in Jhelum District Jail, Punjab province, 200 km north of Lahore, since they were arrested in 2014.
Additional Session Judge Javed Iqbal Bosal heard their case in the jail for security reasons. He found them guilty of the "use of derogatory remarks in respect of the Holy Prophet" and sentenced them to death by hanging.
Tahir Bashir, counsel for the two men, said they were alleged to have uploaded blasphemous content to their website in August 2010. He said that while the brothers had started the website, they were not operating it at the time of the offence. Qaisar has said he closed his account in 2009 but that a Muslim friend somehow put the website back online, keeping it in Qaisar's name.
A complaint was only registered in 2011, when a Muslim cleric from another district accused them of posting disrespectful material on their website.
Qaisar and his wife Amina have three children, and his imprisonment has affected his family, especially the mental health of his 14-year-old son. Amoon is married to Huma, a teacher at Lahore Cathedral School.
Background  
The accusation seems to have arisen out of a quarrel that took place at the Lahore office where Qaisar worked in 2010, when one of his friends made a comment about the sister of another friend, who then blamed Qaisar for the insult. Soon after, Qaisar began to receive death threats and fled the country with his brother.
First they went to Singapore, returning to Pakistan a month later, but the situation was still tense so they left again for Thailand. They could not stay there for long and in 2012 returned to Pakistan, at which point Qaisar was told that a blasphemy case had been opened against him.
The brothers were arrested in November 2014, charged with blasphemy and imprisoned in Jhelum District Jail.
Appeal
The Centre for Legal Aid, Assistance and Settlement (CLAAS-UK), which represents the brothers, plans to appeal the sentence before the Lahore High Court.
"This is a very unfortunate situation," said CLAAS-UK director Nasir Saeed. "Because of threats from hardliners, lower courts pass their responsibility to the higher court and then it takes years to prove the accused innocent. We have seen this in the recent case of Asia Bibi, who was similarly convicted by the lower court and it took her years to reach to the Supreme Court to get justice. I am afraid now Qaisar and Amoon will have to wait years to get justice."
(Asia News/CLAAS-UK/Telegraph/World Watch Monitor)
Share this