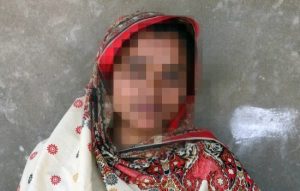 The timely intervention of influential local Muslim leaders saved two innocent Christian families in different regions of Pakistan from facing serious charges under the blasphemy laws.
In late October, a partially burned and torn copy of the Quran was found in an abandoned house next to a Christian family's home in a suburb of the industrial city of Sheikhupura, about 40 km northwest of Lahore in Punjab province. Parvaiz Masih, a 50-year-old Christian man, said that his wife Azra Bibi returned home from her duty as a cleaner around 1.30pm and noticed that smoke was rising from the adjacent house. The house is owned by brothers Anwar Khan and Irfan Khan, who use it only as a storeroom while their families live next door.
In the evening Muslim clerics and police were called to the scene. The police searched the house and found some pages from the Qur'an in the courtyard and a copy of the Quran in the washroom and concluded that "an unidentified person has committed desecration".
A mob gathered outside while the police were searching the house and a Muslim cleric pointed to Parvaiz and Azra's house saying that the Christian family should be investigated. However, Irfan Khan confidently stated that the Christians would never indulge in any such act of desecration and there was no further discussion at that time.
Two days later, Parvaiz received a phone call from a person purporting to be a police officer to say that a blasphemy case had been registered against him. Parvaiz said, "Three days later a local meeting was called to ascertain who committed the crime. In that meeting one Muslim family assured the participants that they would take an oath, while placing their hands on the heads of their children, as a sign of complete trust in us. Then Abu Obaid, a famous local lawyer, gave full guarantee that Christians in the area were not involved and if ever proved, he could stand accused of the crime. Similarly, Irfan Khan, brother of Anwar Khan, assured the gathering that Christians were not involved. Irfan Khan said that they are living with us for the last 40 years and they haven't ever done anything like this."
This meeting brought an end to the matter and no charges have been filed against Parvaiz or Azra.
Accusation in Quetta
Also in late October, a young Christian child and his mother were arrested in Quetta, provincial capital of Balochistan in western Pakistan. Shakeela Bibi and her 8-year-old son Ayan Masih were held after allegations that a few pages relating to the Hajj (Muslim pilgrimage to Mecca) were found desecrated outside the apartment where they lived in the grounds of the hospital where Shakeela worked.
The arrests were made without investigation after a mob had gathered outside the apartment. While news of the arrests created huge community tension, local community leaders stated that the prompt police action (in arresting Shakeela and Ayan) prevented a full scale attack on the Christian community in the area.
Local Christian and Muslim leaders worked together on the matter and after four days in custody, Shakeela and Ayan were released and charges dropped.
"Before any untoward incident could take place, security forces took in Shakeela and her son, but released them after a thorough investigation," National Assembly member Asiya Nasir stated. "There has been no case registered of blasphemy in the province but it seems that extremist trends are spreading from across the country and penetrating into Baluchistan too – which is considered a less religiously-inclined place."
Nasir Saeed, Director of CLAAS-UK (a Christian charity dedicated to helping persecuted Christians in Pakistan) said that this is not the first time that a minor has been charged with a blasphemy offence. He said, "The Government of Pakistan must look into such cases and take appropriate steps to bring necessary changes to stop the ongoing misuse of this law. The international community has continuously expressed its concern and called for amendments."
(World Watch Monitor, British Pakistani Christian Association)
Share this