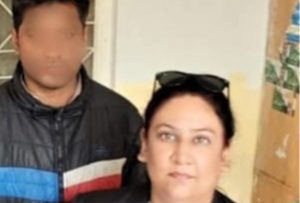 Police in Lahore have charged two Christians with blasphemy after a Muslim objected to them studying the Bible in a park.
On 13 February, Haroon Ayub Masih and Salamat Mansha Masih, both in their mid twenties, were studying the Bible in Model Town Park in Lahore, Punjab province, when Haroon Ahmad and his friends approached them and told them they should not read the Bible in public. The photo shows Haroon Ayub Masih – face obscured for security reasons – with lawyer Aneeqa Maria, who is representing him.
Aneeqa Maria told Morning Star News that when Haroon told the Muslim youths that reading the Bible in public was not a crime in Pakistan and that they had no right to stop them, the youths asked about their faith and if they had any reading material to help them understand the Bible. "On their insistence, Haroon gave them a Christian book entitled, 'Zindagi Ka Paani' or 'Water of Life'," she said. "The youths took the book and left Haroon and Mansha for the time being."
Haroon went home, but Salamat stayed in the park and a few minutes later the Muslims returned and attacked him, claiming that he and Haroon had blasphemed against the Prophet Mohammad. They summoned park security staff and told them the two Christians were evangelising Muslims and had used derogatory words for the Quran and the Prophet. One of the Muslims called the Islamist party Tehreek-e-Labbaik Pakistan and its leaders arrived and pressurised police to register a case against the Christians. Police arrested Salamat, but Haroon and his family went into hiding for fear of attack.
Complainant Haroon Ahmad went to Model Town Police Station, where he said in his statement that when he was in the park with his friends Harris Khalid, Zakir Ali and Zulqarnain, two Christians approached them, introduced themselves as Haroon Ayub and Salamat Mansha and handed over a copy of a Christian booklet, "Water of Life". He said they started preaching about Christianity, used offensive words claiming that Muhammad had strayed from the path of religion and married to increase his dynasty, and said the Bible is the true book while the Quran is not a true book. He claimed the Christians hurt their religious feelings and that their words against Islam and the Prophet Muhammad were an act of terrorism.
Police registered a case against the two Christians for derogatory remarks against the Prophet Muhammad (Section 295-C of the Pakistan Penal Code, punishable by death), defiling the Quran (Section 295-B, punishable by life imprisonment and a fine) and deliberate and malicious acts intended to outrage religious feelings (Section 295-A, punishable by up to ten years in prison and a fine).
Lawyer Aneeqa Maria said, "We have managed to obtain pre-arrest bail for Haroon Masih till February 24. Haroon and Mansha were not preaching to the Muslims as alleged in First Information Report No. 61/21. In fact, they were reading the Bible and discussing it amongst themselves… Haroon will now join the investigation and record his statement with the police." Haroon agreed to surrender himself to police custody on 24 February.
Nasir Saeed, Director of CLAAS-UK, commented that the constitution and laws of Pakistan impose no restriction on anyone preaching or propagating their religion, and added, "Although endeavours are continuing to convert Pakistan into a theocratic state and impose shariah law in the country, so far Pakistan is a democratic state and everyone has the right to preach and propagate their religion. This is not a right that only the majority religion has. Pakistan has signed international conventions on religious freedom and freedom of speech, therefore Pakistan must respect them. Unfortunately, Pakistani society has been torn apart by intolerance and violence, a far cry from the original ideal of a tolerant country. Religious minorities are increasingly the targets of bigotry, which is often instigated by extremist forces, Islamic political parties and their leadership."
(Asia News, CLAAS-UK, International Christian Concern, Morning Star News, Voice Society)
Share this