Two Christians were shot dead and at least three more were injured in a drive-by shooting on Sunday 15 April in Essa Nagri, a Christian-majority area in Quetta, capital of Pakistan's southwest Balochistan province. Islamic State claimed responsibility, making this its third attack on Christians in Quetta since December.
Four unidentified men on two motorbikes arrived at about 5.30 pm, opened fire on Christians leaving a Seventh-day Adventist church and sitting outside nearby houses, and sped away. Rahid Khalid (16) died at the scene, while Azhar Iqbal (26, pictured on a stretcher) died in hospital – he leaves a young widow. Church-goers Sunaina Shakil (11), Mehvish William (13) and Chaudhry Samuel (38) were injured and needed hospital treatment.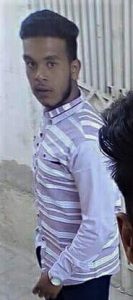 Azhar's father Hakeem Iqbal Javed Gill, a Catholic, said Azhar and his friend Rahid Khalid (pictured), were sitting outside his home, across the street from the church building, when the attackers fired 14 bullets into his son and shot Rahid four times in the chest. He said his son was alive when local residents took him to Bolan Medical Complex, but that when Azhar and the three wounded Christians arrived "there was no doctor present there to attend to him" and trainees did not know how to treat bullet wounds. Family members of the dead and injured accused hospital staff of gross negligence.
Azhar Iqbal, the youngest of three brothers, had a degree in Information Technology, while Rahid Khalid, the only boy among three sisters, was a student and was seen as a future breadwinner for his family. His uncle Adil Azeem told Morning Star News, "Rahib's father cannot move or speak, as he suffered a severe attack of paralysis two years ago. His mother is an Aya [governess] at the Don Bosco School of the Catholic mission and the sole breadwinner for the family. We are poor and hardly make enough money to meet both ends. These Islamist terrorists have taken away the only hope of a better future for my sister's family."
The British Pakistani Christian Association commented, "The attack is believed to have been premeditated and conducted in order to frighten Christians away from worshipping God by targeting them on Sunday when many go to church… [It] is an area known for its particularly significant Christian community. There is a population of 1,800-2,000 Christians living in Essa Nagri colony and the area has one point of entry which made this attack extremely easy to plan."
Protest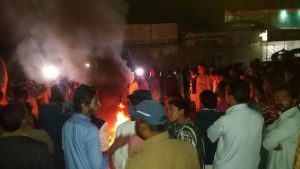 Hundreds of Christians gathered with relatives of the victims to protest at the killings and call on the government to provide effective security. Blocking roads with blazing tyres, they chanted: "Down with Balochistan chief minister, down with the Balochistan government."
The protest was called off after five hours, when Balochistan's Minority Affairs Minister and District Commissioner met demonstrators, and officials assured the Christians of enhanced security.
Former Education Minister Jaffar George, part of the negotiation team, told UCA News: "The Balochistan government has agreed to set up a committee of top officials to draw up a comprehensive security plan for the protection of the Christian community. We strongly condemn the terrorist attack and stand with our community at this time of grief. A colonel of the paramilitary Frontier Corps has met us and promised complete security."
Balochistan Home Minister Mir Sarfaraz Bugti condemned the attack and promised a swift response.
Easter and Christmas attacks
On Easter Monday, 2 April, Islamic State militants shot and killed four Christians travelling by auto-rickshaw in Quetta's Shah Zaman area. The driver, Pervaiz Masih, and his three cousins were killed, while his 10-year-old daughter was wounded and was rushed to hospital.
Pervaiz had been bringing his daughter and cousins to an ice cream shop after dinner when they were targeted outside the family home. Tariq Masih, a relative of the victims, said: "They were guests of ours, they came from Punjab to celebrate Easter. As they left the house to go to the bazaar after dinner… they were fired upon."
Following the attack, Islamic State said a "covert unit" of its militants "managed to target a number of the combatant Christians which resulted in the killing of four of them, and all praise is due to Allah". As in the attack on 15 April, the attackers rode motorbikes and used 9mm pistols. Provincial police called it a targeted attack and an act of terrorism.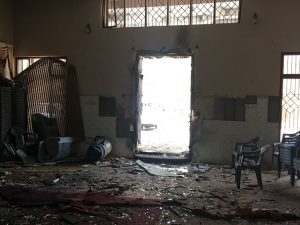 On 17 December 2017, two suicide bombers killed at least eleven Christians and wounded more than fifty in an attack on Quetta's Bethel Memorial Methodist Church (pictured). The attack was the first church bombing in Pakistan claimed by Islamic State.
Bethel's Pastor Saimon Bashir Masih told International Christian Concern, "We are not safe at places of worship, schools, or residential apartments. The majority of Christians are so depressed they are not sending their children to school and even avoid going to gatherings such as social or religious events."
Islamic State in Balochistan
Balochistan province, Pakistan's largest, borders Iran and Afghanistan. In recent years, Sunni Islamist militant groups (linked to the Taliban, al Qaeda and Islamic State) and separatists have carried out many attacks in the province. These groups target minorities including Christians, Shias, Hindus and Ahmadiyyas, as well members of the security forces. In 2017, at least 242 people were killed in attacks in Balochistan.
Islamic State's branch in the Pakistan/Afghanistan region, Islamic State Khorasan Province (ISK-P), was officially launched in January 2015. It has been boosted by defections from the Taliban and by foreign fighters fleeing Iraq and Syria.
After ISK-P's latest attack on Christians in Quetta, Wilson Chowdhry, Chairman of the British Pakistani Christian Association, said: "We have warned the Government of Pakistan about the rise of IS in their country on behalf of the numerous churches who approach us for help, fearful of warnings being received by localised IS satellites who are recruiting swathes of the country including whole communities by preaching hatred via Imams hell-bent on eradicating Christians and other minorities from within their midst. But the Government response was to simply ignore us and local police authorities simply warned churches who reported the threats that they should stop their church services as nothing could be done to protect them… Freedom of religious belief or conscience is a myth in Pakistan."
(British Pakistani Christian Association/International Christian Concern/Morning Star News/Religious Liberty Prayer Bulletin/UCA NEWS/World Watch Monitor)
Share this