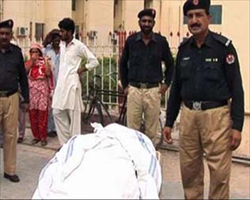 Two Christian pastors, Rashid Emmanuel, 32, and his 30-year-old brother Sajid Emmanuel were shot dead ouside a court in Faisalabad yesterday. Their brutal murder has led to violent clashes between Muslims and Christians in Faisalabad.
The two men, leaders of United Ministries Pakistan, were being led in handcuffs back to jail under police custody when they were shot at 2:17 pm local time. The men had been in court facing charges under Pakistan's Blasphemy Law. Zafar Hussein, a police officer escorting the brothers, was also shot as he tried to protect them and is reported to be in a critical condition in hospital. The unidentified killers escaped the scene.
Mr. Shabhaz Bhatti, Minister for Minorities in Pakistan, condemned the attack and said that he suspected the men were falsely accused of blasphemy by people with a grudge against them. He said that mullahs in mosques in Faisalabad had called for the men to be attacked. Last year, Mr Bhatti pledged again to amend the country's controversial Blasphemy Laws which have often been described as being at the root of communal tension.
Rashid and Sajid Emmanuel had led United Ministries Pakistan (UMP) since 2001. UMP is a group of committed Christians working together to spread the gospel and help others. They had a nationwide vision but prioritised work in villages in the Faisalabad area including open-air preaching, church planting and Sunday School teaching.
Rashid was arrested on 1st July at a Faisalabad railway station after he responded to a request for a meeting from an anonymous caller who described himself as a "respectable school teacher". On arrival, Rashid was met by police who produced photocopied papers that denigrated Mohammed – supposedly signed by the pastor and his brother and bearing their telephone numbers. Sajid was arrested three days later.
On the weekend of 10th/11th July, hundreds of Muslims marched on two separate Christian areas in Faisalabad. Some chanted, "Hang the blasphemers to death immediately," sources said, adding that the mob shouted obscenities about Christ, Christians and Christianity. Fearful Christians locked their homes, while others fled the area, as the demonstrators had threatened a repeat of the violence wreaked on Korian and Gojra towns in July and August 2009.
Last week, handwriting experts notified police that signatures on the papers denigrating Mohammed did not match those of the accused. Therefore, lawyers for the brothers expected that they would be exonorated and released. (AP, BBC, Compass Direct, United Ministries Pakistan)
Church in Chains has written to the Pakistani Ambassador to Ireland to express the shock and horror of Irish Christians at the killings and to call once again for the repeal of the Blasphemy Laws in Pakistan.
Share this