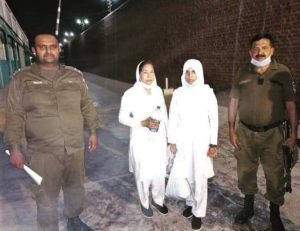 In an unprecedented court decision in Pakistan, a judge has granted bail to two Christian nurses charged with "defiling the Quran". Those charged under Pakistan's blasphemy laws usually spend years in jail, but nurses Mariam Lal and Nawish Arooj (pictured), who had been arrested in Faisalabad on 9 April 2021, were granted bail on 23 September – a decision that was kept secret for two months to avoid Islamist reprisals.
"This is an unprecedented decision by any sessions court in a blasphemy case,"  the nurses' lawyer Atif Jamil Paggan told Morning Star News. "Both women are currently in a safe location. They are very happy and relieved after this court victory, and we are optimistic that the court will absolve them of the charge once the trial concludes."
However, he said it would be impossible for the women to return to work at the hospital. "Ms Lal was a senior nurse there," he said. "She cannot even demand her outstanding salaries because she would have to go to the hospital for it, and it's definitely not safe for her."
The two nurses worked on the psychiatric ward of Faisalabad Civil Hospital and were charged under Section 295-B of the blasphemy laws after a false accusation of blasphemy led to an Islamist mob converging on the hospital on 9 April and demanding "death to blasphemers".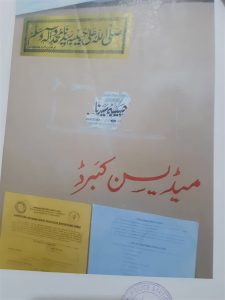 Nurse Lal told police that on 8 April a Muslim head nurse identified only as Rukhsana had told her and Student Nurse Arooj to remove old wall hangings and stickers, some with Quranic verses, from the psychiatry ward. Rukhsana objected to Nurse Arooj removing a half-torn sticker (pictured) inscribed with the Durood Sharif, a prayer praising the prophet Muhammad, from a wall cabinet. Nurse Lal said the sticker had already been half torn off by a patient before Nurse Arooj removed it.
In granting bail, Faisalabad Additional Sessions Judge Shahzad Ahmad said both women had admitted to removing the sticker but denied that they had done so with any ill intent to desecrate the holy inscriptions. "Moreover, the prosecution failed to prove intentional defiling of the Quran inscription," he said. "There was no witness who had seen the two women committing any disgraceful act with the sticker. Charging someone with blasphemy for simply holding a religiously-inscribed sticker is not sufficient evidence." He ordered their release on surety bonds of 100,000 rupees (approximately €507) each.
Rukhsana, a key witness for the prosecution, failed to appear in court on 18 November for cross-examination. "She has sought exemption on maternity grounds," Lawyer Atif Jamil Paggan told Morning Star News, "but we think that she is now avoiding the court because she had falsely accused Ms Lal and Ms Arooj over a personal grudge against the former."
Knife attack
Lawyer Akmal Bhatti, chairman of the Minorities Alliance of Pakistan, said that the incident with the sticker was seemingly settled after the two Christians assured co-workers that they had no ill intent and left the hospital on the evening of Thursday 8 April after their shift. However, he said, "On Friday morning someone again instigated the staff, and they attacked the two women." He added that it was clear both women had been framed in a false case.
Sources said a Muslim nurse and a hospital pharmacy worker identified only as Waqas incited staff members. News of the incident spread and an angry mob converged on the hospital, including members of the Muslim extremist group Tehreek-e-Labbaik Pakistan.
Waqas attacked Nurse Lal with a knife while she was attending a patient, stabbing her in the arm. Video recorded on a phone by an unidentified hospital employee showed Waqas telling the mob that he had attacked her when he "saw her ask Ms Arooj to tear off the sticker". He says, "I could not remain silent over blasphemy of our holy prophet, so I attacked Mariam." The video shows the mob shouting slogans praising Muhammad and calling for the two women to be hanged.
Akmal Bhatti told Morning Star News, "Fortunately, a large police contingent arrived just in time to take the two women into custody safely. We pleaded for the police not to register the FIR [First Information Report] before thoroughly investigating the allegation, but they succumbed to the pressure of the mob."
Mariam, who is a single parent to a teenage daughter, and Navish, who was engaged to be married at the time of her arrest, were sent to jail and their families went into hiding.
(International Christian Concern, Morning Star News)
Share this