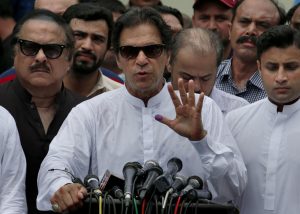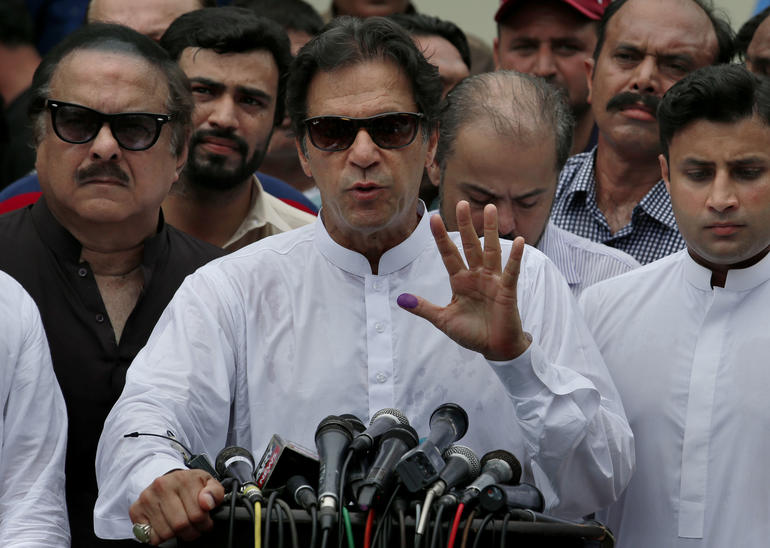 Imran Khan's election victory has caused concern among Pakistani Christians because of his support for Sharia and the blasphemy laws.
Former cricket star Khan (65) is poised to become prime minister after his Pakistan Tehreek-e-Insaf party won 116 out of 272 seats contested in the National Assembly elections (he is pictured speaking to media after casting his vote at a polling station in Islamabad). As his party did not win an outright majority, Khan will lead a coalition government, with the oath-taking ceremony scheduled for 11 August.
Following his career as a celebrity cricket captain and socialite, Khan has become increasingly devout and conservative, favouring Sharia and backing the blasphemy laws. The Pakistan Tehreek-e-Insaf ("Pakistan Movement for Justice") party, which Khan launched in 1996, is anti-corruption, reformist and pledges to increase welfare and education spending. This would be good news for Pakistani Christians, the majority of whom are poorly educated and live in poverty, although with Pakistan's economy in crisis it is difficult to see how Khan could fund this ambition.
However, hours after Khan's victory was confirmed, he told the nation that his preferred form of government is "the Islamic State as established by the Prophet Mohammad in Medina." This would not be good news for Christians and members of other religious minorities, who already face discrimination and attacks by Islamic extremists. Khan's approach is likely to embolden Islamists.
Before the election, a Pakistani Christian leader told Open Doors: "Many Christians fear Imran Khan as the country's leader as he has said he wants to return to jirga, a traditional assembly of leaders that make decisions by consensus and according to the teachings of Pashtunwali – a series of non-written ethical codes which predate modern laws and which prove a dangerous mix in combination with Sharia, the strict Islamic law."
Wilson Chowdhry from the British Pakistani Christian Association told Premier News Hour before the results were announced, "Imran Kahn has openly said he would not change the blasphemy law and ensure that it's enforced. That blasphemy law has been a tool of discrimination and persecution for Christians since 1987."
Open Doors quotes Imran Khan as saying, "I know this law is an inconvenience for some people like that poor woman Asia Bibi. But it is a law that is complete and I support it."
No appeal yet for Asia Bibi
There has been no recent news of Asia Bibi, who is still waiting for her appeal against her conviction and death sentence for blasphemy to be heard.
On 21 April 2018, Chief Justice Mian Saqib Nisar told Asia's lawyer Saif-ul-Malook that the Supreme Court would hear her appeal "soon" and that he would preside over the bench. Justice Nisar told the lawyer that all criminal appeals before the Supreme Court would be decided by July – this would include Asia's case, which is a criminal appeal.
However, there has been no sign of her appeal being heard, and David Turner, Director of Church in Chains, comments, "My own view is that once the election campaign got under way, with the blasphemy law being prominently discussed, there was never any chance of Asia Bibi's appeal being heard in such a highly-charged atmosphere. Church in Chains, together with many other groups around the world, will continue to pray and advocate for Asia's release."
(Election Commission of Pakistan/Open Doors/Premier)
Share this