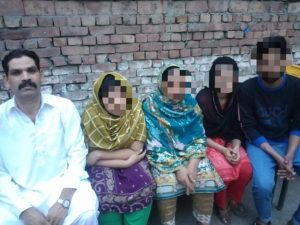 Sawan Masih was released from prison in October 2020. He had been  imprisoned in March 2013 and was sentenced to death for blasphemy in March 2014. Sawan's appeal hearing was adjourned at least 16 times, but in October 2020 he was finally acquitted in Lahore High Court.
For the past year, Sawan and his family have been living in hiding in a safe house provided by our Scottish partner organisation Steadfast Global with the support of Church in Chains. Steadfast Global is petitioning the Government of the United Kingdom to grant settlement for the Masih family in Scotland, where they have relatives and a guaranteed support framework already in place.
As Christmas approaches, here is a reflective blog from Steadfast Global.
"We often forget that woven into the Christmas narrative is an account of forced isolation and fear of harm. Jesus the baby born to be Redeemer quickly became Jesus the refugee as the family was forced to flee the death threats of Herod. All that was familiar to them was left behind as they escaped to Egypt, their only consolation on the journey being that they were together and under the care of their loving God.
During these months of global pandemic many of us have come to appreciate the value of spending time with our family members; necessary restrictions have also taught us the deep pain of being separated from them. The joy of being together with loved ones and also the pain of being torn from them are emotions well known to the Masih family in Pakistan.
Plunged into a nightmare
"Back in March 2013, the last thing an inconspicuous street sweeper from Lahore, Punjab province called Sawan Masih expected was that he would become the focal point of a violent uprising as he faced blasphemy charges levelled by someone he thought to be a friend. As a consequence, he found himself torn from his loved ones and faith community as he plunged into a nightmare that would change life for the family forever. As news of the accusation spread, a perfect storm of intolerance fell upon the Christian neighbourhood of Joseph Colony as a mob of extremist Muslims attacked, leaving in its wake a scene of devastation with 180 Christian homes, 75 business premises and at least two churches torched and razed to the ground.
"After spending a year in detention, where he was subjected to mental and physical torture and calls to recant his Christian faith, Sawan found himself on trial inside the prison where he was being held. In March 2014 he was found guilty and sentenced to death under Section 295-B of Pakistan's notorious Penal Code. His supposed crime? Discussing his Christian faith with a Muslim friend. Despite being lodged promptly, the appeal against the unjust sentence faced years of adjournments, obstacles and general resistance. Sawan effectively fell between the cracks and became just another statistic of the draconian blasphemy legislation.
"As much of the world moved on to the next big case, Sawan's wife Sobia made the arduous and costly journey once each month to visit her imprisoned husband, bringing him what she could in the way of clothing and food. She was heartbroken, lonely, virtually destitute and living in fear of being attacked as she watched her children grow into teenagers without their father.
"Thankfully in October 2020, justice eventually prevailed and Sawan was acquitted of the charge against him. His release was not immediate as news of the acquittal quickly led to death threats from hard-line Muslims intent on meting out the only punishment fitting the alleged crime: death. He was finally freed on 15 October, the same day his ailing father passed away and Sawan's grief was compounded by the fact that he was unable to attend the funeral or visit his grieving mother because of the threats against him.
Living in hiding
"Today Sawan and his family are trying to rebuild their lives and recapture lost moments as they live in hiding in a safe house provided by Steadfast Global and Church in Chains. Steadfast Global is petitioning the Government of the United Kingdom to grant settlement for the Masih family in Scotland where they have relatives and a guaranteed support framework already in place.
"In a matter of days Christians across the United Kingdom will unite with their loved ones and possibly even their worshiping communities to celebrate Christmas; it is a festival with such profound meaning for many of us and not just here in Great Britain, but also across the global Christian family.
"Mindful of their current circumstances, we asked Sawan and his family through his Highlands of Scotland based relative, what this Christmas meant for them. Sawan replied, "Christmas is the greatest festival for every Christian to celebrate with relatives, friends and Christian community but for us it seems to be a time of grief and despair. Being in the same city we cannot meet our loved ones; how helpless and disappointed we are at this Christmas time." The family shared that while being thankful for their temporary place of safety, this Christmas is a time of loneliness, devastation and torment as they are confined in their home. There is no social interaction. No freedom. No church service. They are surrounded by an overpowering sense of stress and fear of death. This is the reality for the Masih family and other Christians condemned to living in fear because of the misuse of Pakistan's blasphemy laws.
Welcome waiting in Scotland
"In delivering this family out of the darkness of fear and forced isolation into the light of a true democracy where they can be free, flourish and find healing from the trauma of their ordeal, the U.K. Government has the opportunity to demonstrate meaningful commitment to the values of justice, fairness, tolerance and freedom which they so passionately promote.  Let us see words transformed into action. Let us see action transformed into new beginning for this innocent family who in common with that couple who fled Bethlehem so many millennia ago, are forced to seek refuge from those who are intent on doing harm.
"There are welcome arms and open hearts waiting to receive the Masih family in the Highlands of Scotland. The Rt. Hon. Priti Patel (UK Home Secretary) can make this happen by granting a life-changing Christmas gift to a family in desperate need of hope.  We pray she does."
Share this