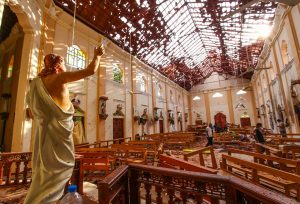 The death toll in the Easter Sunday terrorist bombings in Sri Lanka has risen to 290 people*, with an estimated 500 other people injured. Three churches and three hotels were attacked. Most of those killed were Sri Lankans but at least 27 foreigners were killed including people from Britain, the USA, China, Japan, Portugal and Australia. Many of those killed in the hotel attacks were queueing for the breakfast buffet.
*Note that on 25 April this figure was revised down to about 253 people. Accidental double counting had occurred because of the difficulty of identifying mutilated bodies.
The three churches were attacked simultaneously by suicide bombers at around 8.45 am, when they were crowded with Christians celebrating Easter.
The first blast was reported at St Anthony's Shrine, an historic Roman Catholic church in the capital Colombo, just as the Mass began. Much of the church roof was blown off, with roof tiles, glass and splintered wood littering the floor along with pools of blood. At least 52 people were killed in the explosion.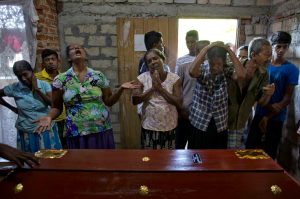 St Sebastian's Catholic Church in Negombo, a majority Catholic town north of Colombo known as "Little Rome", suffered the deadliest attack in which over 100 people were killed. Television footage showed people dragging the wounded out of blood-splattered pews. On Monday, small white flags flew in house after house near the church, a sign that someone who lived there had died (the coffin of 12-year-old Sneha Savindi is pictured).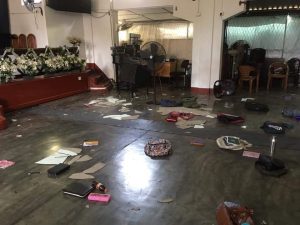 At least 38 people (many of them children) were killed at Zion Evangelical Church in the east-coast town of Batticaloa. Church leaders had spotted a suspicious person in the building before the service and sent someone to question him and get him out of the building. The suicide bomber exited as requested and detonated himself outside, in the grounds of the church, where the children were playing while they waited for the service to begin. A Sunday school teacher who survived the bombing said: "Today at Zion Church we asked the children how many of you are willing to die for Christ? Everyone raised their hands. Minutes later, they went to the main service and the blast happened. Half of them died on the spot."
Advance warning
The Sri Lankan government has admitted that the intelligence services were aware of a terrorist threat to attack "prominent churches" two weeks before the attacks, and had the names of suspects belonging to the newly-formed radical Islamist group National Thowheeth Jama'ath – known for being virulently anti-Buddhist and for links to the vandalisation of Buddhist statues. Four of its members were arrested in January. However, a government spokesman emphasised that Prime Minister Ranil Wickremesinghe and his cabinet were "not informed" of the warnings.
The Sri Lankan authorities believe those who had carried out the attacks were all Sri Lankan nationals, but may have had international assistance. By Monday, the police had 24 suspects in custody. A spokesperson, Ruwan Gunasekara, said they had seized a van and driver they believe transported the suspects into Colombo, and had raided a safe house used by the attackers.
Reaction
The Sri Lankan government has declared a state of emergency and designated Tuesday (23 April) as a national day of mourning. The Muslim Council of Sri Lanka condemned the attacks on "the places of worship of our Christian brothers and sisters on their holy day of Easter, as well as on the hotels in Colombo". It described the attackers as "the extremist and violent elements who wish to create divides between religious and ethnic groups to realise their agenda".
The National Christian Evangelical Alliance of Sri Lanka (NCEASL) called on the general public and especially the Christian community in the country to remain calm and refrain from being misled by rumours during this time of crisis. It also offered prayers and support to all those affected and called on the national and global Church to pray for those grieving the loss of loved ones and those injured in the attacks. The NCEASL statement finished with the Bible verse "Be patient in trouble, and keep on praying." (Romans 12:12)
There was also widespread international condemnation of the attacks.  Tánaiste Simon Coveney said, "I am shocked at the appalling attacks on innocent civilians this morning in Sri Lanka.  No political or other cause can justify or excuse the bombing of people at worship or simply going about their daily lives… I also express our solidarity with the people and government of Sri Lanka at this tremendously difficult time. Ireland strongly supports everyone's freedom of religion and belief ."
Archbishop Michael Jackson (Church of Ireland Archbishop of Dublin & Glendalough) said: "While many of us have come to take for granted the voice of peace at Christmas and the voice of hope at Easter, we are reminded starkly and tragically today that this is not the case for Christians in many parts of the world. These Christians are our sisters and brothers. We stand in solidarity with them and they with us. Together we are one family of the resurrection. In so many countries worldwide our fellow-Christians find themselves a minority that is targeted and persecuted… We pray for all concerned and all affected by these tragedies."
 (Al-Jazeera/AP/Barnabas Fund/BBC/Guardian/Hananya Naftali [Twitter]/RTÉ)
Christians in Sri Lanka
Sri Lanka is officially a secular state, but Buddhism is recognised as the state religion. The Constitution guarantees freedom for other religions, but in practice followers of minority religions face discrimination. Hindus comprise about 12% of the population, Muslims 9% and Christians 8%.
Traditional churches are generally tolerated, but since the 1980s the growth of evangelical Christianity has led to persecution including church burning and attacks on individuals led by radical Buddhist monks. In 2018, NCEASL reported 86 persecution incidents (mainly violence, intimidation and threats) against Christians.
Read Church in Chains' Country Profile
Share this