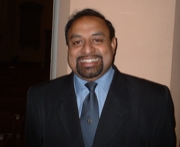 Fresh attempts are being made to introduce an anti-conversion bill in Sri Lanka. The last bill was judged unconstitutional by the Supreme Court in December 2004 – just before the Asian tsunami devastated the coastal regions.
The new bill is at the committee stage where Godfrey Yogarajah (pictured) has led submissions from the National Christian Evangelical Alliance of Sri Lanka (NCEASL) opposing the bill.
The Bill will next be taken up for voting in Parliament, where it can be passed and made law with a simple majority (majority of one vote). It is also learned that there are attempts to introduce other alternate legislation which will also regulate propagation and religious conversions.
As it is, with no such law in place, there is wide spread harassment and intimidation of Christians, forced closure of Churches and physical attacks on Christian citizens.Such a law will only serve to legitimize rampant harassment of minority Christians and violation of the right to religion and worship.
Christian Solidarity Worldwide has just published a report following a recent fact-finding visit to Sri Lanka which details testimonies of death threats against pastors, including the alleged existence of a hit list in one district. During the visit, the delegation met with Sri Lankan church leaders and interviewed victims of persecution. The team also discussed the situation with former Foreign Minister Tyronne Fernando, now a senior advisor to the Sri Lankan President, and met British and European Union (EU) diplomats.
According to information received by CSW during the visit, in the first five months of this year alone there have been a total of 30 reported incidents of violence against Christians and an increasing number of threats made. In a meeting of about 50 pastors, approximately half told CSW they had suffered physical persecution, including arson, assault and the destruction of homes and church buildings.
One pastor told CSW that posters had been displayed in his village, threatening him with death. One poster gave him three days to leave the village or be killed. "Get your coffins ready because we're going to kill you," another poster read.
Share this