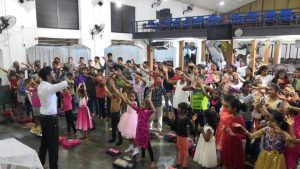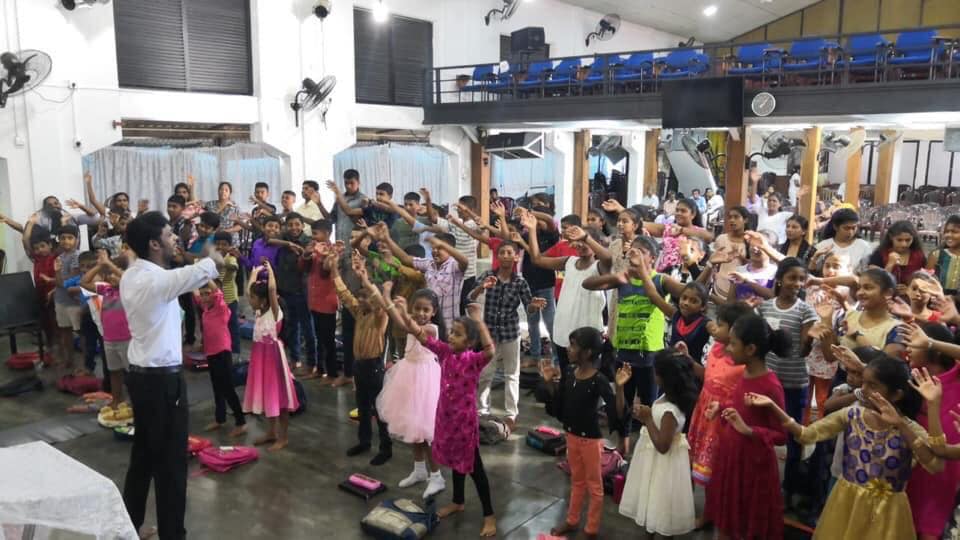 The 253 people killed in the Easter Sunday bomb attacks on churches and hotels included many of the children pictured, and more details of the attacks have emerged.
The attack on Zion Evangelical Church in the east-coast town of Batticaloa killed 16 adults and 14 children in a courtyard. Moments earlier, the children had been attending their Sunday School class, during which the teacher asked them how many would be willing to die for Jesus. Every child raised their hand and soon after the class was over and the children went outside into the adjoining courtyard.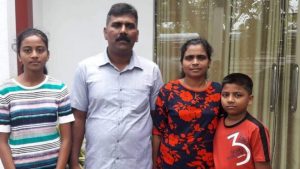 Even greater loss of life was most likely prevented by the actions of one of the church members, Ramesh Raju (pictured with his family). His wife Chrishanthini is a Sunday School teacher and they were in the courtyard when Ramesh spotted a man he didn't recognise carrying a large backpack. The man told him it contained a video camera as he had come to film worshippers inside. "My husband sensed something was wrong, and informed him he'd need to get permission first. He then forced him to leave," said Chrishanthini.
As she took their two children Rukshika (14) and Niruban (12) into the church building, which was packed with as many as 450 people waiting for the service to begin, she heard a loud bang. Panic ensued and people ran in any direction they could, as some of the buildings caught fire. Chrishanthini and her children escaped and rushed to the nearby hospitals to find Ramesh. Hours later, they found his body. He had died instantly, at the spot where she had last seen him.
As she told the story and spoke of her husband, she broke down. "I love my Jesus, I love my Jesus," she cried, as tears streamed down her face.
It later emerged that the bomber had originally targeted St Mary's Catholic Cathedral in the town only to discover that the Easter Sunday Mass had been held earlier than usual and that the congregation of almost 1,000 had dispersed. He then made his way to Zion Church which is located on the same road.
Negombo survivor speaks of change in atmosphere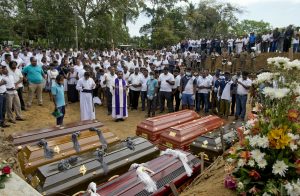 Over 100 people died in the attack on St Sebastian's Catholic Church in Negombo, a majority-Catholic town north of Colombo known as "Little Rome".
"I don't have words to express my pain," Eranda Weththasinghe told Morning Star News. "Tomorrow is going to be the mass funeral service, we only want prayers. We lost so many people." He said he lost several friends in the explosion which he witnessed.
"The smell of flesh is all around me," Eranda said. "We are a peace-loving community in this small city, we had never hurt anyone, but we don't know from where this amount of hate is coming. This city has become a grave with blood and bodies lying around. Since the past three years, we don't know why, but we see an extremist's mindset developing among the Muslims. I know many good Muslims, but there are also a lot who hate us, and they have never been so before. It is in these three years that we see a difference."
Islamic State claims responsibility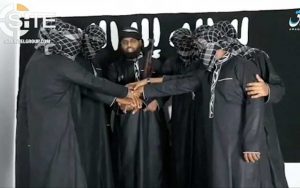 The terrorist group Islamic State claimed responsibility for the attacks in a statement that made clear that their main intention was to target Christians. The statement was accompanied by a video and images of the bombers pledging allegiance to the group. The statement read:
"After trusting in God, the Angmans brothers (Abu Ubaidah, Abu al-Mukhtar, Abu Khalil, Abu Hamza, Abu al-Baraa, Abu Muhammad and Abu Abdullah) – God accepted them – yesterday, went against a number of churches and hotels in which there are nationals from the coalition; where brother Abu Hamza attacked (Antony Church) in the city of Colombo and amidst the crowds of Christian fighters blew his jacket on them.  Another brother went to the Zion church in the city of Batticaloa and detonated his explosive belt on them. The brothers Abu Ubaidah, Abu al-Baraa and Abu Mukhtar went against the gatherings of Crusaders in the Shangri La, Cinnamon and Kingsbury Hotels in the centre of Colombo. In the town of Dimatagoda, Brother Abu Abdullah clashed with the police and killed three of them. Praise be to Allah. This blessed invasion resulted in the deaths of about 350 Christians and injured 650 others, including citizens of the Crusader alliance countries, and thank God for his reconciliation."
(Barnabas Fund/BBC/Daily Mirror Sri Lanka/Guardian/Morning Star News)
Five ways to pray for Sri Lanka
Ajith Fernando, the teaching director of Youth for Christ Sri Lanka, wrote an article in the immediate aftermath of the dreadful atrocities to give guidance to those who wish to pray, titled "Five Ways to Pray for Sri Lanka".
Share this