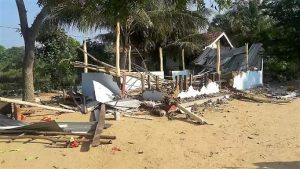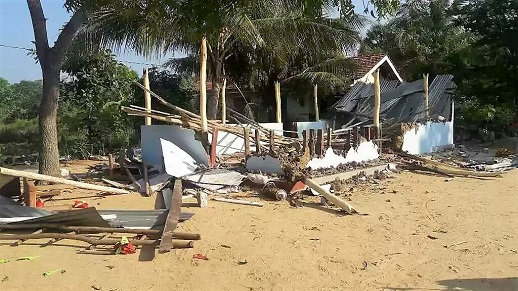 On 5 January a mob led by a Buddhist monk attacked Kithu Sevana prayer centre in Paharaiya, northwest Sri Lanka.
"First they threatened us verbally," said church leader Kamal Wasantha. "Then they came with wooden sticks, iron bars and knives and destroyed everything… the Lord's house was pulled down in front of our eyes, as we asked God to forgive them."
The attack left the Christian community of 15 families and 20 other worshippers with nowhere to meet.
Kamal Wasantha told Asia News, "No attack can stop us. We shall continue to love God and pray under a tree." He added, "We have not cursed them, and shall not attack them in retaliation. Judgment belongs only to God."
The prayer centre, built more than 15 years ago, is led by local farmer Wasantha, but visiting pastors help to conduct services on Fridays and Sunday mornings. Pastor Ranjan Palitha, a who visits every week from Chilaw (more than 90 km away), said: "It was never attacked before, only verbal threats. This is the first incident that has the proportions of a real disaster."
Another visiting pastor, Adrian DeVisser, said: "They threatened the pastor, the leader of the church and said if they go to the police, they'll kill the entire family, and then they burned the church down."
The pastors described how they had been threatened on 1 January: "Our car was blocked by the Buddhist monk of Gothamiramaya, who used foul language towards us. He then threatened more serious punishment if we continued to conduct services."
The pastors filed a complaint at the police station in Karuwalagaswewa and warned the Christian community. They and the monk were summoned to the police station on 5 January, and the attack happened that night.
About 200 witnesses named the monk and twelve other people as the attackers, but they were released on bail. One local source reported that as many as 200 people had been involved in the attack.
Christian lawyer Lakshan Dias criticised the police for having a lax attitude. He said they "know the names and facts about the culprits, who live in the same village. Sri Lanka has failed to uphold freedom of religion. The country's dominant ideology, that of Buddhist Sinhalese, undermines the minorities."
The church at Kithu Sevana prayer centre had been growing quickly and attracted attention from the attackers because all its members were converts from other faiths. Wasantha, a former Buddhist, said some people in the village would not tolerate Buddhists becoming Christians, but said he wants to stay with the Christian community and would not abandon his mission "just because of the attacks".
Pastor Adrian DeVisser said, "He's not willing to move out. There is a threat on his life. We have now provided some of the food stuffs they need. Some of our workers reached out to him, but he's determined to ride the wave of persecution."
Persecution in Sri Lanka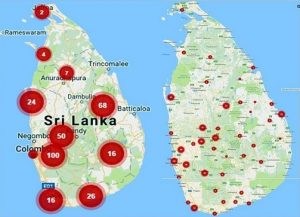 Christians in Sri Lanka face persecution from militant Buddhists who believe that to be Sri Lankan is to be Buddhist. They also face pressure from the government, including restrictions on registration of church buildings.
Persecution of Christians began to escalate in recent years, especially since 2012, with the rise of militant Buddhist nationalist groups. The National Christian Evangelical Alliance of Sri Lanka mapped 320 cases of Christian persecution across Sri Lanka between January 2013 and June 2016. These included mob attacks on churches (often incited by Buddhist monks), state-sanctioned church closures, personal attacks, arson, vandalism, intimidation and discrimination (notably in relation to burials).
Read more about persecution in Sri Lanka in the Church in Chains Sri Lanka Country Profile.
(Asia News, Mission Network News, National Christian Evangelical Alliance of Sri Lanka, Open Doors World Watch List, World Watch Monitor)
Share this