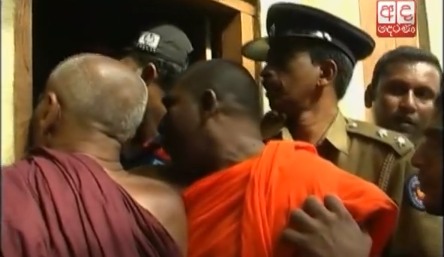 On 12 January 2014, mobs led by Buddhist monks attacked two churches during Sunday morning worship services.
At approximately 10.00 am, mobs of about 300 led by Buddhist monks stormed two churches in Hikkaduwa city (Galle District) when a demonstration turned violent. The first church to be attacked was an Assemblies of God church, followed by Calvary Free Church. Stones were hurled at the premises while some worshippers were trapped inside, and serious damage was caused to the two buildings. Windows, doors and musical instruments were smashed. No injuries were reported, but one pastor said he received death threats.
Video footage broadcast by a private television station, Derana, showed monks shouting insults, smashing signs, setting goods alight and hurling stones. In further footage released by a Christian group, Pastor Ranjan Perumal of Calvary Free Church indicated smouldering papers, which he said were burned Bibles and Christian literature.
Click here to watch video footage of the attacks
The previous night, the pastors of both churches received information of the impending attacks. They went ahead with the worship services based on the guarantee that there would be police protection. Police were at the scene but failed to prevent the assaults – the pastors of the two churches told the BBC that the police appeared unwilling to restrain the monks. The protesters obstructed the Galle to Colombo main road, creating a tense situation in Hikkaduwa. The situation prevailed past noon, until a senior police officer arrived at the scene and gave an undertaking to the monks that the churches would be closed for two weeks, during which time a solution would be sought. The mobs then dispersed.
The protesting monks included Buddhist clergy from a group calling themselves Hela Bodu Pawura as well as monks from Hikkaduwa and nearby temples. The monks claim that the two churches are operating illegally after administrative authorities ordered them to close. The pastors agree that they have had orders from the government to close, but they say they are registered under an Act of Parliament and are operating legally. They say they have been subjected to earlier attacks, including a 2003 assault on a woman, which is still in the courts. The pastors allege that some monks involved in earlier assaults were present at the attacks on 12 January.
Police say they have identified and intend to arrest 24 people, including eight Buddhist monks, allegedly involved in the attacks. Police spokesman Ajith Rohana, who admitted to what he called police "inaction" because of insufficient numbers, said that legal action would be taken against all people identified as attackers. He said they would be charged with offences such as vandalism, trespass and unlawful assembly and that the alleged death threat by one of them against a pastor would also be probed.
Also on 12 January, the Church of the Foursquare Gospel in Pitipana, Homagama (Colombo District) was set on fire, at approximately 2.30 am, by unidentified perpetrators. The fire was doused before serious damage was caused. A threatening note was found hanging on the gate of the premises warning the Christians of dire consequences.
December attacks
Attacks on small, independent churches are becoming much more numerous, with several reported over Christmas 2013. In total, about 55 attacks on Christians or churches were reported in 2013, while in 2012 the figure was 52.
Three church buildings were attacked on Christmas Eve by mobs throwing firecrackers and hurling stones, while on 21 December, two petrol bombs were thrown into a pastor's home – he and his family were not injured.
On 12 December a church premises was set on fire during the night. The pastor and his family, whose home is adjacent, escaped. On 10 December a pastor's home was shot at, but no injuries were reported.
On 1 December a mob of 200 villagers led by Buddhist monks stormed a Methodist service intending to demolish the building. Criminal investigation officers told the pastor to close down the church.
Christians do not always escape personal injury: on 8 September 2013 a Buddhist monk and his four subordinates led a mob attack on a worship service in Colombo District. They not only destroyed church property but beat a pastor until he fell unconscious. Others in the crowd beat the pastor's mother after she pleaded for her son, and both had to be hospitalised. The attackers accused the Christians of forcibly converting Buddhists.
The rise of Buddhist Nationalism
Buddhists make up about 70 percent of Sri Lanka's 21 million people, and most Buddhists are from the Sinhalese ethnic group. Christians account for about 8 percent of the population. About 80 percent of Christians are Roman Catholics; of the Protestants, about 40 percent are ethnic Tamils.
The rise of Buddhist nationalism has led to an increase in the persecution of Christians, and more than 250 churches have been destroyed or damaged in recent years. Buddhist monks often incite their followers to attack Christians and churches and also to attack Muslim businesses and mosques.
The 1978 Constitution provides for religious freedom to all citizens but it grants "foremost place" to Buddhism and mandates the state to "protect and foster the Buddhist Sasana [teachings of the Buddha]". Christianity is often perceived as foreign.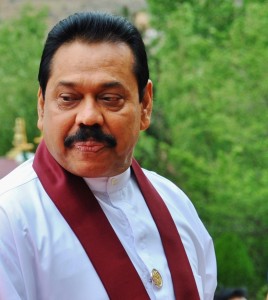 On 25 September 2013, presenting a report based on her fact-finding visit to Sri Lanka, United Nations High Commissioner for Human Rights Navi Pillay said that there had been a surge of violence against religious minorities, including Christians and Muslims, while the government merely looked on. Her report criticised President Mahinda Rajapaksa (pictured, left) for authoritarian rule since his government's military victory over the Liberation Tigers of Tamil Eelam in 2009.
Civil War
Ceylon gained independence from Britain in 1948 and changed its name to Sri Lanka in 1972. Violence broke out between the Sinhalese majority and Tamil separatists in 1983, leaving tens of thousands dead. A cease-fire in February 2002 raised hopes of peace, but more violence erupted in 2006. The remnants of the Tamil separatists were defeated in 2009, ending the civil war. The final phase of the war saw over 70,000 civilians killed.
The government portrayed its defeat of the Tamil separatists as a victory for Buddhism (the majority of ethnic Tamils are Hindu). Since the end of the war, the government has promoted Sinhala-Buddhist nationalism to maintain its hold on power.
Bodu Bala Sena
The Bodu Bala Sena (BBS) or "Buddhist Power Force" is believed to be behind most incidents of violence against minorities. The BBS is a Sinhalese Buddhist nationalist organisation, based in Colombo, which formed in July 2012 when Buddhist monks broke away from the Jathika Hela Urumaya party, saying it was not sufficiently militant in protecting Buddhism.
The BBS considers minorities to be enemies of Sinhala-Buddhist culture, and has organised campaigns against Christian and Muslim communities. At a large gathering in Colombo in February 2013, a BBS monk asked the Roman Catholic archbishop of Colombo, Cardinal Malcolm Ranjith, to form a Catholic force against evangelicals, whom he said "were attempting to perpetuate Christian extremism in the country".
(BBC, CBN, Morning Star News, National Christian Evangelical Alliance of Sri Lanka, Voice of the Martyrs Canada)
Share this